Will this new one man Mosquito fleet be better than the original 1920's mosquito fleet?
And didn't Walla barrack for the Hawks when we rookied him?
Suck it twice Fark Hawthorn.
I didn't even know the draft was on. I thought it would be tonight.
Welcome Moz. Hope you have a Cyril like career.
Infectious smile. Can see why people think he'll be a fan favourite.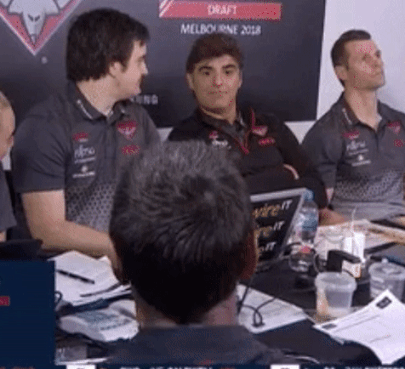 He moves like Froggy Davey.
Reminds me of a young David Myers.
Calm down everyone, don't want to put the moz on him.
well thats our CHF settled then for the next decade
Welcome to Irving, the missing sundry from the 'Something doesn't add up' thread!
Just like Cyril is he? So he'll have chronic hammies and win four premierships? PASS.
Interesting the Hawks didn't match the bid obviously they don't rate him that highly hope we didn't pay too much
they just don't have any picks worth anything left - very, very smart by Dodoro.
Be of minor interest to see who they pick up with #51.