Can't see Merrett going to Brisbane but that's just me.
This thread is far easier to read and Merrett hasn't been mentioned as leaving. I like it.
Forget boxing Mummy, get ready for Wrestlemania
Even Gerard Healy reckons this was worth a week.
Normally the oppo players target Zerrets head. Makes a change I suppose.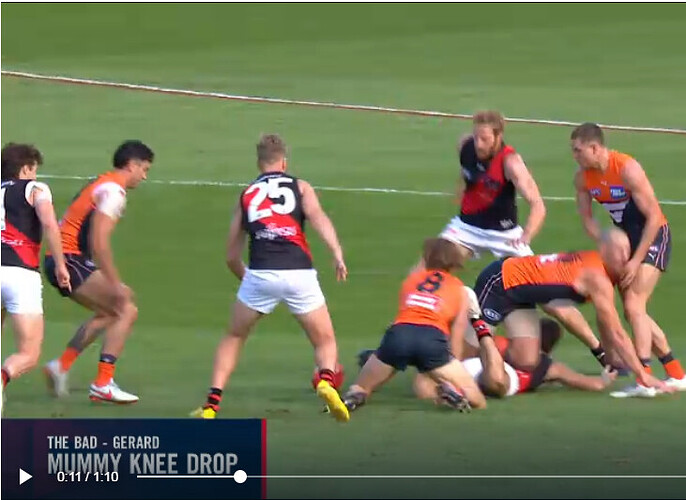 Umpires still ignored it…so nothings changed there
Gee Zach copped it in that game.
He needs some protection out there. Someone who has got his back, rather than the bullseye that is on there now.
We need a Dean Solomon-type character on the list. Really want to see an Essendon team that is feared and has players that makes the opposition take short steps. Until that happens we won't get to where we want to go…
Ambrose was that for a while.
We need Big Sammy Draper back and quick !
Townsend also. He just couldn't get the ball.
Don't like cheap shots but sometimes you need to fight fire with fire. Would've loved to see one of our guys put their elbow/fist to Mumfords head in a marking contest after that
I like the idea of a suspension substitution whereby the subs role is purely to come on and smack someone in retaliation where the need presents itself.
Didn't Jamar do something similar against Eagles?
Did his hamstring and then went back on the field to belt someone. Knowing he'd be out for weeks anyway.
Your option is better. The injured player should clip someone on the way to the bench. We shall name this the Heeney Substitution Paradox (impressive name).
In this game from what I remember (■■■■ result had lots of drinks,) GWS player maybe Cameron crunched Zac in goal square which triggered Ambrose and this was what resulted in the next quarter.
Both Sydney sides have a history of targeting Merrett.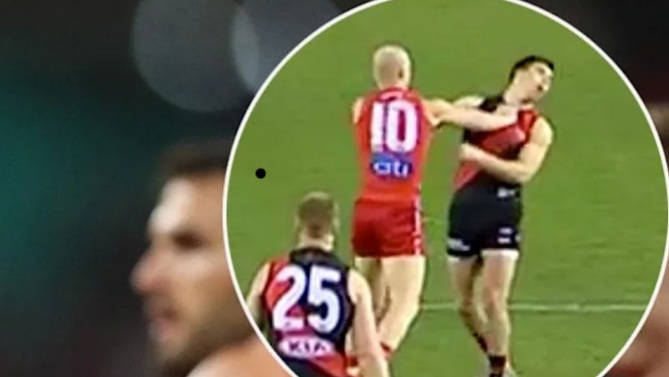 I heard Mark Harvey get interviewed before this game against swans in 2018 and he said that they had heard that Zac Merrett would be targeted.
Sure enough 5 minutes later before the game even starts.
We have seen others do it as well but this is premeditated crap towards our best player who has had concussion issues.
Against GWS on the weekend there was the Finlayson and Mumford incidents. There was another one where somebody tried to tackle Merrett to hurt him and just kept holding him to the ground long after free kick downfield (can that be some sort of 50 metre penalty stopping a player when a free has been played?)
Anyway made my blood boil for sure and in a development year I would have liked to have seen Ambrose play against GWS for Zac's 150th game and get "triggered" again.
No, THE MIGHTY RUSSIAN punched a bloke in the face.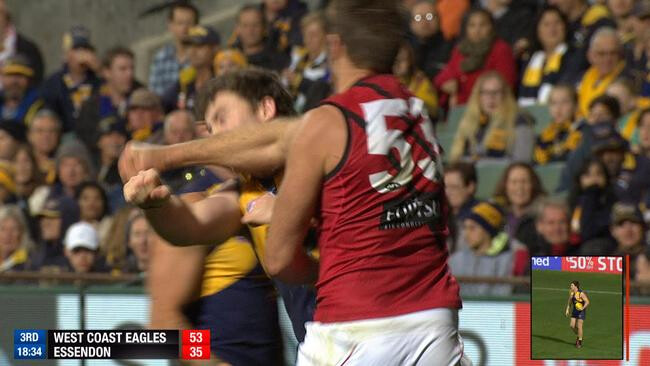 McGovern I believe, no shrinking violet our Mark
and fought half a vfl team in the goal square at windy hill
Great work by ambrose, he even grabs another bomber (is Dylan C?) and tries to throw him onto the injured gws ■■■■■■■