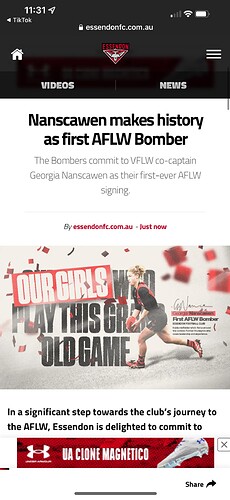 150 years in the making is G, and anyone who has seen her play knows she is absolutely well worth the wait.
YEWWWWWWWWWWW
Honey Badger coming to get ya.
Can't wait to see Georgia play against north next season
In a significant step towards the club's journey to the AFLW, Essendon is delighted to commit to Georgia Nanscawen as its inaugural AFLW signing.
The VFLW Bombers' co-captain has agreed to formally sign in the upcoming expansion signing period, highlighting the strength and foundations of the club's female football program.
Nanscawen joined the club from North Melbourne in 2019, making an instant impact to claim the Bombers' best and fairest in her debut year.
The 29-year-old was named VFLW captain for the 2021 season, finishing the year with the league's highest individual honour – the Lambert-Pearce Medal – and named captain of the 2021 rebel VFLW team of the year.
SHARE
08:00MINS
Raw reaction | Nanscawen wins VFLW league B&F
Watch the moment Essendon VFLW captain Georgia Nanscawen receives the news that she's the 2021 Lambert-Pearce medallist.
Published on Oct 7, 2021, 7:45pm
Standing at 160cm, Nanscawen is known as a tough midfielder who can perform under pressure, which was evident during last year's VFLW finals campaign where she averaged 27 disposals and 12 tackles across the Bombers' three matches.
SHARE
04:16MINS
VFLW PF | Nanscawen post-game
We caught up with VFLW captain Georgia Nanscawen to reflect on our preliminary final loss, as well as the season as a whole.
Published on Aug 3, 2021, 1:20pm
A former Hockeyroo, Olympian and AFLW player, Nanscawen has grown up in elite sporting environments, making her debut for Australia at the age of 17 and becoming the youngest woman to play 100 and 150 games for her country.
General manager of football Josh Mahoney said Nanscawen's leadership and drive were key factors in the club's decision to commit to the midfielder.
"Georgia epitomises everything an Essendon footballer represents. Over the past three years, she has shown her dedication and commitment to the club while continuing to improve her football and drive standards within our VFLW program," Mahoney said.
"As captain of our VFLW side for the past two years, Georgia has led by example with her on-field performances and has contributed strongly to our football program's inclusive and supportive culture."
Georgia Nanscawen has been leading the VFLW Bombers from the front. (Photo: AFL Photos)
AFLW player contract manager Georgia Harvey said the signing showed the strength of Essendon's women's program, and was a reflection of the standards established by players, coaches and staff.
"It is a great reflection of the women's program we are building at the club and the quality of footballers we are developing," Harvey said.
"When Georgia joined us, she was very fresh to the sport after only switching from hockey a year earlier, so to see her get rewarded for her effort and drive to improve is well deserved.
"It is also a credit to our coaching and support staff who have guided Georgia, and all our players to grow and develop their footballing skills."
Nanscawen said she felt at home at the NEC Hangar, attributing her football development over recent years to the support of the club.
"I've found my place at Essendon and I am so proud and humbled to sign with our inaugural AFLW side. The coaching staff and playing group have put a lot of faith in me and helped me immensely in developing as a footballer and leader," Nanscawen said.
"Since joining the club, I have been forward in saying Essendon is where I want to be. This club has such a proud history, and to have the opportunity to play AFLW for the Bombers in our inaugural side is pretty amazing.
"I cannot speak more highly of the women's program at the Bombers and I can't wait to see what we achieve in the future."
In the correct position on the field

edit: they used to play her in the forward pocket. She's the midfieldiest midfielder to ever midfield.
Another Parish? Took ages to play mid?
Quoting my response after her debut with us:
Her kicking has been overtly better this year; clearly did work over the break to improve her technique and range.
ANNOUNCE NANSCAWEN
…just did!
Former Hockey player would mean massive core strength i would've thought, given how you squat with the stick most of the time.
Spent much of the preseason working on her kicking while injured. It absolutely shows.
Dunno if she's slimmed down since last year* (the jumper gives no hints) but we've seen recently that she has abs on her abs.
*if so, blame the cycling.
Excuse me…
ahem (clears throat)
GET THE FARK AROUND HER PEOPLE!!!
Perfect choice as our number one signing!
#5 signing. Captain in long sleeves.
I legitimately cannot contain how happy and exciting I am for her and the AFLW team. Stellar start to the list build!
With the possibility of an August start to the season, I expect EFC has to turbo charge our signings including a coach.
just awesome
can't wait for the season