Not sure of their stats but was impressed by the games of Mia Busch and Brooke Walker today.
We have good youth.
And a good VFLW program to reward.
But we do need speed. Barbs has speed, but it's not quite the break away speed that's needed.
Give me Prespakis Jnr and Bannen please…we have some good players though. Toogood is for mine our most in form player right now. Just bossing it. Prespakis is excellent of course. I like the way Wales, Clarke, Scott are coming along. Our backline is better than last year. This team always give effort. Far more rewarding watching them than the boys to be frank.
Blew Dogs aways late: 83-41
It's nowhere near that level.
Give it another decade.
Imagine if the AFL had treated the four teams equally when it came to draft picks, too. We got screwed, hard.
Busch always gives effort.
Walker was noticeable too. Had a few CBAs too.
Alexander and van Loon had shockers.
Radford and Clarke started OK, then disappeared.
Nalder > Cutting
We didn't let Cutting's rucking ineptness stop us.
Nanscawen and Wales had a game-leading 6 clearances each.
Once Toogood leaves the fifty, we have troubles.
She had 10 marks (twice that of Ponter and Hatchard in second place) and quite possible beat all of Adelaide for contested marks.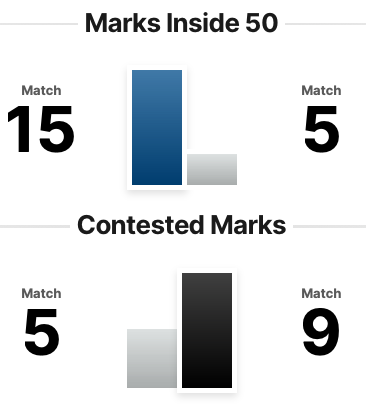 Yup. That's on a good day.
Losing Daria early made it worse.
I think the forward line eventually will be okay. Paige will seriously take over games eventually. It's crazy that she's only 19.
The backline for me is the worry. Good height. And one on one we are decent. But not enough attacking run.
After losing a small and bringing in an extra tall, we mostly played her in the ruck – a week after Alexander did quite well there.
I'd venture Marshall has Cutting covered in all dimensions (bar height) and positions.
Obviously hard for me to be fully objective with Marshall, but I'm surprised she hasn't been able to get a game in this backline.
Her ceiling is very high. She needs to think her way through situations a bit more. That may be inexperience/immaturity but she can do some special things and in the same play totally have you with your hands in your head! When she puts it all together we will have a gun.
Who chose that last photo…
(the EFC version of this article omitted that last section and hence that photo)
by Sarah Black
ADELAIDE has consigned Essendon to its first loss of the season, the Crows imperious in their 47-point win at Unley Oval.
Eight goals were piled on by the home side in the second and third quarters, doing the damage in the 12.9 (81) to 5.4 (34) victory.
The Bombers had started in sprightly fashion, particularly in the clearances, and held a slender four-point lead at the first break.
But Adelaide sprang to life in the second quarter, Anne Hatchard recording nine disposals after just two in the first term and partner-in-crime Ebony Marinoff working nicely into the game.
With Brooke Brown shutting down Eloise Jones in the first half – who was playing out of the square until moved to the wing in the fourth – it was Teah Charlton who proved to be a handful in attack, bringing plenty of spark inside 50.
Bonnie Toogood was swung into defence for the second half of the second term as the Crows skipped clear to a 17-point lead, but Ponter's third notched up 50 career goals for the 23-year-old.
Essendon took back some control in the clearances after half-time, helping to slow the rate of Adelaide's goals somewhat, until Abbie Ballard booted two set shots from the same spot in the space of four minutes.
The Bombers didn't die wondering, holding their nerve to kick two goals in the final term, but the class of the Crows proved too much in the final few minutes, kicking clear again.
Maddy Prespakis played a near-lone hand in Essendon's midfield, while ruck Steph Wales proved her wares at ground level, recording six clearances, but Adelaide counterpart Jess Allan held sway in the aerial battle.
Essendon forward Daria Bannister suffered a concussion in the first quarter, hitting her head on the turf as she tackled an opponent, while Stevie-Lee Thompson suffered a back spasm late in the game.
The Crows said Thompson's back will need time to settle before determining if she can play GWS next week.
Ponter on point in new role
The star Crow is nearly playing the old Erin Phillips role, appearing to start in the centre for throw-ups before pushing into attack to cause havoc. The Bombers had no answer for the classy Ponter, who provided a calming presence in attack while the game was in the balance in the first half. She finished with 16 disposals, eight score involvements and three goals.

Danielle Ponter during the round three AFLW match between Adelaide and Essendon at Unley Oval, September 16, 2023. Picture: Getty Images
Did you see that?
There were some early nerves on show in the new-look Adelaide backline, missing two stalwarts in hamstrung pair Sarah Allan and Najwa Allen. Lisa Whiteley – more commonly seen in attack – came in for Allen, with Chelsea Biddell and Zoe Prowse holding down the key roles. A ball was uncharacteristically left on the goal-line in the first term, which was pounced on by a spinning Toogood, slotting truly to continue her strong start to the season.

Bonnie Toogood kicks a goal during the round three AFLW match between Adelaide and Essendon at Unley Oval, September 16, 2023. Picture: Getty Images
ADELAIDE 1.3 5.6 9.9 12.9 (81)
ESSENDON 2.1 2.1 3.2 5.4 (34)
GOALS
Adelaide: Ponter 3, Ballard 2, Gould 2, Hatchard 2, Charlton, Waterhouse, Randall
Essendon: Toogood 2, Prespakis 2, Scott
BEST
Adelaide: Hatchard, Ponter, Marinoff, J.Allan, Charlton
Essendon: Prespakis, Toogood, Brown, Cain, Wales
INJURIES
Adelaide: Thompson (back)
Essendon: Bannister (concussion)
Crowd: 2238
COACH VOTES
9 Danielle Ponter (ADEL)
9 Anne Hatchard (ADEL)
6 Ebony Marinoff (ADEL)
3 Chelsea Biddell (ADEL)
2 Madison Prespakis (ESS)
1 Teah Charlton (ADEL)
LEADERBOARD
30 Jasmine Garner NMFC ← perfect so far
25 Monique Conti RICH
23 Kate Hore MELB
21 Ebony Marinoff ADEL
20 Tyla Hanks MELB
19 Laura Gardiner SYD
19 Madison Prespakis ESS
19 Claudia Whitfort GCFC
18 Kiara Bowers FRE
17 Alyce Parker GWS
17 Georgie Prespakis GEEL
16 Ally Anderson BL
16 Ashleigh Riddell NMFC
15 Brianna Davey COLL
15 Dakota Davidson BL
15 Charlie Rowbottom GCFC
14 Emily Bates HAW
14 Anne Hatchard ADEL
13 Abbey Dowrick PORT
13 Jaimee Lambert STK
13 Aine Tighe FRE