Not very edible unfortunately.
Couple of shots of a Nankeen Kestrel from Western Treatment Plant yesterday. BH reckons it's feasting on a frog. It's keeping an evil eye on us in the second pic but it was reluctant to interrupt lunch and fly off.

Parrot notes from the Yarra Trail in Richmond, where I walk most days at lunchtime:
The Gang-gang Cockatoos are still around Burnley Park, with the most I've seen is 8. They'll head back to the hills soon. King Parrots have been resident here for about 5 years, with numbers trending upwards. There is a female Crimson, male Eastern Rosella mated pair that have been in the area for at least a year.
Any particular spot for the Gang-gangs?
Bird distribution notes while we're at it. The Currawongs have moved as far in as Brunswick now. Have not seen one here in over 20 years of living here, but their march west from the Dandenongs continues…
Burnley Park where the train crosses The Boulevard. Also have seen them near Barkers Rd/Victoria Gardens, and Bridge Rd bridge area.
Cheers. BH saw them 2 years ago in the Grampians but only got a blurred shot. Otherwise it's been a case of "you should have been here yesterday". They certainly don't hang out in our neck of the woods. Might try to get down that way this weekend.
The Yarra Trail from Fairfield to Richmond is pretty good. There is a female Powerful Owl in Fairfield and another one has been getting about the CBD parks of late (roosted in Little Collins Street one day a few weeks ago!).
Double cheers. And by any chance is there any location for the Poweful Owl in Fairfield?
Many thanks, will definitely investigate.
Spur Winged Plover /Masked Lapwing.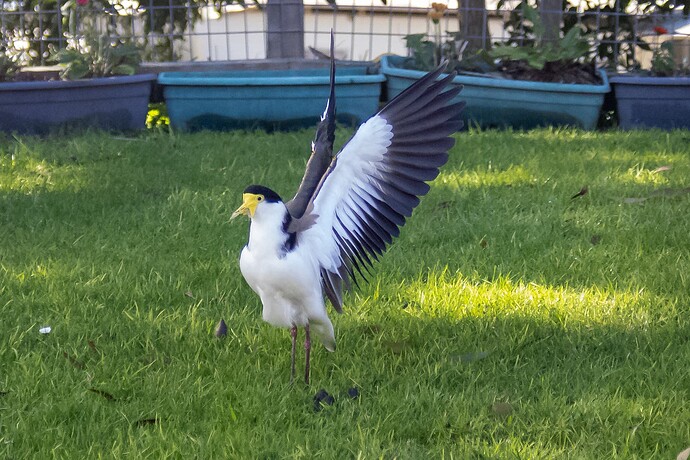 Sitting quietly in the back yard nice and quiet with an old canon lens 35 /70 and he walked around the corner and didn't know I was there spotted me and gave me a glimpse of his spurs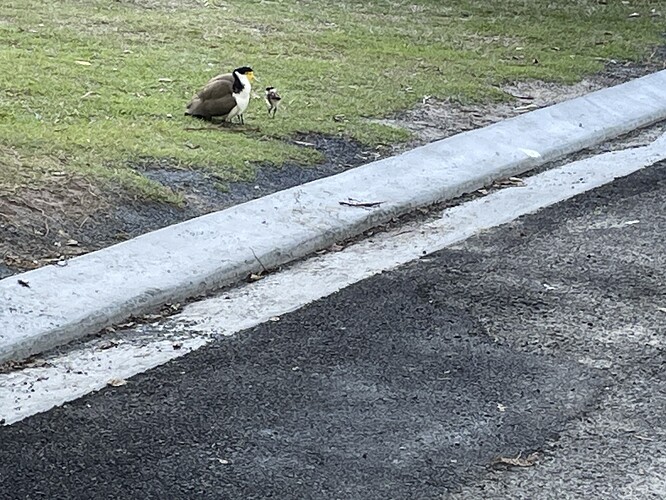 Grainy shot of a masked lapwing and one chick. There are two more chicks sheltering beneath the adult.
They patrol round the Suffolk Park caravan park. There are 4 chicks in total and the two adults are always nearby.
#225- Gang-gangs Burnley Park. BH sends Cheers to Warpy Torpy. Not only were the Gang Gangs present yesterday in Burnley Park but they were in the trees by the railway line as forecast. Nowt wrong with a long trip if it pays off.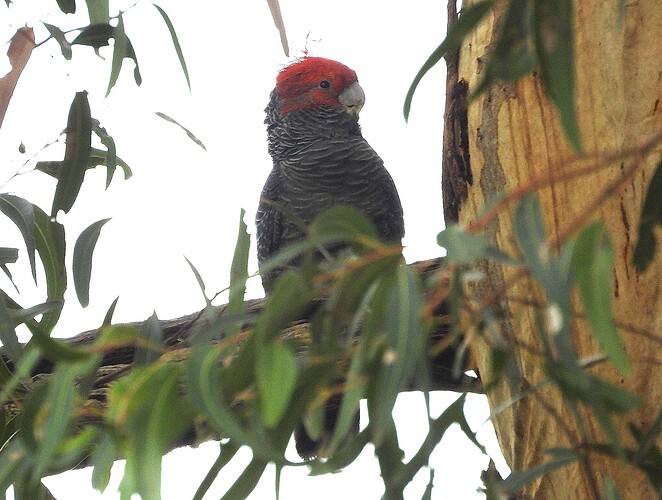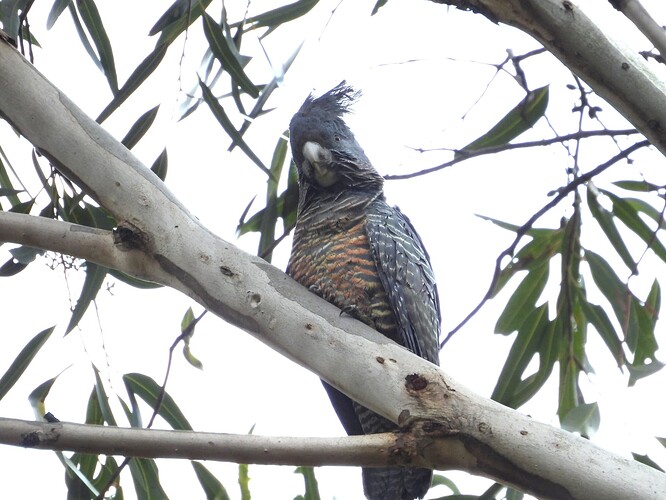 BH with a Gang-gang in her sights after several fruitless trips.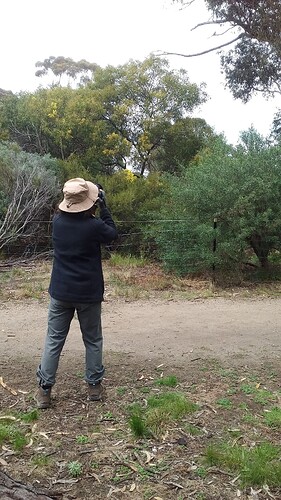 In Bendigo for the last few days, ostensibly on grandparent duty but BH isn't one to miss an opportunity and picked up a brace of lifers.
#226 White-bellied Cuckooshrike – Bendigo Sewage Ponds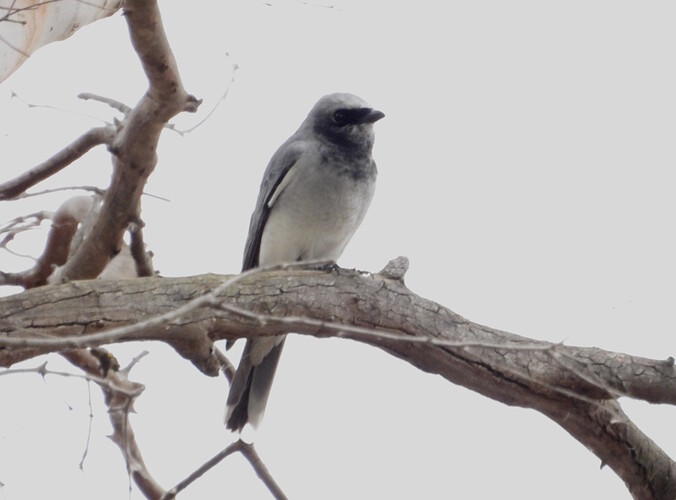 #227 Painted Buttonquail – Crusoe Reservoir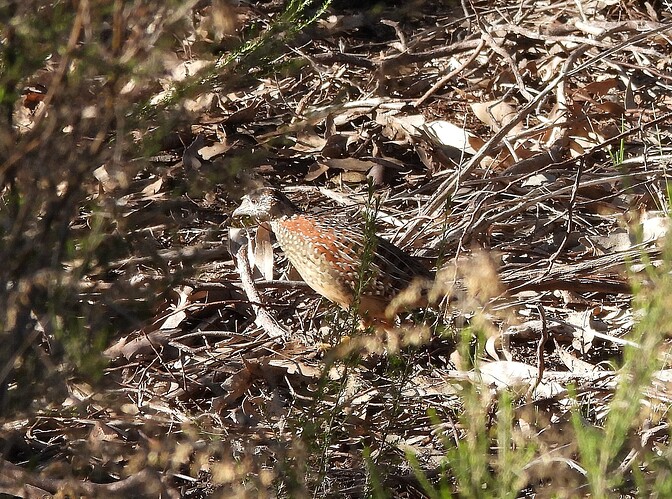 Used to get them sporadically around warrandyte, donvale , templestowe in the 1990s.
Just back from Bendigo on grandparent duty and BH still managed to pick up a couple of lifers, including one very special pair.
#228 Australian Painted Snipe - Bells Swamp, Mount Alexander. Our third visit and BH struck paydirt picking up a pair of what was considered one of the rarest birds around. One was first spotted a few months ago and it's been hanging around the same spot for a while now. Just recently a second one has appeared and BH was lucky enough to catch both in frame and from pretty close up. They actually froze in what they considered long grass but BJ was close enough to score clear shots. Didn't hear their call though, but no-one else has either. The birders in the know reckon they're a pair of adolescent females who weren't ready to migrate. Only ones spotted in Vic this year.

#229 Black-eared Cuckoo – Diamond Dove Dam-Kamarooka. Only the 5th hit on BH's site this year. Got a blurry pick yesterday but we went back this morning before heading home and BH upgraded the pic.

Throwing in this handsome Restless Fly Catcher, also from Diamond Dove Dam yesterday.
Been a slow few weeks with BH struggling to cope with asthma issues but she was back at the Western Treatment Plant yesterday and was stoked to pick up a pair of lifers.
#230 Baillon's Crake. Quite a rare sighting apparently.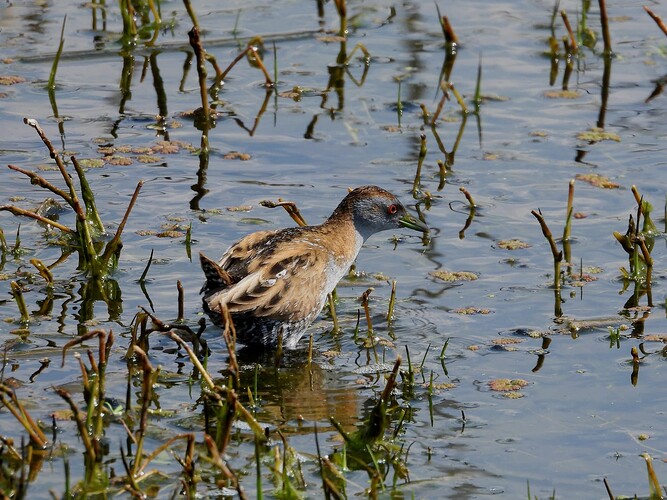 #231 Whiskered Tern. According to BH, "It's called a whiskered tern because the white cheeks contrasting with the grey apparently gives it the illusion of whiskers. Can't see it myself. These birds all wearing breeding plumage. When in non-breeding plumage, beak and legs are black and it loses the black cap, just has a black bar behind the eye."
A shitload had flown in to feast on the clouds of midges hovering over the ponds.