Great pic of a beautiful bird! Not least to hit focus through all the twigs and branches in the way.
No pic but yesterday went for a dog walk in some nearby scrub/semi bush. There's always a troupe of white winged choughs in the area. The way they flit about in the tree branches in a loose group or mill about foraging the ground and their beautiful song really lifts your spirits. So cheerful compared to the ravens that you might mistake them for if you were not paying attention.
BH appreciates the compliment but says, "it was totally luck as it was set on auto focus, no skill at all"
Even so, it took me several attempts to coax the AF to find this one amidst all the clutter, for instance. She's done well.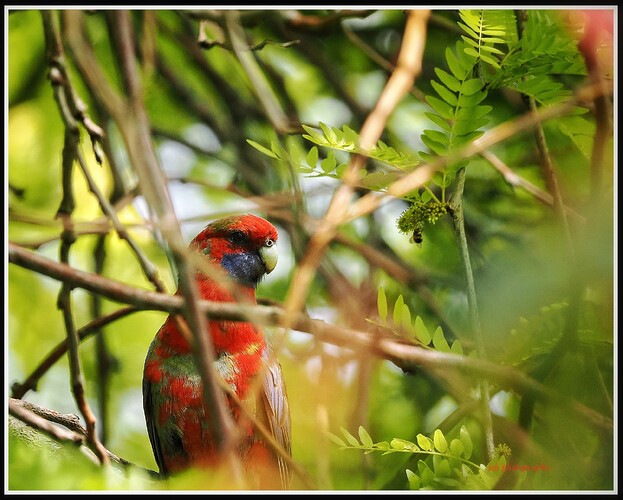 Very fortunate to have resident Turquoise Parrot on our property in Glenrowan. This is a threatened species, but the inland slopes of north-east Victoria are a stronghold for them and they are not uncommon locally.
At the moment we see mostly the males - who feed on grass seeds and do most of the food-bringing during breeding season. The gals have reduced blue on the face and wings and are somewhere nearby in a hollow stump or tree either on eggs or youngsters.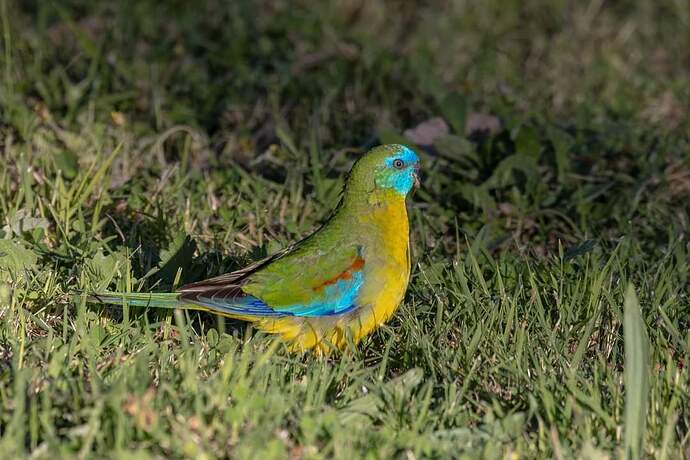 Beautiful bird. I've not seen one before. Yes, very lucky to have them in your "backyard".
Notable really only because sneaking in this close resulted in me stinking of a seaweed and bird ■■■■ mix, lol.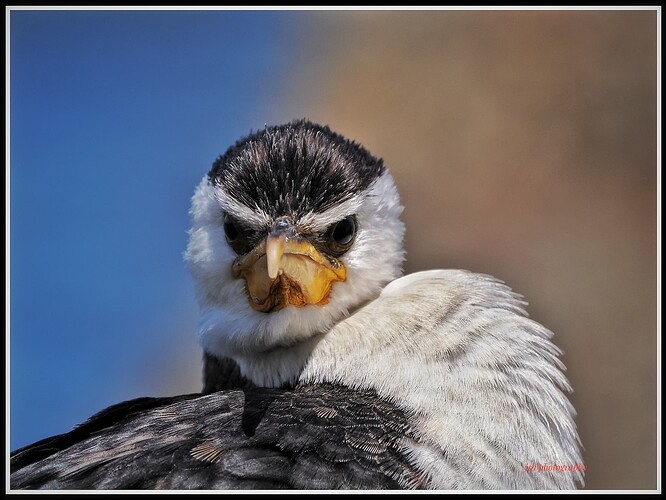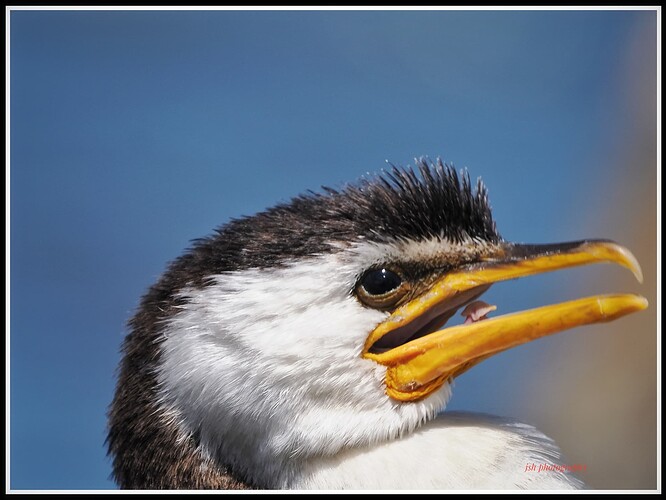 Cormorant shots are worth the smell.
Recently returned from a bitter/sweet trip to Port Fairy with mixed results and emotions. BH had so been looking forward to the celebrated and popular Pelagic Tour, which was booked, her birthday present no less, but aware it was subject to conditions and regularly cancelled. And of course we received the call that it was cancelled a few days prior but she had determined to book accommodation anyway, so off we went. Lots of good birding experiences but the cancellation stung, particularly as the boat they use has been sold interstate and there is no immediate replacement in the new year.
#264 Common Sandpiper – Port Fairy. Despite the name this lifer for BH isn't common at all in Vic.

Short Tailed Shearwater – Griffiths Island Port Fairy. Should have been 265!
Not the greatest pic and they couldn't identify it without prompting on BH's site so it didn't count but I was there and believe me, it was a sight to be behold. We arrived at around 6.30 and had to wait till after 9 for the Shearwaters to return in their thousands just after dusk to find their burrows and chicks. Extraordinary to stand there as the Shearwaters fly back and forth around our heads, more immediate and immersive than the penguin parade I reckon. BH stopped trying to get shots in the near dark after a frustrating time, most of her many attempts were black screens, and enjoyed the experience all the more for it.
Do it if you get a chance!

Some other highlights
White Bellied Sea Eagle- Cape Nelson
Brown Falcon - Colac

@GRR As a pretty serious seabirder, I understand the disappointment of pelagic trips being cancelled-especially in the fickle waters off South-east Australia.
This may not help ease the let down- but I can report that the best place for seabirds in Australia is where I currently am on the astonishing sub-antarctic territory of Macquarie Island (part of Tasmania).
Photo 1: 150000 strong Royal Penguin colony (endemic to Macquarie Island)
Photo 2: Southern Giant-Petrel
Photo 3&4 King Penguin (world's second largest Penguin species)
A once on a lifetime experience I would recommend to any wildlife lover in Aus.