Fark. Big part of Melbourne's culture. Big part of my daughter's life.
My daughter does circus training as an after school activity, their end of year performance beats any dance recital I've ever been to. It's like being at rave, fast paced, action packed with a cool story and theme.
Dan will not let it happen !!!
Hope you are right.
Any goss?
Nah, just a wish and a prayer.
Circus Oz is an institution, and its place in Collingwood is owned by the Victorian Government, so they are involved in this.
I remember seeing them at the Last Laugh many times about 40 years ago. they must not die.
If only they were a gun club in a marginal electorate
Circus Oz to close doors for good after tumbling from funding favour
December 10, 2021 — 11.30am
Circus Oz, the Melbourne-based contemporary circus company founded in 1977, is closing its doors for good after its members rejected the terms of a review imposed by the federal government, which would have changed the way the company is run.
The news comes barely a fortnight after the company announced its first post-pandemic show, which was to have put performers in the alleys and secret spaces of inner-city Melbourne. The company is now unsure if that show can be put on while the organisation is being wound up.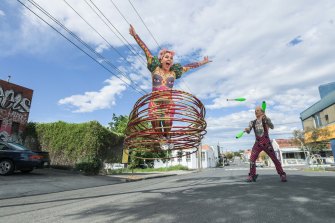 Circus Oz Incubator fellowship artists: Jess Love and Captain Ruin.CREDIT:JOE ARMAO
On Friday the company's board issued a statement saying it was a "devastating blow" to the current teams of artists and employees, but it had no choice but to wind the company down because the members' decision meant they would lose $2.6 million in federal and state subsidies, making the company unviable.
The members, made up of people who had worked for the company for more than three years over its lifespan, decided to wind up the company with a majority of 62 out of 81 votes in an anonymous online poll on Wednesday.
Executive director Penny Miles, an experienced arts manager who was brought on in 2019 to guide the company out of financial straits, said the decision of the members "defies logic", and reflected an unrealistic view of how a major company should be run.
"[The management team] inherited a mess and they not only cleaned it up they were excelling," she said. "We'd completely flipped the table around for this company, resuscitated it to the point where it wasn't just going to survive, it was going to thrive.
"That makes it even harder."
She said she had made "huge personal sacrifices for the company", moving away from her partner just before the pandemic hit, and "gave a red-hot go for the circus industry".
"It's a very sad day for the circus family everywhere."
The announcement came the same day the federal government announced another $6 million from a $50 million fund would be used to prop up companies, including $2 million for the Melbourne Symphony Orchestra, who faced insolvency due to the pandemic, and $500,000 for Brisbane-based circus company Circa.
(Orchestra gets millions from rescue fund as it faces financial cliff)
However the issues at Circus Oz, which received $420,000 from the same fund in August, are not directly related to the pandemic. It has been under a warning from its main funding body, the Australia Council, since 2018 that it needed to reform or lose its funding status.
The Council had concerns about the company's artistic vibrancy and its financial business model, Miles said – it had posted big losses over the previous decade.
In January, the Australia Council suspended Circus Oz's application for funding in 2022-24, subject to an independent "review of the company's strategic vision and business model". The review, which is confidential, was given to the company last month.
The company has undergone a radical restructure in anticipation of the review's findings, cutting half its administrative jobs, making more diverse hires, and shifting to a program of smaller productions and a big artist development program – all done in the hope of retaining federal support.
However, the Australia Council made it clear to the company that the recommendations around governance, reform and membership, where the board would be "skills-based" rather than artist-led, and membership would be open to the wider circus community, were "non-negotiable and funding was contingent on our ability to deliver," Miles said.
In its annual report, released in May, the company said that without Australia Council and Creative Victoria support (worth $2.3 million and $280,000 respectively in 2020) there was a "material uncertainty whether the company will be able to continue as a going concern".
Company treasurer Mike McCreadie said with 70 per cent of their funding coming from government, "take that out of the equation and we're just not a viable business going forward".
They had got through COVID-19 with cash reserves intact, but these were already committed to plans for performances in 2022.
"We have 23 staff we've got to employ, we have to maintain the building that we're in, it's high cost."
The company had not yet decided whether it would be able to stage the first two shows planned for 2022. They have the funds to put them on, but it was unclear if they would be able to stage them in the midst of the company winding up.
"It's really disappointing, I feel for our staff, I feel for the performers," McCreadie said. "And I feel for Victoria not having Circus Oz in the future. It's a terrible shame and a pity."
Eight new companies were admitted to the National Performing Arts Partnership Framework this year, increasing competition among major arts companies.
They must meet criteria including a sizeable audience base and a minimum average income of more than $1.6 million over the previous three years.
A spokesperson for federal arts minister Paul Fletcher said it was "a matter for the Australia Council and Creative Victoria".
The Australia Council has been contacted for comment.
Victorian arts minister Danny Pearson said he had not seen the statement from the Circus Oz board, and it would be inappropriate to comment until he had.
$2.5M in subsidies to employ 23 staff
I'm in the wrong industry.
that's uhhh quite a story
voting to wind up instead of accepting governance reform is some stubborn sht
The biggest problem with the Arts industry.
It's filled with some of the most entitled people you'll ever meet.
Dunno, ya can still be a clown
Is that the one where they feed speed to the little car monkeys