Essendon only named 16 out of 20 we could have named.
All 16 aligned to our VFL team
Shaun McKernan at our VFL?
Ex Bombers include:
Ned Cahill (Carlton)
Michael Hartley (Collingwood)
Shaun Mckernan (Essendon)
Jacob Townsend (Gold Coast)
Josh Begley (GWS)
David Zaharakis (Melbourne)
Lachlan Johnson (Richmond)
VFL:
Kyle Dunkley (Sydney)
Angus Baker (GWS)
Interesting that Gleeson and Clarke weren't signed with anyone…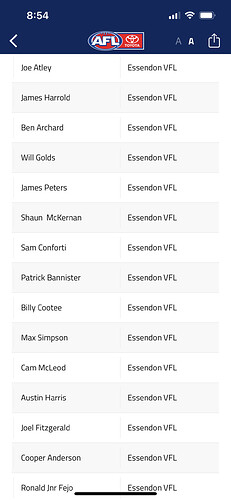 Looks like we had to officially 'sign' them to our VFL but players like Zaharakis can still play with Bundoora based on earlier agreements.
I think every contracted VFL player also has a suburban/community club that they're signed with. They play with them any time they don't get a game with the VFL team.
So Zaka would be signed with Casey Demons and with Bundoora just as Smack is signed with Essendon VFL and Tullamarine in the EDFL.
I reckon for some of those guys they might play local footy for the most part and just have signed a really entry level vfl contract more as a means of just qualifying them for this covid top up list. That's just a suspicion though and could be wrong.
Yep sounds right.
Quite a few ex/overage Calder Cannons in our group
6 of the 16 already Ess VFL and played 1s prac match against Bulldogs a few weeks ago.
Golds recruited from Hawthorn
Smack from St. kilda
Harris is the 18 year old from Gold Coast academy with ties to Zaharakis
Would have loved us to have added Aaron Heppell as a covid player, just to recognize what he gave to the VFL program over a number of years.
Clarke is on Port's Covid top up list
4 SANFL clubs are "aligned" with each AFL club and they can only name players from their aligned clubs.
The WWT Eagles are Port's alignment so they have named Clarke
If Fejo does happen to train or play out at Section Road (Greenvale, his aligned club), then he'll be coached by a Bomber in Darren Bewick.
List needs more Jamar
Edit: I've just realised, if COVID topups are only ever needed to fill in for one game, then Jamar is probably already suspended for that game. As you were
Think at one stage Joel Fitzgerald was thought of as possible top 30 or 40 pick??
187 cm high accumulating defender.
Pat Bennetar! Bring her in, for the pre game entertainment.
Somebody send Dev our for a bbq chook tomorrow arv.