The main thread has several hundred posts a day talking about social/political aspects of covid19 , including speculation and arguments, so posts with factual content get swamped in the main thread. People have posted useful information but it gets hard to find in a thread with 400+ new posts each day. So I am starting up this one. Please don't post any puns about Mexican beers here.
Four days ago, I posted a graphic showing sequence analysis of over 1100 virus isolates, colour coded according to country of origin. In this figure, the closer the dots are to each other, the more alike (and hence more related) are the viruses that infected the people they were isolated from. Similarly, the further apart, the more different they are. Different families are referred to as "clades" and are labelled eg as A2, B1 etc. The closer to the centre, the earlier that particular virus was isolated and sequenced.

Then yesterday, this one with another 300 sequences. Red indicates US samples; purple, China. Note that the large number of isolates from 3 to 6 o'clock in that figure are not descended from the Wuhan isolates.
Also note that in the large US cluster there are a few light blue dots. These are isolates sequenced in Australia by people who brought them back as souvenirs from the USA.


Today, there are ANOTHER 300+ sequences available. This shows not only what a huge effort is going on studying the virus but also the amazing sequencing technology that is available these days. Just twenty years ago, it would have taken a large, very well funded team well over a year to obtain just one sequence.

Most of the new sequences are coming from Iceland, which worldomaps says has one of the highest per capita death rates. Most virus isolates there and in Europe are from a different family (clade) that infected people in Wuhan. Maybe this clade is more virulent, which would explain why the death rate is higher in Europe than it was in China.
Finally @chris_64 posted this yesterday, from a paper that published the first sequences. This shows that the SARS-CoV2 (which we refer to as Covid19) is more closely related to a virus isolated from a bat in Yunnan than it is to other human (or indeed pangolin) coronaviruses.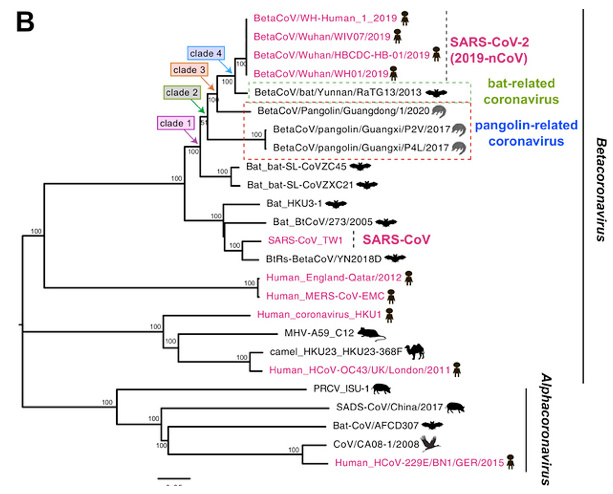 The position of three of those 4 isolates in our radial map is shown here for reference: