Every footy show you turn on you'll hear that we're the worst team in the comp for defending ball movement arc to arc. I take this to mean that our opposition turn R50s into In50s at a higher rate than against any other team. This is a bad thing we're told.
To my eye we aren't over committing to frontal pressure and are deliberately flooding the corridor and then flooding back. The objective seems to be to force teams wide and slow them down. As a consequence I think we're forcing them into wider shallower entries.
This is Carlton's shot chart from the corresponding game last year. They scored 12.8. looks to me like they had about 10 shots within 30 meters.
This year they kicked 6.16 and had only had 2 shots within 30m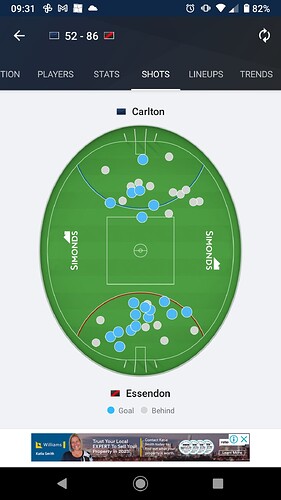 This year sides are only converting 43% of their shots against us. Third best in the comp. Last year it was 51, second worst. Coincidence? Unlikely imo.
Last year we gave up 53 entries per game (lower mid table) and conceded goals over 26% of the time (second worst rate). This year it's 56 entries (worst) and only 20% are converted (among the best).
It's a pretty significant change.
Would be interesting to see a comp wide shot chart comparison to see if we are giving up fewer shots in areas with high convertion rates. My guess is we are.