Based on recent history I was worried at 3/4 time we would just fade away.
Brilliant. Thanks for posting, link worked fine.
That would explain why the top 5 players for distance covered were all Tigers.
Is that for reals or put together ?
Either way it's fabulous.
Seems legit. Expat Bomber supporter in England.
But I looked at the comments and it's very clever editing.
Oh, well. Still good.
Surely you're taking the ■■■■.
That video has been edited for about 1,000 different sporting moments over the past 5-6 years
Let me guess - Mathew mccoganey (sic) inspirational type stuff?
Not really apropos of this thread but does anyone know who this legend is? Spotted on my walk to work this morning.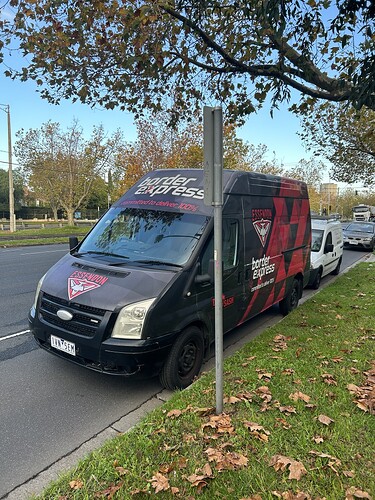 Some people never grow up, and there's something to be said for that!
Lol they're sponsors! The owner is legit EFC tragic, we ran into him on Lygon St after the comeback game win v hawks and he insisted on a photo with us wearing our tshirts.
Rewatching the fourth makes you appreciate how good McGrath,Ridley,Merrett and Durham are in it.
Yeah, it's gotta be fake.
Trent Cotchin in a passage of play attempted to stage for a free by throwing his chin up in the air, pretending to have been hit. Do they ever pay staging anymore, as the oncoming Essendon player would not have got within a metre of him. At least the umps did not reward Cotchin with a free this time.
Yes, faked for our match, but reckon it could have happened for a world cup match.
It's a Euro Cup match from 2016. They're celebrating goal by England against Wales.
I'm not up with all that. I'm a naive child of the 90's.
Actually is a good reminder of how disconnected I am these days. Disappointing really.
I saw that van when Ess VFL played in Geelong. Seemed to be a game day vehicle at the time. There is, however a guy down here with a mini he has legit kitted out with full bombers logo bonnet and roof. Couldn't believe it. Also lots of EFC number plates down here.