I couldn't find a thread for our Hall of Famer so I thought I would start one by posting this: No Cookies | Herald Sun
Essendon Hall of Fame: Tears flow as Bombers make Neale Daniher a legend
Emotions were high as Essendon bestowed one of its highest Hall of Fame honours on former captain and motor neurone disease fighter Neale Daniher.
Essendon has elevated inspirational former captain Neale Daniher AO to legend status as part of an emotional Hall Of Fame tribute.
Daniher was one of four legend elevations on Wednesday night alongside revered club doctor Bruce Reid and champions Dustin Fletcher and Gavin Wanganeen.
It was a fitting honour for Daniher who has shown incredible courage, generosity and selflessness in his battle with motor neurone disease in recent years.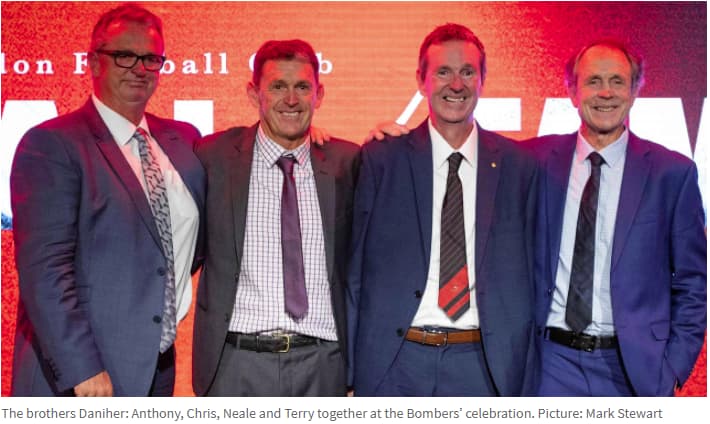 He was on hand to receive the award to rousing applause from Bombers fans, senior officials and club champions.
Daniher, 61, won the club's best and fairest in 1981 and was made the Bombers' youngest ever captain in 1982, before injuries cruelled his career.
But it is over the past decade that Daniher's legacy has transcended football, raising more than $50 million for research into the fatal disease through FightMND.
He has become one of the most treasured and respected figures in football and presented Melbourne coach Simon Goodwin with the Demons' 2021 premiership cup at the MCG in December.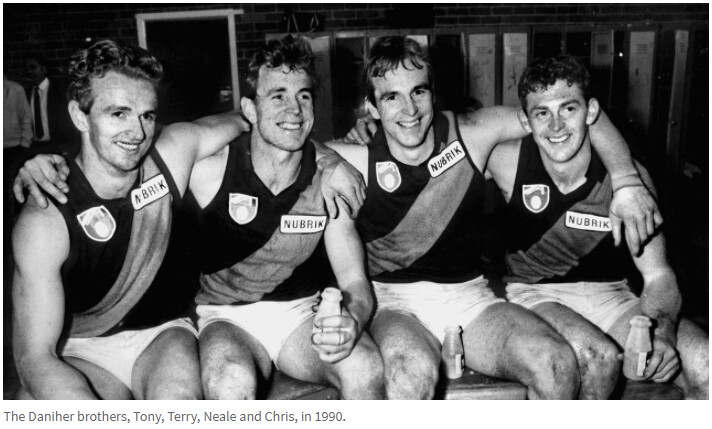 President Paul Brasher said Daniher had made an outstanding contribution to not only the red and black, but the entire community.
"Neale, I know you have a strong foot in the Melbourne camp as well, but the Daniher family, plenty of whom are here tonight, are true Essendon royalty," Brasher said.
"Your continued determination to live life to the fullest and face 'the Beast' of MND with your trademark humour and fierce courage is nothing short of inspiring.
"And I would say the same of your family who are here tonight.
"I can't properly convey how inspiring you are to many people in this room tonight, and quite frankly, the AFL world and to the broader Australian community."
Reid, who joined the Bombers in 1982, was the AFL's longest-serving senior AFL doctor before he passed away of cancer in 2020.
His expertise, confidence and friendship was treasured by generations of Bombers across four decades.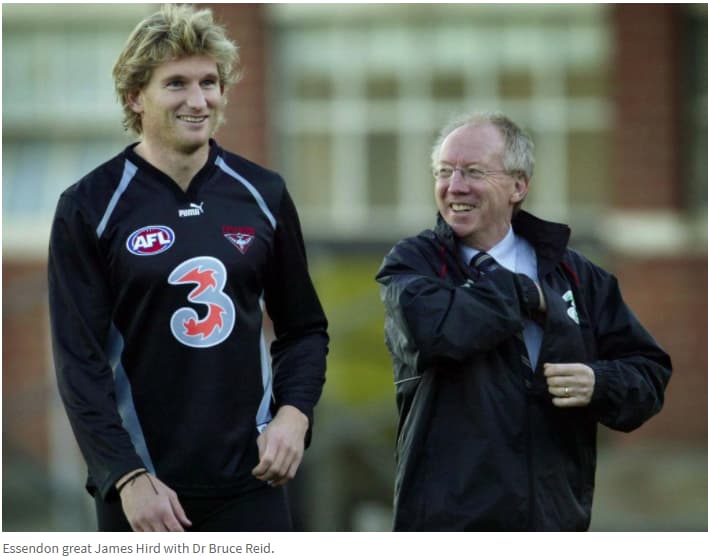 "Bruce was generally regarded as the best game-day doctor in the competition," Brasher said.
"I am not sure how he would go if he was starting out today – political correctness was not one of Bruce's trademarks.
"But, you know what, I think he would probably get away with some of his outrageous remarks because people loved him so much."
Fletcher played 400 games in a glittering career spanning 23 seasons.
The two-time premiership player was one of the league's best defenders during an era which contained some of the greatest goal kickers in the AFL.
Only five players have cracked the 400 game milestone.
Wanganeen won the 1993 Brownlow Medal, the first indigenous player in the game's history to take out the top honour.