Ham on radar of AFL clubs
Updated: August 8, 2018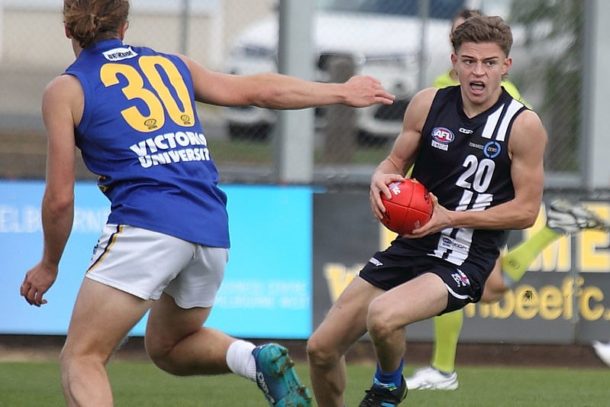 Geelong Falcon Brayden Ham has been invited to the State Combine. (Geelong Falcons Image/Brian Bartlett)
BRAYDEN Ham's versatility could appeal to AFL clubs ahead of this year's drafts after the Geelong Falcon earned an invite to October's State Combine.
Players require nominations from at least two AFL clubs to earn an invitation to the State Combine with Ham – who missed out on the final under-18 Vic Country squad – the only Falcon to be named.
Teammate Sam Conway has been invited to the Rookie Me testing, which requires one nomination.
Falcons' Sam Walsh, Oscar Brownless, Connor Idun, Ned McHenry and Charlie Sprague have already secured invites to the three-day Draft Combine.
The 19-year-old Ham is leading the Falcons goalkicking this season with 19 from 12 matches and averaging just over 18 possessions and six marks a game in 2018.
The Falcons have been impressed by Ham's dedication this year after he missed out on playing in their triumphant 2017 finals campaign, despite playing 14 matches in the regular season.
While he's been damaging up forward, the Falcons have also played Ham in defence and through the midfield and has impressed with his rebounding ability.
Conway was a member of the Falcons' 2017 premiership side after coming into the program late in the season and had been touted as a draft smokey last year.
The lightly-framed 202cm ruckman has played just seven matches in 2018, averaging 28 hit-outs a game. But the dearth of young ruckman in the TAC Cup this season could work in Conway's favour, and a club could see his potential for development in an elite program.
Draft dreamers: Late bloomer Brayden Ham, 19, regarded as one of fittest players in the draft
DAMIEN RACTLIFFE, Geelong Advertiser
November 16, 2018 3:06pm
Subscriber only
BRAYDEN Ham looms as a success profile story for the TAC Cup's under-19 rule.
After missing out on a spot on the Falcons' list as a bottom-aged under-18, the Torquay junior got his first taste of TAC Cup as a top-ager last year.
With 14 games under Ham's belt, Falcons coach Daniel O'Keefe and talent manager Mick Turner were convinced the late bloomer had what it took to become a draftable player.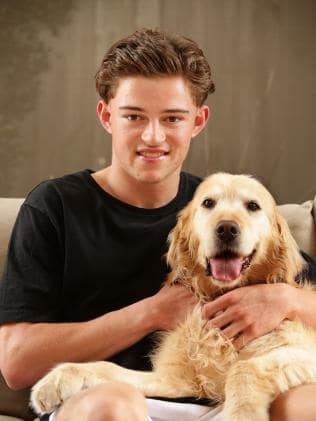 Geelong Falcons draft prospect Brayden Ham with his dog Layla at home. Picture: Alison Wynd
"I probably only developed pretty late so I didn't even get a look in at under-17s, but came back as an 18-year-old for my first year in the program and 'DOK' told me at the awards night of that year that I'd be coming back as a 19-year-old and knew that I had a bit to give," Hams recalled.
"'DOK' told me he wanted me to be one of the fittest players in the competition and I worked ■■■■■■ hard for that."
Rating elite in both the sprint and endurance tests at the combine, Ham has arguably been the Falcons' most improved player, both due to his work ethic and football development.
A look at the stats sheet — 10 times in the best and a team-high 22 goals from 16 games — might make you believe he's a permanent forward, but that's far from the truth.
"I started in the midfield at the start of the year and across the wing as well," the versatile 180cm player said.
"I hadn't really played a lot of forward in my juniors but they thought I could be a pretty damaging player up there this year.
"I had a go there in the pre-season and it all went pretty well, so I started there for most of the season, but I played all over the ground to be honest."
Geelong Falcons draft prospect Brayden Ham with his dog Layla at home. Picture: Alison Wynd
Ham had no goals to his name in the opening two matches, but kicked three goals over four consecutive weeks to develop a real knack of finding the goals.
"After you get one under your belt, it gives you so much more confidence," he said.
But at his height, Vic Country scouts wanted to see him learn to win his own ball, so Hams turned his focus to being strong in the contest.
While there are no guarantees at this month's draft, Ham shapes as one of the bargain picks.
"I've spoken to a few clubs but you never know what they're going to give out I guess, so I'll have to wait and see," he said.
"I'll probably have a few mates over and the family as well and if it's not to be, we'll keep our head up and work through the VFL or whatever comes next."
Dodoro has out-punned himself this year.
Stolen from draft thread:
My eyes glazed over when I heard we picked him up.
Is it a package deal, do we have to take the black-shirted loiterer too?
Hope hes a good hoof of the ball
Perfect!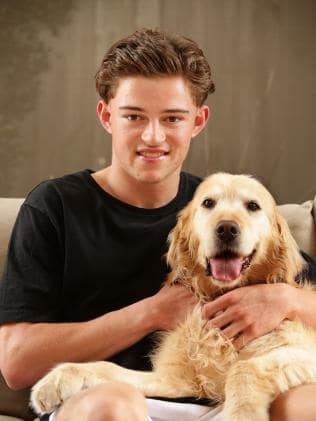 Welcome Ham… now we just need cheese
Our recruit already has a photo with @Reboot
Who doesn't love a Christmas Ham?
Welcome to Essendon young mister Ham. Providing plenty of competition for Mosquito for the small forward spot. Excitement plus.
Not even commenting on the nice legs?