https://www.theage.com.au/sport/afl/hawthorn-to-get-up-to-20m-in-government-funding-if-labor-win-election-20190508-p51l60.html
Hawthorn Football Club will receive $20 million in federal government funding for their new Dingley facility if Labor is elected on May 18.
The Hawks and Labor frontbenchers Anthony Albanese and Mark Dreyfus made the funding pledge on Wednesday at Hawthorn's Dingley site, the Kennedy Community Centre.
[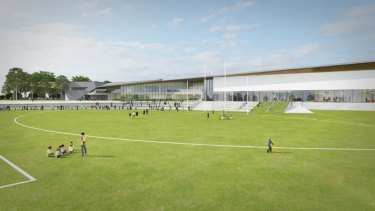 ](javascript:void(0)

An artist's impression of Hawthorn's new training base in Dingley.
The Hawks are seeking to raise well over $100 million for the huge Dingley site, which will become their new training base, replacing Waverley Park.
In announcing the funding, Albanese said it was based on community use, gender equal facilities and education spaces. It would provide a "regional home" for non-profit groups.
Dreyfus, the shadow attorney-general, is also the member for Isaacs, the area that includes the Dingley site. Albanese is shadow minister for infrastructure, transport, cities and regional development.
The Hawks, who have submitted their detailed Dingley plans to the city of Kingston council, are also seeking state government funding and are expected to ask for AFL assistance as well.
The club's wealthy benefactor and ex-vice president Geoff Harris has committed a donation of $10 million for the Dingley site, which will have the Harris Elite Training and Administration Centre bearing his family name, while other wealthy backers also are set to contribute.
Albanese said the facility would provide "much needed gender equal football facilities".
"A priority of the pavilion is the incorporation of a regional home for not-for-profit community organisations such as headspace and Deadly Choices," Albanese said.
Hawthorn CEO Justin Reeves said the facility would enhance Hawthorn's capacity to give back to the community.
"We are one club with several teams, and the Kennedy Community Centre will cater for all of our elite football teams, both male and female, as well as our netball and wheelchair teams within the same precinct as community sport."
The new facility is planned to house an indoor stadium for local basketball, netball, volleyball and wheelchair football, with another two ovals for local community use. The facility is named after John Kennedy, the legendary coach who is regarded as the figure most responsible for the creation of the modern, successful Hawthorn.
Hawthorn are one of several AFL clubs to have received pledges from the Morrison government or the Labor opposition in recent weeks.
Collingwood gained a pledge of $15 million for a joint project with Monash (supported by the ALP), while Carlton, too, received $15 million from the government to establish their ground as a women's football centre and the Brisbane Lions and Richmond also got the same amount from the Coalition government for their headquarters or new training bases, based partly on women's football and in Richmond's case, to house the Bachar Houli Foundation.
Surely they've had enough success to afford their own base without slugging the taxpayer for a handout?