Busy time sees Don managed
Apr 18, 2019 6:25PM
BTV: Rd 5 | Team Selection
Senior Coach John Worsfold takes us through the team to face North Melbourne at Marvel Stadium on Good Friday.
(Brayden Ham is) super quick, a great runner, uses the ball really well and looks very composed.
John Worsfold
Related
Essendon coach John Worsfold says star on-baller Devon Smith's omission from the Bombers' line-up is a simple case of careful management.
A six-day turnaround into Friday's Kick for the Kids clash with North Melbourne followed by another short break into the club's ANZAC Day match against Collingwood has seen the club take extra care of player workloads.
There are no concerns for the 2018 Crichton Medalist, with Worsfold clarifying the situation on Thursday.
"We're managing a chronic knee problem that he arrived with," Worsfold said.
"We just feel like this is an opportunity now, with where we're at in the season and what we've got coming up, that will make sure that he's up and going and playing his best footy throughout the whole year."
Young Bomber Matt Guelfi has reclaimed his spot in the line-up after being omitted from last week's convincing victory over Brisbane.
The versatile 21-year-old has spent the majority of 2019 across half-back, but his 15 senior games last year showed he is more than capable of taking the game on in the midfield or at half-forward.
Smith is used predominantly as a midfielder with stints in the forward line and Worsfold said Guelfi is one of a number of Bombers who can help fill the void the former Giant leaves behind.
"Matt (Guelfi) will come in and play a specific role.
"We've got the ability to shuffle players around; McGrath can play more inside and more wing, Parish in his role whether it's forward or wing or inside.
"There'll still be a general blend, but Matt's very flexible for us."
Exciting draftee Brayden Ham has been added to the senior squad for the first time and Worsfold said the selection is a deserved recognition for his impressive start in the red and black.
Ham was among Essendon's best performers in the VFL in round one, displaying great athleticism and gathering 19 disposals, 10 inside 50s and a goal.
"He's done a lot of his work across half-back, which is a fairly new position for him – he played most of his footy more midfield and forward at Geelong Falcons," Worsfold said.
"He's super quick, a great runner, uses the ball really well and looks very composed.
"Everything he's done so far has been very impressive and hence he gets his chance to come into the squad."
Brayden Ham has been named as an emergency for the Kick for the Kids game on Friday.
One Bomber who has been ruled out of the senior side is key forward Joe Daniher, who will line up in the VFL at Avalon Airport Oval on Saturday as he returns from a calf strain.
Daniher's return to competitive football has been a long time coming since falling to osteitis pubis in round seven last year and Worsfold said the club is confident sending him through the VFL will lead to the best outcome for the star goalkicker.
"(We have been) weighing up how long Joe's been out of the game, what his progress has been in the last couple of months in terms of getting him back playing, and the fixturing as well.
"Taking into account all of those factors, we've settled on a pathway to get Joe back to playing his best footy at senior level this way."
The last time Essendon and North Melbourne met was one of the games of the season in round 15 last year, with the Bombers prevailing by 17 points in a thrilling shootout.
LAST TIME WE MET NORTH MELBOURNE
35 goals were kicked on that occasion and while Worsfold isn't expecting such an attacking affair this time around, he is anticipating another exciting contest.
"North is a good, hard team and has got good strengths across all areas of the field.
"Generally, we just think it's going to be a nice, tough game - we've had some really good clashes with North in the past.
"I'm not expecting this one to be as high-scoring as last year's game, but you never know which way it ends up panning out.
"Our focus is playing our best footy, we're starting to see it roll along with a good, even contribution across the team. That's what we want North to feel tomorrow."
Worsfold said it is "wonderful" to be a part of the special annual match, which will again provide enormous support for the Good Friday Appeal.
"For the Essendon Football Club to take part in something so significant, thinking about the kids and how much bigger it is than actually just being a game.
"We'll play our part and make it a really exciting game and we know people will get behind the appeal.
"You can actually support us via our website as well and help fundraise for the kids.
"We're going to take it very seriously in terms of our role."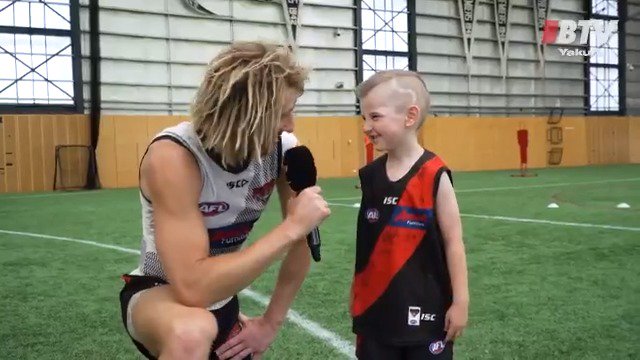 When Jack met his heroes…

This is what it's all about.
Team selection: Round five
Apr 18, 2019 6:20PM
BTV: Rd 5 | Team Selection
Senior Coach John Worsfold takes us through the team to face North Melbourne at Marvel Stadium on Good Friday.
Related
Essendon has made one change to its side ahead of the Kick for the Kids game against North Melbourne at Marvel Stadium on Friday.
Devon Smith has been omitted to manage his workload during a busy part of the fixture, with young Bomber Matt Guelfi taking his place in the side.
Draftee Brayden Ham has been added to the extended squad for the very first time as an emergency, recognising an impressive start to his AFL career at The Hangar.
The first bounce is set for 4:20pm.
FINAL TEAM
B – Jordan Ridley, Patrick Ambrose, Conor McKenna
HB – Andrew McGrath, Michael Hurley, Adam Saad
C – David Zaharakis, Zach Merrett, Mason Redman
HF – Darcy Parish, Zac Clarke, Anthony McDonald-Tipungwuti
F – Matt Guelfi, Mitch Brown, Mark Baguley
R – Tom Bellchambers, Orazio Fantasia, Dylan Shiel
Interchange – Cale Hooker, Dyson Heppell, David Myers, Jake Stringer
Emergencies – Kyle Langford, Aaron Francis, Brayden Ham, Sam Draper
IN – Guelfi
OUT – Smith
Zaka is really gonna play .
Smith is a massive out. Such an integral part of our team and system
WHERE IS DRAPER!?!?!
overall it's a good team and one that should get the job done easily
interesting in the ham article they essentially describe Ham's role as one that has been and or still is pretty close to what Devons role is, yet guelfi is selected.
because they can move him around, and move mcgrath around and parish around if need be.
but when the same philosophy is used with Myers or zaka by supporters it's oh god no we have no one who could ever fill the roles they bring to the team.
funny that.
Wossha said: "Matt (Guelfi) will come in and play a specific role."
TAGGER??
Onya Jack!
Hope Tippa kicks ten goals for you!!!
This is super weird! I looked through the Tin Rattlers 22 and actually recognised more than a couple of names. Gosh it's been a while since that happened…
Just fold already
Close the Caption Contest thread already.
Well this will be interesting. Devon Smith sure as hell isn't going to be running past you to make that tackle in this game. Let's see if the lads can bring the defensive intensity without him.
Smith out???
We. Are. ■■■■■■
Don't know how to fit him in but not playing Francis is a concern. He is too good to be watching. No doubt his management will put out feelers if this continues. Not that this is a reason to pick someone but he needs to be in. Forward is better than out. And don't give me this malarkey he didn't pre-season as a forward. He is the perfect swing man. ZClarke might be needed in the ruck but when you compare them as footballers …

Unfortunately paper doesn't play - to paraphrase Brian Clough. But you have to admire his chutzpah.