Bit nervy in the end, huge win that
You'd take that at the start, job boys.
good win.
Phillips could be out next week.
hopefully Ridley is ok.
fifth on the ladder
overall we played very good footy
last few minutes were poor
BIG EFFORT for a BIG WIN
Yup take that one. We deserved to win and did.
Highlight of the day that Skeeta mascot has a new girlfriend named Sky
Skeeta getting some the night
Massive win. What a great first half.
The Crows junktime goals will unfortunately be talked about a lot from the gloomers but the hard work was done early on.
Hobbs was great. 2MP an improvement.
Important 4 points. We get a free go at Geelong next week.
do we put us going to sleep in the last quarter down to shiel midfielding again???
Look at crows percentage we could've dented that that was an awful 2nd half
Scott wouldn't be happy with that last quarter but happy to get the win, I think Shiel's spot is in strife with the emergence of the young midfield brigade. Laverde was enormous for us I thought his best game of the year.
Huge win and now we are 5th!
Played some unbelievable footy first half.
Just had to grind in Q3. And last quarter was meh but game was basically done.
Lots of positives. Still plenty to work on.
Fingers crossed Ridley is ok!
Bring on the Cats. We can absolutely win that! BDB will be extra fired up for.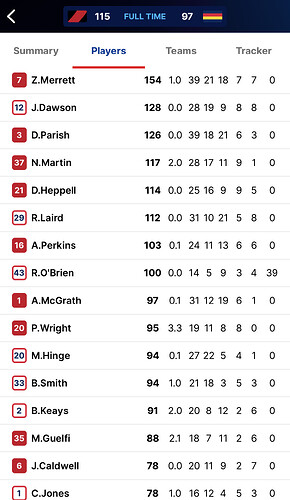 We learned a bit from last week.
More run and carry, with more gives to players running past.
Better angles when needing to find space. Wasn't all backwards which helped a lot.
Forwards leading much better. They didn't run into each other and we didn't see three talls going for the same ball.
Still need to continue skill drills.
Hope Ridley is ok.
Good win.
We can play patches of good, finals football. Challenge is to keep it going for 4 quarters.
Continued our winning streak against the crows and 5th on the ladder in round 17. Love it.
First 3 quarters was the best, tough footy I have seen for a decade. So much tonlook forward to.
Sheil is absolutely surplus to needs. If a team offers a 2nd rounder, take it and run.
That last quarter was much like the GWS game.
We just tried our best to let them back in.
The fact that they were challenged at the end will mean they don't get too cocky.
God I'd love to beat Geelong …be interesting to see who pulls up ok.