I've got an adult and a child member GA if anyone needs something similar. PM me.
I don't really care anymore. Just end our season please Bin Chickens
I would just like to see 2MP get some Curnow style treatment from the umps.
We will get shafted by the umps (again) and you will like it - AFL directive
Be much more excited with a Voss or Tsatas debut.
Lose so we can check out on this dumspter fire of a season already
He has to do what Curnow does; he needs to adjust his contest marking routine to incorporate flailing his arms around, actively seeking the arm-chopping contact from the defender behind him, and appealing for a free kick.
Simply allowing a defender to hold one of his arms and go for the mark one-handed hasn't worked for the past two seasons.
Incoming fine for staging if an EFC player does that
Heading into the footy tonight like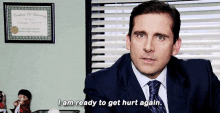 2MP doesn't have white line fever, Curnow does. Both talented. There's the difference.
Essendon AFL has won 100% of the games I have attended this year.
You're welcome.
So you're the reason for the losses. Lift your game.
8/17 purgatory without me.
(I didn't include the Saints pre-season game, which would make me 50%)
EDIT: I assume we played more than one pre-season game. Don't remember. Gold Coast win?
I expect us to start well. Overall that's been our Shtick for most games - put the week before behind us and regroup well for the next match. But from the last couple of matches it feels we may be done for the season. So we'll see if the boys are tired (mentally and physically) or hungry to finish off the season with run and wins.
I just want someone to flatten Parker.
This.
It's the first game I'll be attening in a long time but I'm feeling very flat about it. We're playing boring and uninspired footy at the moment, Ridley out on top of Draper give me little very confidence. Being able to watch a young gun debut would at least give us something to get excited about.