My mate, drummer in my band got a great story written for him and his relationship with Chris Mayne
Great story.
Thanks for sharing.
Can you print it so I don't have to go into that paper
Mayne man: A key figure behind Magpie's remarkable resurgence

February 29, 2020 — 8.39pm
Michael Donehue saw Chris Mayne on the bench press at his local gym and decided to strike up a conversation.
It was late 2017 and Donehue, a Collingwood fan, knew about the intense pressure Mayne was under from the media and fans after playing just three games in his first season at Collingwood.
Chris Mayne's career at Collingwood looked over at the end of 2017. He recently signed on until the end of 2021. CREDIT:SIMON SCHLUTER
Reports at the time had Collingwood coach Nathan Buckley saying there was a "mix up" in Mayne's recruitment and others were floating a trade back to Fremantle, given his hefty contract.
"How's the pre-season going?" Donehue asked Mayne.
Turns out it was a long one.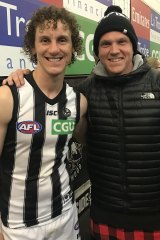 Chris Mayne and Michael Donehue after Collingwood beat Geelong in the 2019 finals.
Mayne and his wife Britt had cancelled their post-season overseas holiday so they could mount their own, extended pre-season.
Donehue - a mental health advocate and drug and alcohol outreach worker who admits he is never too shy to make new connections - followed up his short conversation with Mayne on the day they met with a couple more at the gym the next few weeks.
On their third meeting he decided to open up to Mayne and he managed to break down his barriers. Donehue recalls: "I remember just standing in the gym and I said, 'Look mate, I have got so much admiration and just respect you so much for everything you have been through and what you have been able to do for your career'. And then his eyes welled up in front of me.
"I genuinely wanted to just learn more about Chris and see if a mateship or friendship blossomed from there."
Mayne and Donehue are strangers no more. Donehue is now in Mayne's inner support circle which includes family and close friends. That inner circle helped Mayne go from crying in his car at the Holden Centre in 2017 to one of the first picked at the Magpies in 2018 and 2019.
"He has been able to break down barriers of a lot of people, he has a knack for it," Mayne says of Donehue.
"I couldn't be more grateful for him and what he has done for us while we have been in Melbourne, to see something there, break it down and be now in my inner circle and come to every game.
"He's broken down other barriers of people here like Brodie Mihocek.
"I am always open to anyone I meet in the public to chat. Normally that's where it ends. He was persistent, in a polite and friendly way, and showed me his colours and ever since I have been thankful as a mate … we speak every day."
Donehue is 32, a year older than Mayne, and lived with depression in his early 20s. His mental health dipped badly when two family members died in the Black Saturday bushfires, and he credits his family and his doctor for saving his life.
"It is people like that," Mayne says of Donehue. "They want to help other people feel some sense of want and value and if I can show vulnerability in the position I am in, that allows other people to learn to open up and talk about feelings and emotions."
Having just celebrated the birth of his first child Billi-Rose in October last year, he will see where his body and family is at come the end of his contract when deciding to play on or not. Mayne and his wife Britt's family are in Western Australia.
"One day we will all be back together again [in Perth] where they can see the kids grow and be a part of it all," Mayne says.
"We had a discussion about pursuing another year or do we want to go back home?
Mayne wants to be a coach after he retires. CREDIT:AAP
"But I am craving it [a premiership]. I want it really bad."
When Mayne goes home it will likely be into an assistant or development coaching role.
At the Pies he is like an extra assistant coach, taking his own computer home, chopping up highlights and going through them with younger players in consultation with their line coaches.
His interest in coaching began by learning off Matthew Pavlich and Peter Sumich at Fremantle, and has been further nurtured by Robert Harvey, Garry Hocking and senior players at Collingwood.
"I still learn a lot off 'Pendles' [Scott Pendlebury]. I love to be able to go back and forth with him. Similar deal with Tay [Taylor Adams] and Steele [Sidebottom] and Howie [Jeremy Howe] and big Brodie [Grundy]. Just really plugging ideas and hearing their thoughts.
"For me that's important to get their perspective and work with the younger kids like Cal Brown, hopefully I have an impact on his career. And Daics [Josh Daicos], Q [Isaac Quaynor], Tyler Brown, Trent [Bianco], Will [Kelly] – a lot of the young boys is where the improvement comes from.
"You get one or two of them like a Stevo [Jaidyn Stephenson], able to play a role for the season, and then that middle tier like Bruzzy [Brayden Maynard], Darcy [Moore], Jamie Elliott to take that step in their game and it enhances the whole group."
Mayne has done the AFL Next Coach Program, is completing his level three coaching badges, is a development coach at Sandringham Dragons and has done a diploma of sports ready management and mentor-ship.
This year Hocking has asked him to be a line coach for Collingwood's VFL side on match day every now and then.
"Initially when 'Buddha' came across [to Collingwood] he was good at building a relationship with me," Mayne said.
"It was his and Harvs' ability to tap into what I like outside of footy. We used to play golf once a week. And then from there little tactical things with 'Buddha' around stoppages and learning different crafts.
"Then philosophy from Harvs, they're a real ying and yang for me. I love their combination. With Harvs the philosophy and outside look and tapping into being a coach and enhancing that.
"Footy is a fickle game in a way and it always has its bumps. It's about taking the good with the bad and keeping that consistent persona."
C Mayne is ok but screw Collingwood.
l wonder if this Donahue bod is the guy we saw walking laps of the boundary with Mayne during the Blitz bush fire game. Good chance it was.
How he's resurected his career after 2017 should give hope to every single player
Is actaully a ripper bloke.
Watched the whole of the blitz charity forum footy match a few weeks back after we pinched their training ground
He watched the whole game and I didn't get a call?
Pfft.