Hopefully this is aloud here guys,if not my apologies…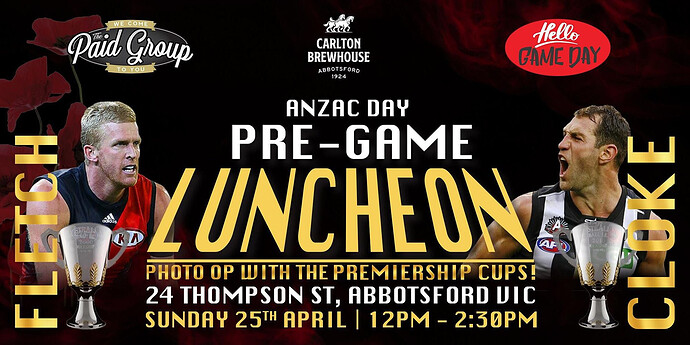 Live interview/luncheon/photo opportunity with the PREMIERSHIP CUPS before the Anzac Day game ft. Dustin Fletcher and Travis Cloke
This pre Anzac day game special brought to you by Hello Game Day and the Paid Group gives you access to two of the great premiership players from Essendon and Collingwood in the form of 400 gamer Dustin Fletcher and Travis Cloke.
Not only will you get the chance to meet these superstars, you will also be able to relive the glory days and get a photo with the 2000 & 2010 PREMIERSHIP CUPS!
The unforgettable event will take place at the iconic Carlton Brewhouse in Abbotsford.
Make sure that you arrive when the doors open at 12pm to get your photos before the luncheon and live interviews commence at 12:30pm. When the event finishes at 2:30pm, you can make your way straight to a packed MCG with a full belly and a grin from ear to ear. For those who aren't fortunate enough to get a ticket to the game, stick around at the Carlton Brewhouse and enjoy the next best atmosphere for a footy game!
See ticketing options for all information regarding ticketing and the different packages available including photo opportunities with the players and the premiership cups, food and drinks all inclusive and premium seating packages including sitting with the players.