That was great.
Hawks really are complete ■■■■, though.
I didn't think it was possible but I'm certain that Scicilys head is way more punchable than it used to be
■■■■■■ we let those ■■■■■■■ nearly kick 10 goals
So good to get a win and pump these kents
Midfield lifted in 2nd half
Setterfield recruit of the year
Archie with 20 and 3 goals amaze.
Did cry when Tippa goaled.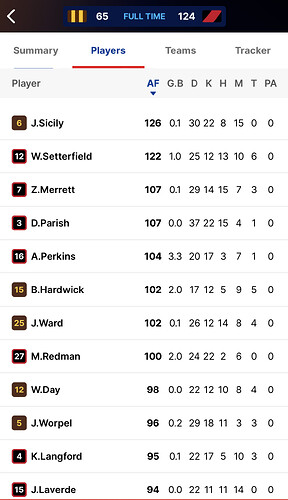 how good is winning!!
ive missed the roar anytime the balls near Tippa
ead hawks and ling
ALWYN proving hes an alpha after stealing the mic off ■■■■■ brown
Given we have no other tall marking contested forward, I'd say having Phillips was vital for team structure to allow Draper forward.
He doesn't get votes.
He's closer towards worst on ground than best. But he's important to our structure for the short term.
What a difference 12 months makes
What a wonderfully joyous day at the football
I mean granted they were very low but that exceeded all expectations.
We definitely won't finish last now. Hawthorn are farked.
Walla bought his mum a caravan
Weeeeeeeeeeeeeeeeeddddddddd
This post game interview with Tippa and Davey is making me rather emotional.
Fark 12 months.
What about two week?
Mitchell & Sicily are both going to rue their appointments, and today is just the start.
LOL Tippa! Thanked his mum and said if he could get back out there and playing again he would buy her a caravan. Now he has.