I actually hope they win tonight.
I want hawthorn to win or get completely demolished til … AND I COME ALIIIIIVE, COULD IT FEEL THIS GOOD ALL THE TIIIIIIIIME.
Will be a gripping encounter between two traditional rivals.
Hope that jingle is all stuck in your heads now for the rest of the night like it is mine.
Surprised its not ■■■■■■■ Geelong on prime time again
I'm sure they'll find a way to wedge a Dangerfield reference or 12 in.
Why do you keep trying to hurt me?
Half time interview at moggy creek
He's kicked 50.49 for the season. Each one of those 49 behinds has been awesome.
A colleague at work has lost 16kgs so far on the Light n Sleazy.
Did they try the lasaaaaargna?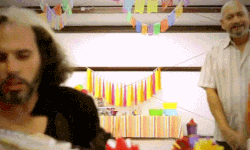 ear worming the ■■■■ out of me.
oh bruce is commentating hodgey, this should be great.
hodgey.
hodgey, good bloke hodgey.
just remembered utopia is back. hello iview.