@brem06 getting out of the way early this week
BLICAVS IS TALL AND ATHLETIC
Saints will shock everyone and beat geelong. Bet the house on it.
Counting on the dees to thrash carlton and finish them off for good.
Jesus Christ man. I'm just out of bed.
Oh well… a little whisky in the coffee never hurt anyone.
DRINK
Oh, just another Richmond Friday night game.
WAIT A MINUTE
I'll have a slab on the Cats.
Romp it in Cats
I want to see SUPER TOM kick a bag
That would be pretty, pretty, pretty good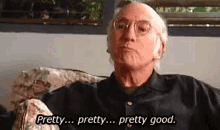 Saint have a few mids in the 188cm 90kgs
They might have too many but gee would love one or two at that height and kgs in our midfield
Hopefully Perkins can be that
Would you say them at their bodies are towards the bigger end of the scale?
Perhaps, that they are big bodied?
You like it tried to be more creative

A few of really good games this weekend. Port v Dogs Saturday night should be a cracker, Richmond on the rebound against a GWS team who have started to string some wins together recently, and undefeated Melbourne can Fark Fark Carlton's season further on Sunday.
Reckon Hawks will go with a succession plan
Mitchell to take over from Clarko at the end of 2022
Super Tom to kick 8 on Frawley
Getting Frawley is nothing more than to just have the Frawley name back at St.Kilda
He'll ping a hammy
Are they gonna show him ducking into every tackle ?
I want Merrett to be our Selwood