Gonna end up like Harambe
My daughter's year 4 class is doing a Zoosnooze at Taronga Zoo tonight. They spend the night at the Zoo and sleep in tents. Another class from the school was there last night - so there will be some crazy stories to come from the kids who were there.
All recaptured without incident
Disappointing outcome, lift your game Lions
So the kids on Zoosnooz weren't impacted but families doing Roar and Snore were woken and relocated to a secure location.
Not even as much as a little mauling.
The 5th Lion Joe just sat on the fence and watched it all unfold after missing his attempt to escape.
What's all this?
Some sort of practice match where Sydney have defeated the Lions?
Got to be the first time that Lion Joe didn't go missing when it counted.
So when dropping off Ms Bull 9 for her Zoo Snooze the media were all over the entrance to the zoo. On the way back to the car the channel 9 reporter asked if Ms Bull 8 would like a photo which was very cool.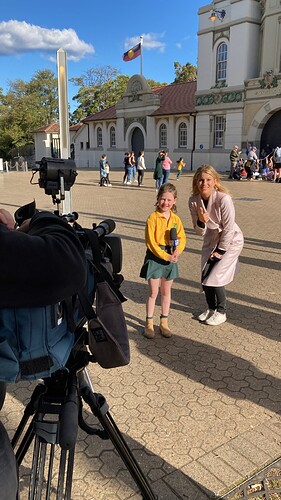 I saw a bloke near taronga a zoo with a lion on a leash , and said "what are you doing with that lion!"
"taking him to the zoo" he replied
"phew that's OK" I said.
I saw him and the lion the very next day and said " hey yesterday you said were taking that lion to the zoo !"
"I did" he said "and today I'm taking him to the movies "
He has absolutely nailed the lower north shore!
Typical news.com
Africans cause havoc in Sydney's North Shore due to weak borders.
The story that keeps on giving
That's so great. The lyrebird be trolling zoo staff all day long.
Gotya!