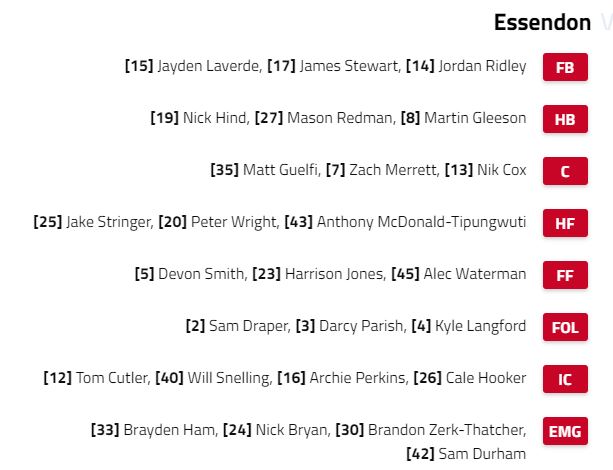 Looks a decent side. We got this.
Good luck to the fringe dwellers,
Team selection: Round 17
The Bombers make two changes for Friday night's clash with the Crows.
Essendon has made two changes for its clash with Adelaide on Friday night, recalling Martin Gleeson and Matt Guelfi at the expense of injured captain Dyson Heppell and omitted wingman Brayden Ham.
Gleeson will line up for his 93rd AFL game and first since round two, while Guelfi has been promoted to senior coach Ben Rutten's starting 22 after not being used as the medical sub against Geelong last week.
MATCH PREVIEW: BOMBERS v CROWS
The Bombers are hopeful Heppell, who was ruled out on Wednesday with a thumb injury , will miss just one game.
Rutten said Gleeson's return was a due reward for the 26-year-old, who has been a consistent performer across half-back in his five VFL games this season.
"It's a great reward for 'Gleeso' (Gleeson). He's a really popular, strong member of our football club," Rutten said.
"He's been playing really good footy in the VFL, and obviously there's an opportunity there with Heppell coming out of the team.
"He'll add some real experience and maturity. We know Gleeso will come in, give it his best and play really well."
The Bombers will name their medical sub one hour before the 7:50pm bounce at Marvel Stadium, with emergencies Brayden Ham, Sam Durham, Nick Bryan and Brandon Zerk-Thatcher in contention.
ESSENDON'S ROUND 17 LINE-UP
Backs: Jayden Laverde, James Stewart, Jordan Ridley
Half-backs: Nick Hind, Mason Redman, Martin Gleeson
Centre: Matt Guelfi, Zach Merrett, Nik Cox
Half-forwards: Jake Stringer, Peter Wright, Anthony McDonald-Tipungwuti
Forwards: Devon Smith, Harrison Jones, Alec Waterman
Followers: Sam Draper, Darcy Parish, Kyle Langford
Interchange: Tom Cutler, Will Snelling, Archie Perkins, Cale Hooker
Emergencies: Brayden Ham, Nick Bryan, Brandon Zerk-Thatcher, Sam Durham
In: Guelfi, Gleeson
Out: Heppell (thumb), Ham (omitted)
Last week's sub: Guelfi (not used)
Milestone: Stringer - 150 AFL games