Be vewy, vewy careful what you say in this thread.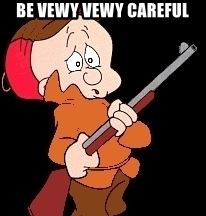 There are strict laws and penalties relating to jurors who blab about details of cases they are on or, I assume, have been on. So, if you're gonna comment here, please be careful.
Speak in generalities, NO SPECIFICS!
I've been called for jury duty three times and got on a case twice. It was a fascinating experience. I really enjoyed it and can't wait to be called up again. You get paid by the court system and you get paid by your employer.
Do you have any interesting stories to tell about jury duty? You go first.