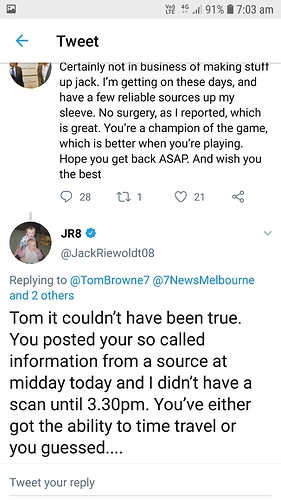 JR8.
Tom?? Tom?? Are you there Tom, …
It's paywalled, Doe.
What do they say? I gots to know.
I knew you were going to ask that.
I predict it's all a load of codswallop.
He'll be rich. Very rich.
He'll find love but also heartache.
There will be ill health and a tragedy in the family.
He will find that fame and wealth does not bring happiness.
But he'll be a fine young cannibal.
They are a straight up pack of ■■■■■■■ ■■■■■.
In a cafe, waiting for my coffee.
Picked up today's Herald Sun.
Read the first par of the front page story.
Put down the Herald Sun.
Wiped my hand on my pants.
Check the back of the age, love.
What else do you expect grabbing toilet paper willy nilly?
Well, I don't know about anyone else but I'm more interested in why Bec Judd is skipping this year's Brownlow… not a slow news day for the Herald Scum at all, in any way, whatsoever…
There's also the requisite article on Jimmy and Nadia Bartel's marriage break up. She's not going to be perfect all the time just coz the world says she should be.
Um, who asked you to be?
Why TF,… do people visit these pointless sad excuses for NEWS sites, … and then bleat about all the bullshit non news that's there?
I find this behaviour rather bizarre.
news.com is a pretty generic site that pops up because you have other Microsoft programs.
I don't pay for or subscribe to it, or the Hun or the Always Co-dependant.
But I reserve the right to say something is ■■■■ when I see something they publish and call news.
And people bag Apple? I don't get to see this ■■■■ unless one of you ■■■■■ posts it here. Get ■■■■■■, the lotta yas.
And then you also find the energy to respond to it, from some wellspring of wisdom.