An ongoing thread for the discussion of Top 4, positions 5-8, and the battle for home Finals within those 2 groups.
Whilst Essendon is only a slim chance and staring down another loss Fri night, a seperate thread for the discussion of other contenders outside of the weekly Non ESS games thread, and the individual team threads is useful.
I plan to summarise the movers and shakers at the completion of each round, and urge others to do the same as they see it unfolding.
We now clearly have the Ladder split in 2 distinct groups within the Top 12…
5 sides battling for the Top 4 (double chance).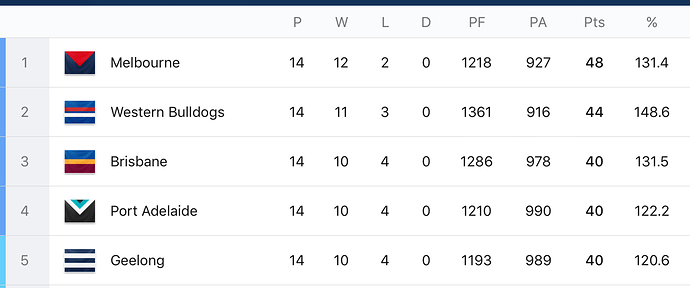 MELBOURNE
GWS (MCG)
PA (AO)
Haw (MCG)
GCS (Metricon)
WB (MCG)
WCE (OS)
Crows (MCG)
Gee (GMHBA)
WESTERN BULLDOGS
NM (Marvel)
Syd (Marvel)
GCS (Metricon)
Crows (Mars Stadium)
Melb (MCG)
Ess (Marvel)
Haw (UTas)
PA (Marvel)
BRISBANE LIONS
Crows (AO)
St.K (Gabba)
Rich (MCG)
Haw (MCG)
GCS (Gabba)
Freo (OS)
Coll (Gabba)
WCE (Gabba)
PORT ADELAIDE
Haw (Marvel)
Melb (AO)
St.K (Marvel)
Coll (AO)
GWS (Manuka)
Crows (AO)
Car (AO)
WB (Marvel)
GEELONG
Ess (GMHBA)
Car (MCG)
Freo (OS)
Rich (MCG)
NM (Blundstone)
GWS (GMHBA)
St.K (GMHBA)
Melb (GMHBA)
Looking further down, 6/7/8th is hotly contested with a current chasing pack of 4 teams.
4 teams that look incapable of winning the required games to forge their way in, yet they are right there whilst all of Sydney, WC & Richmond look vulnerable.
Quite extraordinary that St.Kilda. are only 1 win behind Richmond in 8th spot !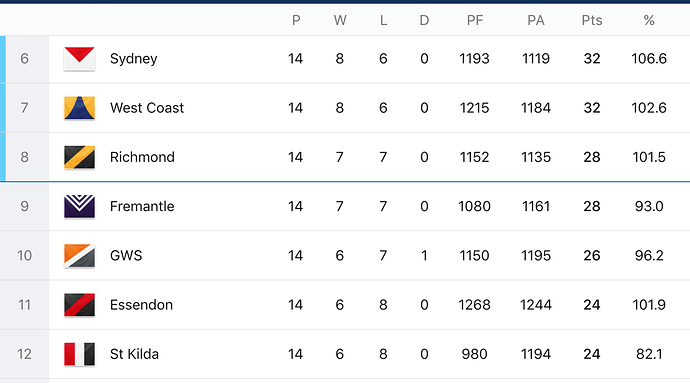 SYDNEY
WCE (GMHBA)
WB (Marvel)
GWS (GS)
Freo (SCG)
Ess (Marvel)
St.K (Marvel)
NM (Marvel)
GCS (SCG)
WEST COAST EAGLES
Syd (GMHBA)
NM (OS)
Crows (AO)
St.K (OS)
Coll (MCG)
Melb (OS)
Freo (OS)
Bris (Gabba)
RICHMOND
GCS (Metricon)
Coll (MCG)
Bris (MCG)
Gee (MCG)
Freo (OS)
NM (MCG)
GWS (GS)
Haw (MCG)
FREMANTLE
Car (OS) ???
Haw (UTas)
Gee (OS)
Syd (SCG)
Rich (OS)
Bris (OS)
WCE (OS)
St.K (Marvel)
GREATER WESTERN SYDNEY
Melb (MCG)
GCS (GS)
Syd (GS)
Ess (Marvel)
PA (Manuka)
Gee (GMHBA)
Rich (GS)
Car (Marvel)
ESSENDON
Gee (GMHBA)
Crows (Marvel)
NM (Marvel)
GWS (Marvel)
Syd (Marvel)
WB (Marvel)
GCS (Metricon)
Coll (MCG)
ST.KILDA
Coll (MCG)
Bris (Gabba)
PA (Marvel)
WCE (OS)
Car (Marvel)
Syd (Marvel)
Gee (GMHBA)
Freo (Marvel)