Heading there now. Report to come later.
Photos to follow that.
It's early for me.
I'm off to breakfast.
Hope they train the house down for you @Soulnet.
Every body is training the house down at this time of the year, just tell us who's in the rehab group so we can have a ■■■■■■ week
Arrived so early in fact main doors are locked.
Or more likely they saw me coming.

Edit 8:20am and a queue has formed outside. Four people including me to be exact.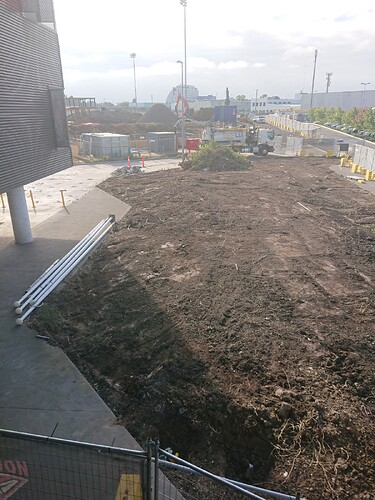 Work here progressing. There is a car parking restriction. Had to park across the road.
Edit 8:23 Getting bored already.
Edit 8:25 My patience was never great.
Eidt: 8:27 Saw all players cross, up on second floor all with notepads. Many looks thinking why is he staring through the door. Weirdo.
Based on your photos so far, you don't seem to be picking very good spots to watch from.
Even our training reporters are having a bad off season!!
I'd like to get in first!
So just a note, won't be doing live analysis when training start as I'm taking photos.
Weather report is good. Gentle breeze just enough to keep me cool. Grass looking OK. Did have a light mow this morning.
Maybe ten people here to watch so far.
Second floor has massive led screen with clock on it.
Both ovals appear to have something setup on it.
Would like to go around the oval a bit more but appears to be roped off.
Looks like witches cones setup down on airport end.
Can't see anyone in the hanger at this point and no one out on the field.

Is this the uninjured group training?
so he really meant it - that's incredible
make sure you pick up a calendar at the bombershop @Soulnet!
Well this has been a journey.