Laverde is everything a quality backman should be.
WC are comfortably the worst team out of them imo. that list is absolutely cooked now. but who knows. injuries and confidence, the two keys. they are bottom 4 easily though
yep - I don't get the level of criticism against Laverde since he's typically matched up against opponents significantly taller than himself and despite this wins numerous contests.
He's done well playing in a very difficult situation.
Interesting considering Kelly has previously been best 22 in a team who played in the grand final.
what happened 5 years ago is hardly relevant heading into season 2023. Kelly is okay - some good some bad. he'll probably start off best 22 but i wouldn't be suprised to see him purely a depth player by the end of the year
Nope, you're spot on. I actually think we overachieved a little last year with some late season underdog wins, despite our awful game plan. If we can eke out 8 wins and see some real improvement amongst the squad then I will be happy
The relevance is that Adelaide werent cooked when he was playing for them every week in 2017, has he got significantly worse since? I dont think so. Every good team has players like Kelly, Snelling, Guelfi, Hind, Laverde etc but people pick each of these guys out and say we will never be good while they are playing. The difference between us and the best teams isnt that we have Jake Kelly in the back pocket dragging us down, its the overall quality of our players and how they function. If our best players made a significant improvement to match the best teams it could easily cover for Kellys deficiencies. Thats not to say he wont be depth this year, its completely possible, but its not our only path to success.
I reckon they are better than NM, whoreforn easily. I think they'll end up above Saints & Crows, and be in the mix for spots with us and GWS as the lower 6. But then again - who farkin knows how things will pan out. I'm hardly a brilliant tipper.
I wouldnt be surprised…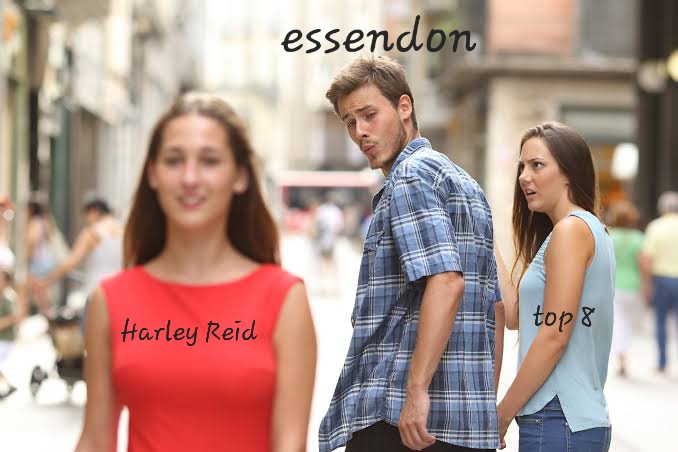 i dont know, literally had no idea who he was until he came over. most Adelaide players are anonymous
Minus the gets loads of goals kicked on him part.
We hold these truths to be self-evident
Whoever got Nic Martin to the club deserves a pay rise and their own carpark at the Hangar;

Harley Reid already plays for the bombers so can't be drafted by another club;

Clakko is a scumbag who requires re-education in northwest China.

It's somewhat ironic, all this talk about KPFs. One area we don't need to cover is FF, if 2MP recovers in time. Yes, we need another KPF and a big, strong FB - as I think many of us have been saying for a number of years.
Lets' see what Scott can do. I think he's at least going to put his stamp on us. If he cuts down on the coast-to-coast goals, I'll be happy.
lav is an A backman, not A+, but he's pretty friggin good.
I don't think Dodoro knows what a big key position forward is.
harley reid will be a rookie prospect at best after training with us
As far as our team is concerned, Laverde and Kelly serve a purpose.
But, we need 1 tall defender because we are undersized down back.
Let's for the sake of it, say that Reid is that player.
BZT slides down to second defender.
Ridley is still there.
So is McGrath.
So is Redman.
Only one of Laverde or Kelly take the final spot, but I wouldn't be surprised if that last spot becomes a smallish defender (like Merrett).
Laverde is a good defender in a system like Collingwood, Richmond or Sydney where they rely more on the 'team defence' than the individuals. I don't see our team ethos changing that quickly and our list isn't built that way either.
I acknowledge he's not the biggest problem, but until we find our tall dependable tall defender, I don't see how that backline holds up.
Our salary cap is about as tight as Ben Rutten's grasp on the mechanics of effective team defence.
And Snellings and Guelfi have finished higher than him. You still wouldn't call them a walk up starter in some teams, would you? Laverde is better than them too, but the quality of a key back is way more important than a small forward, imo. If you could make the team better, which position would you upgrade first? I'd start with CHF then FB.