Remember Hartley in the VFL loading up big torps a few years ago?
Is there a praccy for the vfl squad this weekend?
Tomorrow morning I believe.
Clearly making a dedicated thread in the VFL sub-forum wasn't obvious enough.
Still disappointed that we couldn't entice Nigel over to the club. Has moved to Adelaide full time to play with North and by all reports he looked really good in todays trial game
Terrific night last night at The Hangar for the @essendonvfl jumper presentation. This year's leadership group is pictured - L>R Jake Sutton, Jimmy Harrold, Josh Iacobaccio, Billy Cootee, Sam Conforti & skipper Joe Atley listening to coach Brent Stanton.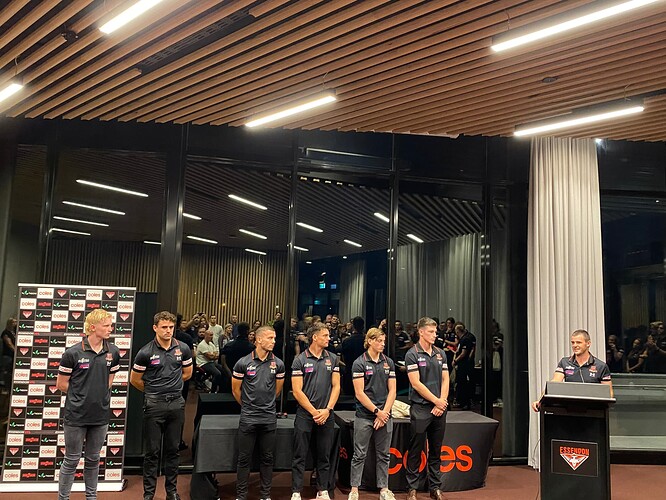 Well, look on the bright side - at least we got promising up-and-comer Henry Crauford instead, right?
Great work mate
Was the full squad announced? Is it listed anywhere?
I'm sure it will be soon yep.
There's no unconscious bias tho………
We simply needed 5 ruckman on our list.
When are our new boys profiles - Wanganeen & Martin going to be on the efc webpage?
Those 5 ruckmen included McKernan and Belly (both of whom it was their last year), Draper off an ACL, journeyman Phillips and Bryan who had just been drafted. Plus Crauford (6).
You could understand them being nervous about our ruck stocks.
Hey, don't rush the website gnomes - they're flat out getting Waterman a headshot for the player profiles page, I'm sure they'll get to Tex and Martin once they've finished…
At least we have a group pic
Insta page has some pics too