Maybe a bit harsh; Norf are only 8th on the ladder.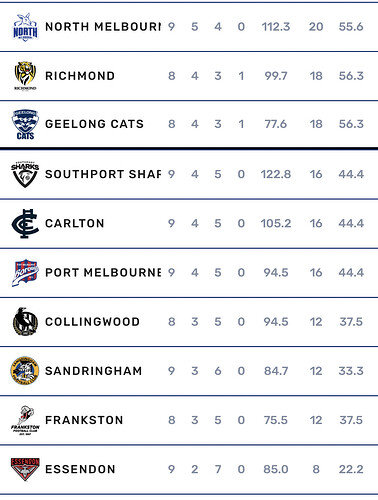 That this is less than half of the ladder still amuses me.
IN: N. Bryan, A. Davey, J. Kelly, J. Hunter, A. McDonald-Tipungwuti, A. Munkara, A. Phillips, E. Tsatas
OUT: Q. Narkle (Port Adelaide), J. Cleaver, J. Hotchkin, R. Loton, C. McCarty, H. Minton-Connell, J. Moorhead, S. Rasinac
NEW: Jaiden Hunter, 24, Perth/Applecross; Elijah Tsatas, 18, Surrey Park/Oakleigh Chargers
ESSENDON
B: J. Kelly (29), K. Baldwin (26), C. McBride (41)
HB: A. Lord (28), L. Hayes (18), R. Montgomerie (38)
C: T. Phillips (55), A. McDonald-Tipungwuti (43), E. Tsatas (5)
HF: A. Munkara (45), P. Voss (39), A. Davey (33)
F: T . Wanganeen (40), J. Hunter (32), B. Cootee (57)
R: N. Bryan (24), B. Bernacki (59), N. Cox (13)
INT: J. Jorgensen (56), S. Conforti (53), A. Phillips (34), J. Fitzgerald (77), M. Foley (73)*
EMG: S. Rasinac (59), A. Perkins (16), R. Loton (70), J. Cleaver (60), N. Hind (19), M. Guelfi (35)
NORTH MELBOURNE
B: J. Lienert (66), K. Dawson (42), J. Archer (34)
HB: B. Davis (50), A. Corr (4), F. Perez (39)
C: L. Young (17), P. Curtis (25), B. Cunnington (10)
HF: B. Drury (41), S. Lowson (60), C. Harvey (37)
F: J. Edwards (32), C. Lazzaro (35), K. Turner (28)
R: C. Keogh (69), D. Howe (15), J. Watkins (56)
INT: C. Downie (47), L. Butler (49), A. Noblett (57)*, B. Bath (58), T. Sellers (62)
EMG: N. Stevens (55), B. Simmondson (70), B. Stevens (74), T. O'Sullivan (80)
IN: P. Curtis, B. Drury, D. Howe, C. Lazzaro
OUT: C. Taylor, T. Thomas, D. Tucker (AFL), J. Hope (bruised foot)
Any point reading into Bryan being named on field and Phillips on the bench?
No idea. Others who have been paying attention in past weeks may have spotted a pattern.
Radio 3DJR will likely be covering the first half of this game, on JHET watch.
16 senior listed players named. That has to be a record for us, at least in the last few years.
Although you'd expect probably 2 and maybe 3 to come out of that
Perkins, Hind & Guelfi named as emergencies??!
Look forward to Tsatas bursting out of midfield hitting up Hunter for clunk and goal
Walla and Cox in centre square rotations intriguing also
Rasinac dropped?
Geewiz.
The bloke has been forced to play in the forwardline this year. get him into the guts.
As soon as the 2-3 AFL listed players come out as either late inclusions or as carry over players, Rasinac probably finds his way back in.
Stanton found success in having the midfield of Atley, Bernacki and Rasinac.
For some reason Tudor just isn't playing Rasinac in the guts. Perhaps now that Narkle isn't playing he'll get his chance.
Yep, between a half and 3/4s from memory
Walla named in the middle
Maybe this is the desperate plan to get miles into his legs?
And get his hands on footy more for touch