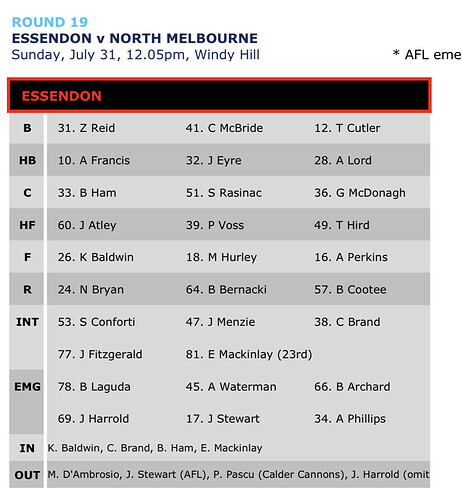 Looks like Phillips will be rested and Waterman is the AFL emergency again
Given Waterman isn't named as one of the four emergencies for the Firsts, there'd have to be a late withdrawal to fit him in there.
Probably two.
One for each thigh.
Good to see Baldwin and Brand back in the side. I'm guessing Cody must have been a H/S issue last week.
Should be a fun game to watch.
Hopefully Baldwin gets a solid run of games to end the season.
will be better for our structure with 3 talls up forward.
helps Stuzza went up.
Hurley, Baldwin. and Voss are all dangerous threats at VFL level.
It appears a tallish foward line when all the named position heights are considered. I think Hird is the shortest at 182cm.
Lovely day for footy at WH.
The ground isn't too slippery. The wind is freezing but out of the wind is pleasant.
Isn't this the second time we've played them at Windy Hill this year?
The first game was disastrous when we lost in the last couple of minutes.
I'm here too.
Can you see Archie Perkins?
I didn't see him run out. I'll look closer.
The Shiel out, Perkins in rumour might have some legs
Don't think we have played North before.
We lost to Norf last year, like that.
Yeah he was saying this year though.
■■■■ something has to be going on if 3 of the 4 emergencies aren't playing

Josh Ire takes a good defensive mark to start the game
Our first fortay forward