Round 5 • Essendon v Collingwood
Monday 25 April 2022 • 1:05 PM (AEST)
Where`s the friggin team?
I don't understand why they wouldn't schedule a game like this to be played today, where a decent crowd could be expected.
Is this scheduling something we request to keep all players available for the main game to the last possible minute, or is it completely out of our hands?
It just seems like a wasted opportunity.
yes.
teams have requested it be as close as possible with the current covid protocols.
It's COVID logic; don't waste players on VFL games in case they need to be called up at the last minute.
It doesn't seem that would be hindered by moving the game 30-60 minutes earlier so the two games don't actually overlap. In short: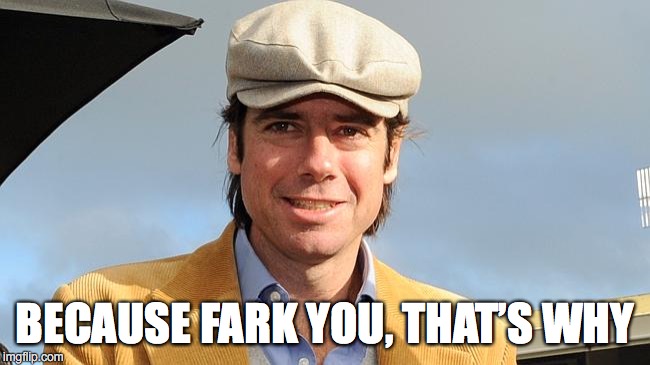 Thanks, probably should have known that.
Less than 15 Hours, and still "DAMM" and "BLAST"
The AFL put up an article on Saturday listing (some of?) the changes to the Sunday teams, and an article Sunday noting which AFL players had done well this round, but I guess they forgot there were more games to come…
ESSENDON v COLLINGWOOD
Monday, April 25, 1.05pm @ Windy Hill
( https://www.afl.com.au/fixture?Competition=7, 1pm)
HEAD-TO-HEAD: Essendon 10-8. At Windy Hill: Essendon 3-2. Streak: Essendon 3 in a row. Last time: Essendon 12.14 86 def Collingwood 6.14 50 (Victoria Park, April 24, 2021)
ESSENDON
IN: A Hird (debut, 18, Old Melburnians), B Archard, T Cutler, D Smith, K Weightman
OUT: K Baldwin (AFL), A Francis, H Jones, T Wanganeen (all managed), M Hallows (omit)
COLLINGWOOD
IN: J Raines (debut, 19, Pascoe Vale), A Begg, C Brown, M Cox, T Wilson
OUT: M Hartley (managed), C Lane, C Maxted,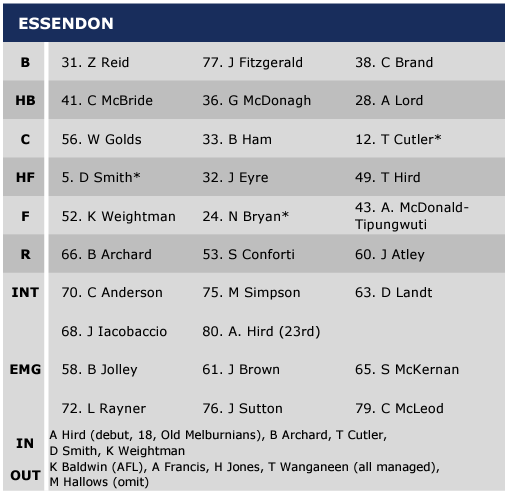 Francis didn't train on Saturday, Tex was in rehab group and Jones seemed to still struggle with ankle and didn't train apart from 1 lap at the start.
Without Francis and Jones
Eyre will be the sole focal point, after being fourth in line last week.
hope to see lots of play through him.
Although we will probably kick it on tippas head at CHF if we follow the AFL game plan.
Hmmm. Jones and Tex were a big part of wanting to get along and see at least some of this match. I'd given up on the idea Hurley might have played, they would have promoted that.
No Hind. Sub for the AFL it is.
I don't think sports events are allowed to start before 1pm on Anzac Day.
(At least, that's how it used to be.)
5 Day break until the dogs, are we holding wanganeen, Francis, Jones over for AFL Duties.
Yeah, sorry, forgot the VFL is a "professional" league – however, as it is at Windy Hill and we don't charge for entry we could have applied for an exemption. Our women have played before 1pm on ANZAC Day at The Hangar previously.
TAS has different rules? They start at 12:30.
Yeah, I was wondering about that.