Just one week of the best junior available
and Barba debuts in the 23rd spot.
B: 7. K. Hicks, 29. C. Laan, 24. S. Wilson
HB: 10. E. Cornish, 11. M. Warburton, 18. K. Heil
C: 35. M. Anthony, 46. L. Ahrens, 28. R. Svarc
HF: 23. M. Collier, 39. M. Fogas, 5. C. McIntosh
F: 6. A. Quigley, 31. J. Stassi, 25. L. Stepnell
R: 0. S. Nalder, 43. G. Nanscawen, 13. S. Audley
Int: 45. E. Ashley-Cooper, 3. M. DeMatteo, 17. F. Frew, 33. E. Hosking
23P: 42. A. Barba
–
Emg: 38. E. Gogerly, 22. N. MacDonald, 20. A. Madden, 41. F. Theodore
–
In: E. Gogerly, A. Barba, M. DeMatteo, N. MacDonald, F. Theodore, A. Madden
Out: G. Patrikios, K. McFadyen
Saints
B: 41. R. Neaves, 47. F. Hocking, 16. K. Thompson
HB: 31. T. Lucas-Rodd, 32. D. Guttridge, 26. F. Steiert
C: 8. A. Drennan, 6. S. Johnson, 20. K. O'Neill
HF: 15. T. Bohanna, 11. H. Stuart, 0. K. Shierlaw
F: 2. A. Brown, 13. C. Munn, 14. K. McCarthy
R: 28. R. Watt, 18. O. Vesely, 1. E. Mackie
Int: 56. T. Grasso, 43. C. Greiser, 22. C. Jones, 38. S. Karlson
23P: 54. B. Vernon
–
Emg: 17. L. Olsen, 24. K. Ripari, 23. A. Silver, 3. D. Smith
–
In: T. Grasso, L. Olsen, B. Vernon, E. Mackie, S. Karlson, K. Ripari, A. Silver, D. Smith
Out: J. Kelly, I. Shannon, M. McDonald, M. Kuys
The Saints are second on the ladder with 9 wins from 11 games and a league-leading percentage of 203%.
Pffft.
Excerpts from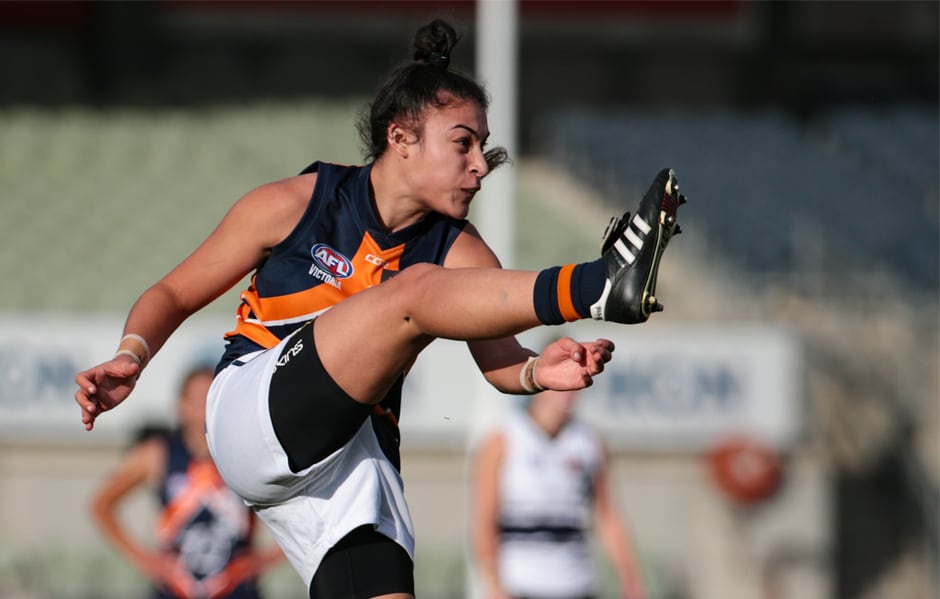 Calder Cannons recruit Alana Barba, 17, will make her Essendon VFLW debut on Saturday. (Photo: AFL Photos)
Calder Cannons recruit Alana Barba is one of the notable inclusions, lining up for her first game in the red and black.
Barba starred for the Cannons, averaging 12 disposals and seven tackles in her 11 game appearances.
The 17-year-old was also selected in the 2019 Under-18 Vic Metro squad and was recently invited to October's NAB AFLW Draft Combine.
After making her Dons debut last week, young star Georgia Patrikios has been ruled out due to commitments with the AFLW academy.
Versatile forward Monique DeMatteo returns to the line-up and is set to play her first senior game since round four.
Alex Quigley and Simone Nalder will look to continue their good form, with the duo putting in impressive performances in last week's game, earning a spot in the round 12 VFLW Team of the Week.
Victoria Raptis is in the final year of her Bachelor of Communications (Journalism) degree at RMIT University. As part of their strategic partnership, Essendon Football Club and RMIT University are committed to providing opportunities for students, staff, players and the wider community.
Changes Nalder's number above.
I thought it was a typo missing the leading 3, but she will indeed be wearing 0 as part of Towards Zero. Ditto HepA.
I'm not there.
Watch the stream in the first post or listen to WARF on RSN Carnival 2.
We lead 6-3 (Quigley mark and goal). Possibly a bit of wind advantage to us as we are kicking to the school end.
Stassi drops one fifteen out but DeMatteoooooooooooooooooooo…
12-3 we lead.
This is a heavily contested match right now.
QUIGGLES!
Marks 25 out.
BANG
18-3
Wind doesn't look to be affecting kicks much.
Saints cop a 6-6-6 warning.
Saints are making errors under pressure. At our end with two minutes left…
C-Bomb bombs it in and DeMatteoooooooooooooooooooooooooooo!
Jesuz, … call a ball up already you BHF!!
Bang! 4 straight!
Hopefully the AFL boys can be as accurate.
24-3 we lead. Either DeMatteo or Stassi could have kicked that.
4.0.24 we lead 0.3.3 at quarter time.
Pffft indeed.
I should not attend more games.
Makes this start even more impressive.