Omen watch.
A forecast maximum of 13 degrees for Sunday.
The same forecast maximum…
as the 1984 VFL/AFL Grand Final

OK… we're struggling for content now.
Not struggling for content… YET
The history of EFC vs Southern Saints…
2018 round 4 @ Sandy
We were coming off a 72 point loss up in Darwin and were 0-3. Saints were 2-1.
We jumped them early to lead 7-1 at the first break (the goal to Quigley).
… unfortunately, I forgot to mention above that we had the Sandy wind helping us in that first quarter.
The Saints struck back quickly but we weren't dropping off. Quigley got her second goal and Beth Kearney, the world's slowest ruck, quite deftly toe-tapped another goal through.
19-27 at half time.
With the wind we proceeded to kick five points to one goal in the third quarter to trail 24-33 at the last break… and then the Saints make that 24-60 by the end.
2019 round 13 @ Windy Hill
We lose Georgie Patrikios and debut some replacement chick called Alana in the "23rd player" slot for juniors.
By this stage Ugle has broken her leg, and Nalder is fill-in captain. As part of the Towards Zero road safety program, she drops a 3 and wears 0 only.
Quigley knows the script vs the Saints, and kicks the first goal. DeMatteoooooooooooo is right in there after her. And then Quigley again! And then DeMatteooooooooooo AGAIN!
We lead 24-3 at quarter time, and wind isn't a big factor. Pffft indeed, I say.
Stepnell marks at the top of the goal square! It's 30-3: WHAT IS HAPPENING?
In the last ten minutes before half time the Saints wake up, and at the main break we only lead 30-22.
The second half starts well, as Jess Stassi snaps a goal from forty out on the boundary.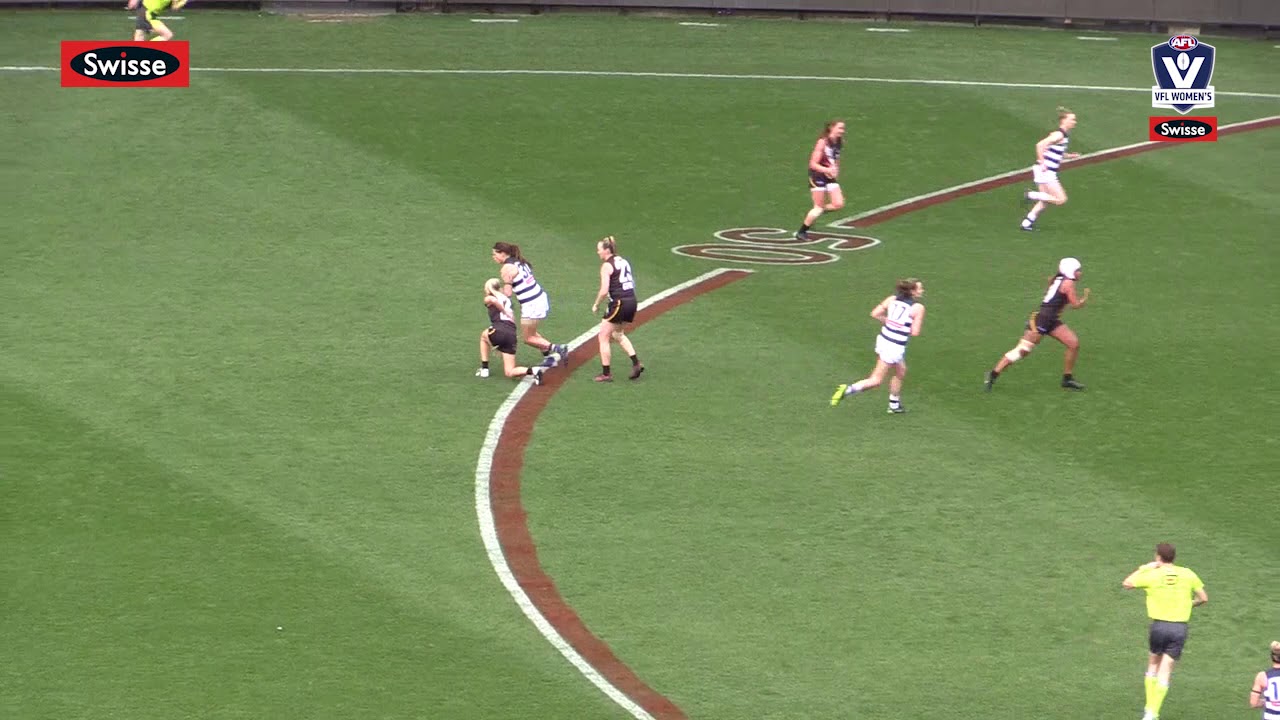 BRING BACK THE TIWIS NEXT YEAR, EFC.
And then another by her! 43-28 we lead at the final break.
Saints kick three straight goals in the last, and then, with a minute left… this happens.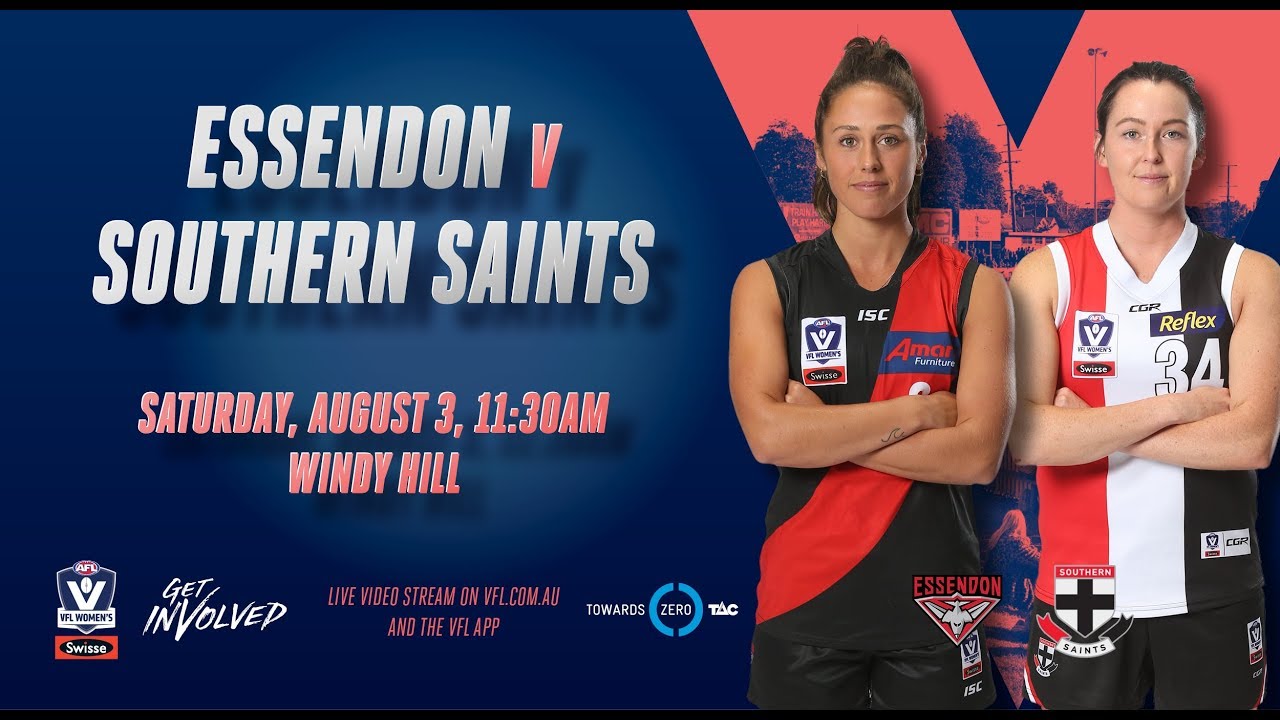 CBomb needs to make the Saints pay the ultimate price this Sunday.
We lost but it was absolutely us as a team announcing we can beat anyone: the other teams we don't fear . Two weeks later we smashed top-of-the-ladder Kollingwood.
2021 round 1 @ The Hangar
The week before this we smashed Darebin in a practice match, with some newbie called Mia-Rae Clifford kicking 5 goals for us.
In this game we're missing Sim Nalder (off getting married, caught out after the AFL abruptly brought the season forward).
Early in the game day thread I express my disgust at Barba not being drafted to the AFLW. She starts in the middle along with Frew and Nanscawen (and, unfortunately, Taylor Moss as ruck).
The first half is one of the worst I've ever seen from this team. We're massively out-sized but more importantly we're simply not applying our trademark pressure, and we bomb indiscriminately forward. We trail 4-34 at halftime.
In case you haven't noticed, there's a pattern to our games vs St Kilda. Quigley goes BANG BANG, and kicks two goals in two minutes.
And the pressure is BACK. We keep them scoreless in the third quarter.
With the wind and two utterly dominant rucks (hit-outs 49-7), the Saints hit back to make it 17-47 early in the last.
Clifford and Ugle get injured by Saints in the last quarter. Barba moves to FF and goals, and Quigley kicks her third goal, but it's too late. We lose 29-47, winning the second half 25-13 once we started applying pressure.
My bests: Frew, Quigley, Nanscawen, Barba, Ugle, McIntosh
2022 round 5 @ The Hangar
Before the game the Bin Chickens swoop in to steal Ford (though we don't know that yet). Despite that, we still rest Nanscawen, and that will ultimately determine the result of this game.
Brendan Rhodes reports that this is Jesse Davies' 50th VFLW game… and no one reads that. She eventually gets carried off 5 games later.
Hint to the club: the first game next year should see Mia-Rae hit the big 100, and Grace Dicker 25.
It's a hot day (forecast top of 26) and there is a gale blowing from the north.
It's 18-18 at quarter time, which means we did VERY well into the wind. We actually lost the inside fifties 4-11 but we're winning at both ends of the ground. Marshall is on 5 marks (the Saints are on 6) after the first 20 minutes.
The Saints are bigger than us, again, and have found someone who can wrestle Frew… but they let Fede take one step from 48 out and BANG it goes through post-high.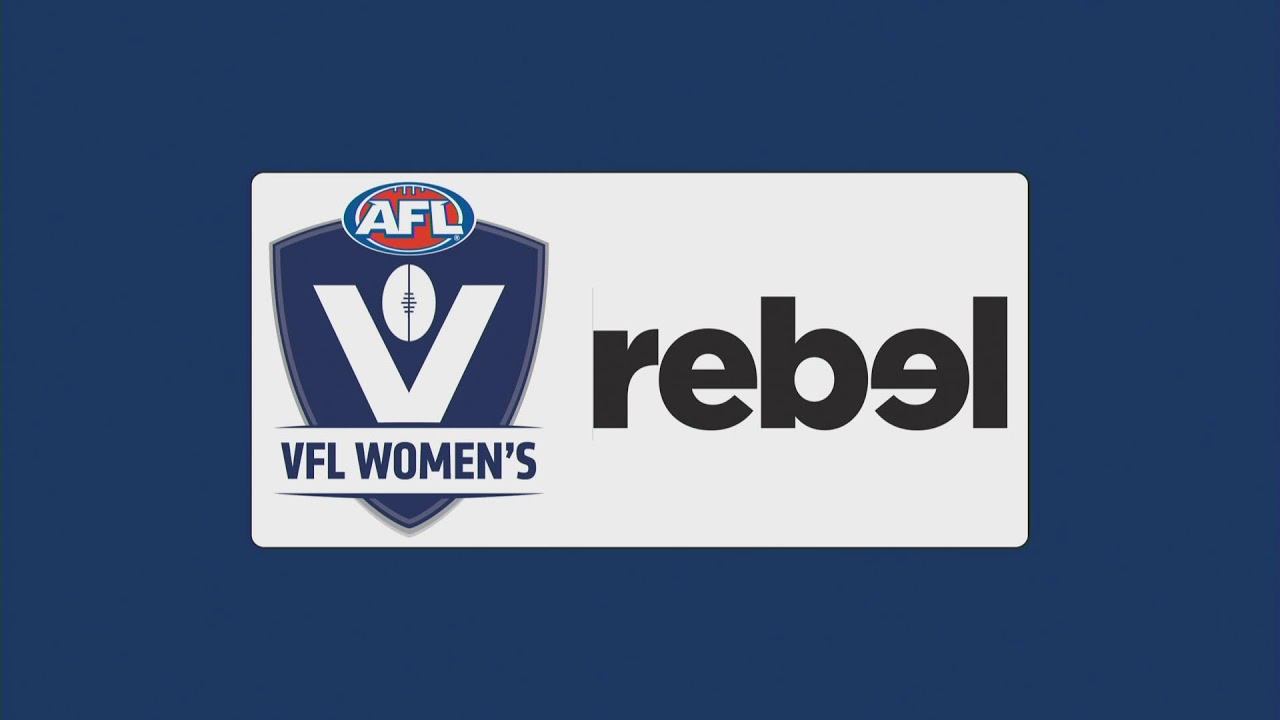 We win the second quarter 14-0, but that's not great given the strength of the wind. Hannah Stuart has 14 disposals at halftime, and they are winning the middle handily.
The wind is over 40kph now (and the gusts more). We don't flood in defence until quite late, with a bloodied CBomb sent back and doing well.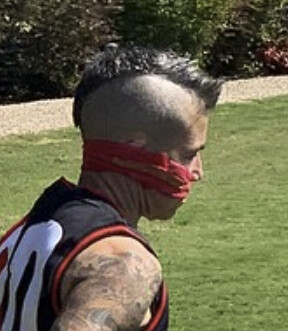 The umpires are… let's be kind, interesting. That, the wind, and weakness in the middle sees us concede that quarter 0-28.
No joke is too soon for me:
The Saints hold firm for 14 minutes. And then… let's hand over to @PH_WARFRadio and Bray Taylor's video editing.
https://twitter.com/essendonfcw/status/1504251581084041216
Ashley-Cooper has a shot from outside fifty after the final siren, but it's a draw.

Brendon Major is the coach, but who are the unknown assistants?
2022 round 13 @ Sandy
It's a uncharacteristically sunny and still day. CBomb announces her retirement (end of season) before the game, and perhaps in shock we give up the first 13 points of the game. If you let the Saints kick without pressure, they hit targets very well.
Finally Mia-Rae tackles, gets the free, and tells Radio 3DJR to get stuffed by kicking a difficult one from the boundary line.
Shortly afterwards Ugle fires a bullet pass to a leading Frew. She converts, the score is 14-13, and for the first time in four years we are not going to concede the lead.
Clifford kicks another just before half time. Saints are held scoreless for the quarter.
Nicole Julian pops a calf in the third quarter, from which we exit 27-14 ahead.
The Saints come out hard in the last, ol' Unco Nalder somehow lets a ball slip past her in the goal square, and we're under pressure. Sim otherwise had a hugely positive game.
A sling on Dicker head-first into the ground finally releases the pressure, and we win 5.6.36-4.2.26 to trigger the tweet we never knew we needed.
Quality game, despite the low scores.
What will Sunday bring?
Brendan Major
Gavin Urquhart
Chloe Laan
Brett Pollard
Jarrad Campbell
Matt Dea
That's the vflw coaching panel. All but Matty Dea were there prior to this season.
I'm Pavlovian, Chloe will alway be this moment from our GWS Invitational match:
SUNDAY'S VFL Women's Grand Final is about more than the culmination of a single campaign for Essendon.
Season 2022 could not have been more different from back in 2018, when the Bombers first joined the VFLW.
A one-win year saw them comfortably finish last on the ladder back then, but fast forward four years and they have not lost a game in 2022, en route to their first Grand Final.
Coach Brendan Major has witnessed all the highs and lows of that journey, having been the Bombers' one and only coach in their VFLW journey thus far.
When asked earlier this week to reflect on that journey, Major found it hard to "encapsulate" it all.
"From the start, the club has been fantastic in its support of women's football and support of the program," he said. "I think that as a staffing group and as a coaching group, we've focused on the fundamentals and we put our people first, and I think that as the years have gone by we've just maintained that focus on good people and developing our people, creating a space for them to have the opportunity to develop, and then taking that responsibility to develop and we're here because of that."
Alongside Major, only six players from that inaugural squad are still at the club; Alex Morcom, Courtney Ugle, Eleanor Cornish, Kendra Heil, Natalie MacDonald and Simone Nalder. Another inaugural Bomber – Rebecca Neaves – is now at the Southern Saints, also set to line up in Sunday's Grand Final.
Major spoke glowingly of how much of an impact those six players have made on the group at Essendon.
"Huge, absolutely huge," he said. "When you talk about development of a list and development of a group, it's about training standards as a whole group. It's about a group of people getting together and putting what's best for the team in front of what's best for them.
"When talking about Courtney Ugle, Kendra Heil, Morcom, Simone Nalder, Mariana Anthony, Natalie Macdonald, those types of players, the players that are really good football players in their own right and probably haven't quite had the recognition they may get [in relation to being drafted], or they may get next year, they have been tremendous for the Essendon Football Club over a number of seasons just through sheer hard work."
Unlike many of the VFLW sides, Essendon has chosen to keep its now AFLW-listed personnel playing right the way through the season.
"For us it's about what's best for the player," Major said. "We've pulled a couple of players and that's ok because that's what was best for them. So I'm not going to make judgements on what the other clubs have done, they're all in unique situations, and they've done what they think is best for their club."
The Bombers may have the favourite tag heading into the match, but try telling that to Major.
"If you look at the two contests we've had with the Southern Saints this year it was a draw then it was 10 points, and it could have gone either way," he said. "It was very close for most of the game and the first half of the game they very much had the run of play. So, although statistically without losing a game this year I can understand why people would say that, but I would expect a very even game this week. I don't think it's going to be too heavily favoured one [way] or the other."
So, will this journey over the last few years culminate in the ultimate glory for Major and his Bombers? Only a few more days until all will be revealed.
Teams for the 2022 VFLW Grand Final…
| ESSENDON | | | |
| --- | --- | --- | --- |
| B | 21. A. Morcom | 45. B. Clarke | |
| HB | 13. E. Hosking | 14. D. Marshall | 16. T. Crook |
| C | 1. C. Ugle | 5. G. Nanscawen | 9. M.Anthony |
| HF | 22. N. MacDonald | 44. G. Dicker | 26. J. Doonan |
| F | 4. M. Clifford | 24. R. Tierney | |
| R | 30. S.Nalder | 28. A. Barba | 42. J. Zanchetta |
| INT | 8. E. Ashley-Cooper | 18. K. Heil | 23. A. Radford |
| | 17. F.Frew | 20. C. McIntosh | |
| EMG | 15. L.Caruso | 7. J. Davies | 19. N. Julian |
| | 43. O. DiDonato | 10. E. Cornish | 46. G. Elarmaly |
| | 40. D Ryan | | |
| | | | |
| INS | Nil | | |
| | | | |
| | | | |
| OUTS | Nil | | |
| | | | |
| SOUTHERN SAINTS | | | |
| --- | --- | --- | --- |
| B | 35. I. Gentile | 4. D. Jolliffe | |
| HB | 6. G. McLean | 16. A. Hynes | 26. C. Saultry |
| C | 50. C. Ryan | 5. M. Capsalis | 9. W. Laing |
| HF | 19. O. Flanagan | 23. T. Kearns | 24. K. Ripari |
| F | 39. G. De Angelis | 1. C. Slater | |
| R | 22. S. Black | 11. H. Stuart | 25. R. Neaves |
| INT | 32. G. Buchan | 53. P. Staltari | 33. O. Robinson |
| | 12. N. Cormack | 34. C. Keohane | |
| EMG | 8. E, Nixon | 36. K. Prendergast | 31. A. Peck |
| | 57. B. Enno | | |
| | | | |
| | | | |
| INS | Nil | | |
| | | | |
| | | | |
| OUTS | Nil | | |
| | | | |
That's two clubs confident in their players right there.
Well, that saves me some time.
Since the last time we played in round 13 we have made the following changes.
IN:
8. E. Ashley-Cooper
20. C. McIntosh
22. N. MacDonald
45. B. Clarke
OUT:
25. I. Ayre
19. N. Julian
43. O. DiDonato
34. E. Everist
Despite me going on about them out-sizing us historically, their team, and particularly their forward line, last week was not based on size. So the above changes are a useful upgrade for us.
Give me a sec to work out their changes… last time they named a player twice…
Saints since round 13…
IN:
24. K. Ripari
26. C. Saultry
33. O. Robinson
34. C. Keohane
OUT:
29. M. Fogas
31. A. Peck
57. A. Woodward <— this is the biggest change. She tagged Nanscawen to a draw last time.
8. E. Nixon