Let's review the Top Ten Stat-Getters from both teams.
Disposals
We have Nanscawen at 5th in the league (she has the best average of the top 10, but missed games through injury) and Barba 10th. Willy no one.
Goals
Clifford 3rd and Frew 7th. If the latter isn't back this week (she last played on May Day), panic.
Marks
Nattie MacDonald running far up the ground to be 9th.
Tackles
Willy is represented! Ashley Melnikis is 3rd and Aimee Whelan 9th. The Honey Badger is 4th.
Kicks
"G" is 5th. Willy's Megan Williamson is 10th.
Handballs
Their Wilson is 3rd and Melnikas is 10th. We have Alana 4th, Ugle 5th, and since she moved into the midfield Eloise Ashley-Cooper has moved into 9th.
Hit-outs
They have Elizabeth McGrath in 2nd (but with the highest average in the top 10). Nalder is now 5th.
To be honest I haven't seen any dominant ruck games for or against us this year, so this stat is likely not that important. There isn't a huge different in their other stats (Nalder marks and disposes a tad more, while McGrath tackles more.)
---
As a reminder, Willy has recently boosted their list with GWS captain Alicia Eva along with her teammates Tarni Evans, Lisa Steane, Erin Todd, Libby Graham, and dual netballer/footballer Taylah Davies. They also added Gold Coast defender Bess Keaney.
Looking at their most recent game, Steane (22 disposals), Todd (19), Graham (17), and Keaney (9) were playing.
LAST TIME WE MET
It was Round 7 this year at The Hangar.
Ess 6.9.45 defeated Willy 2.3.15
I described it as our worst game of the year at the time: we struggled to get the ball, with their Tripodi, Meade and Whelan topping the tallies on 20, 19 and 18. Our backline dominated, and we kicked half of our goals in the last quarter to make a percentage-booster out of it.
The key stat, of course, is that we have three times more wins AND percentage. We still have the prospect of getting a home final, and that's just one reason we want to squash cellar-dwellers Willy and Darebin in these closing H&A rounds.
No crowd within the fence, no WARF Radio, no Kayo… but Radio 3DJR will be reporting from outside.
The Willy website always provides more info than elsewhere: thread title updated!
We will confirm live streaming details of our VFLW game later this week.

…

Williamstown Football Club will confirm its position on Sunday's match day luncheon based on AFL advise, which it hopes to receive this afternoon. We will update our members, supporters and stakeholders when more information comes to hand.
Willy again with the early news, respect:
The home team has made a host of changes from its last match agains Hawthorn. No interstate players were able to travel for this weekend's game, but will be hoping to be back to feature in our final game against Carlton next weekend.
The game will also be live streamed on the Club's YouTube channel, so tune into the action via: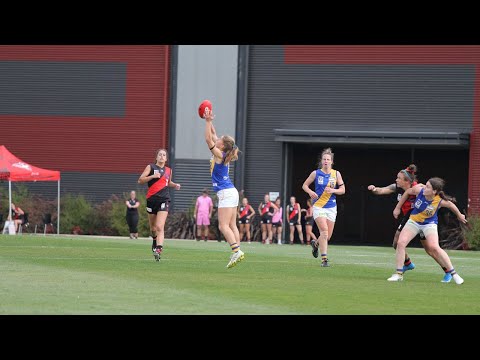 INS
A. Dickie
S. Georgas
A. Maginn
L. King
S. Long
T. Snelleksz
E. Fox
A. Casley
D. Di Santo
B. Costello
O. Purcell
OUTS
L. Graham
E. McGrath
L. Steane
E. Todd
E. Pease
L. Gooden
E. Keaney
J. Doyle
IN: Tara Slender (debut), McIntosh, Dicker
OUT: Prespakis, Ahrens, Crook
PANIC: Frew
---
We've lost two tall defenders and named one extra tall forward (there are two talls in the emergency list, and Slender can play either end).
Tara Slender is named at CHF and is a 175cm Bendigo Pioneers gun that we've plucked from nowhere for this game. Draft Central has listed her as the third best Victorian AFLW draft prospect for this year (their description below).
Key strengths: Versatility, contested marking, footy smarts, positioning
Despite a somewhat interrupted season for the AFL Women's Academy member, playing only the five games due to injury and AFLW Under 19s Championships commitments, Slender still showed why she is a top-end prospect; stepping up from her role as a rebounding intercept defender, to be a forward and midfielder this year in a remarkable display of versatility. Arguably the NAB League Girls' Most Valuable Player for her side, the Pioneers were a far better team with her in it, and averaging a massive 4.2 marks as well as 5.2 tackles along with her 16.2 disposals shows she has no trouble winning the ball in the air, one-on-one or at ground level. A natural leader co-captaining the Pioneers, Slender could fill any role at AFL Women's level and has some great upside for the future as well.
Sounds a bit weird, but three days before her 42nd birthday CBomb will reach 25 VFLW games (23 with us).
Crowley (emergency) in warmup with top on.
Yassir warming up with the mids not the forwards.
Fence is higher than I thought but I'm standing on my boomerang box (46cm advantage).
Only a few others here, one with the back of a ute to stand on.
Everyone else here is a Willy fan.
Very warm sun, not at all Willy-like!
Dicker still has bi-polar hair, but sadly in a bun.
If we can win the ball, I am very excited to be playing two tall forwards once again!
(Stepnell doesn't count, sorry.)