Stats Leaders (leaders, us, Willy, maybe a few others).
Apart from goals, the numbers below are averages… but the rankings are sorted by totals.
Disposals
1 - Jess Bates (Pies) 27
Goals
1 - Ciara Burke (Casey) 7
3 - Sarah Cameron (Willy) and others 6
Marks
1 - Sarah Cameron (Willy) 4.2
Tackles
1 - Jess Bates (Pies) 10.6
3 - Lauren Caruso (Port) 9.2
8 - GRACE DICKER 7.8
Kicks
1 - Angelica Gogos (Darebin) 16
3 - Sharnie Whiting (Willy) 14
Handballs
1 - Maddie Di Cosmo (FCFC) 12.4
6 - ALANA BARBA 9
Hit-outs
1 - Kalani Scoullar (Cats) 28.2
At the moment the forecast suggests 15º, a bit of rain, and 30km/h winds off the bay.
So really nice, by Willy standards.
Reasonably good chance we don't have worry about 44 Brittney Gray this week (she has played all five games this year). The FCFC medical report will probably get her 4 weeks off, even though the slingee got straight back up with zero apparent affect.
Paige Scott at training today, presumably available to play come Sunday (14 days after being knocked out).
Past results vs Willy. We're a draw ahead of them, and 53.4% behind them.
| Year | For | Against | Margin |
| --- | --- | --- | --- |
| 2018 | 9 | 37 | -28 |
| 2019 | 47 | 8 | 39 |
| 2019 | 78 | 1 | 77 |
| 2021 | 45 | 15 | 30 |
| 2021 | 34 | 15 | 19 |
| 2023 | 65 | 13 | 52 |
I'll give Brendan Rhodes the benefit of the doubt re: Marshall being "back from injury". It's another (plays) tall backline and indeed entire team.
Reigning premier Essendon continues strengthen its team for its trip to a buoyant Williamstown, with former captain Mia-Rae Clifford to play her first game since her 100th game in Round 1, while Dani Marshall is back from injury alongside Sophie van de Heuvel, replacing rested star midfielder Alana Barba and the injured Sophie Molan among six changes.

The Seagulls, who stunned ladder leader Carlton last week, have lost Brittney Gray to a one-week suspension for rough conduct on Millie Klingbeil last week, an incident graded as careless conduct, medium impact and high contact, plus the unavailable Aleisha Newman, but Newman's fellow Swan Bridie Kennedy returns and Strathmore's Eloise Freeman will make her debut.
Elsewhere, the "Georgia Clark" referred to in our round five summary article will actually debut for Norf. Luckily we still have Klarke Clarke.
The AFL's article clarifies that HartAluni's injury is "shins" (she had one strapped from the start of last week's game) and Molan's is "wrist".
The really obvious injury (Keck) is just "injured".
Darebin had a player suspended four weeks for striking. We play them in… five weeks.
Good to see Leah Spargo get a run.
Has Barba played her allotted 5 VFLW games?
Manfre back in too.
Going to be a rough game too.
Forecast at game time is sunny, 17 degrees, wind at a piddling 8km/h… what is this sorcery?!?
There is (historically) no cap for individuals. We have, however, for the first time named a full allocation of 10 current or just-delisted AFLW players.
Oh.
I thought AFLW listed players couldn't play more than 5 VFLW games.
Will have to dig where I saw it.
Edit…
My mistake.
Think I misunderstood the aligned rules…
Carry on good sir.
We will need a good win to improve our miserable percentage, which is 2nd worse the the comp. What are our chances?
For the moment all we have to do is reach the percentage of the Hawks (given we are the only teams with a draw).
Any win and we should be in the six with eight more rounds to improve.
If you ignore last week, Willy have been mediocre all year.
We may be a little short on specialist mids, but if we get on top the talls (with Mia's leadership) could do damage.
Also, the home team will be confused by this:

Sophie van de Heuvel plays her debut VFLW game for EFC (she's played 20 VFLW games previously).
Georgia CLARKE plays her 25th VFLW game.
This is not today.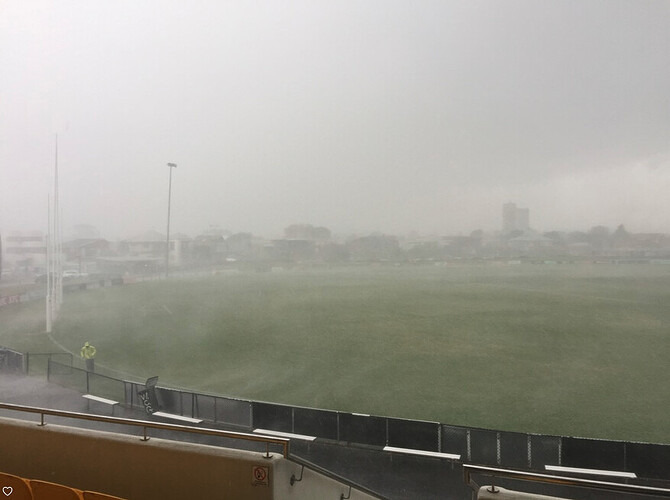 Even @Bomb_Doe would like today's Willy weather.
See you all at Williamstown today (I'll be hiding somewhere up in the Grandstand).
Game is live streamed on AFL.com.au - again without commentary.