Radio 3DJR
@PH_WARFRadio
Probable video stream
Two good teams
Match of the Daaaaaaaay.
Some threats next week:
Bella Smith has goaled in all of her VFLW games this year (3 goals in her two most recent games). 19yo AFLW-listed.
Abbey Green kicked two yesterday. Is a 24yo forward/backup ruck, AFLW-listed.
Their 22yo ruck Sarah King has the most hit-outs in the VFLW this year. 185cm, decently built.
23yo Maddie Shevlin dropped back from the AFLW and had 25 disposals, 7 more than her nearest teammate.
The traditional Anzac Day rivals will clash at The Hangar before fans head south to the MCG for the AFL men's edition, with the VFL Women's clash to provide just as much intensity between the clubs. A potential finals preview looms with the second placed Pies still unbeaten from seven games, coming up against the third placed Bombers who are 5-2 from their season, and building some great form in the middle of the season. The Bombers have been without their spiritual leader for the last game and a half with Georgia Nanscawen on the sidelines. She averaged 23 disposals and 10.2 tackles in her six games, to be a barometer in the side. Alana Barba and Courtney Ugle have stepped up in her absence, while Frederica Frew (eight goals) and Natalie MacDonald (five) have been important up forward with Mia-Rae Clifford (eight). With the NAB League Girls returning this week, expect the Bombers to be without a couple of key youngsters in Zali Friswell and Kasey Lennox , though Elizabeth Snell and soon-to-be Jemma Finning have just the one game remaining in Pioneers colours. The Magpies have been ticking along nicely and now will be able to heavily rotate their AFL Women's talent if they choose to do so, with the likes of Bella Smith (eight goals in four games), Amelia Velardo in defence and Abbi Moloney (two in three) among those running around in the side. Imogen Barnett has been the standout VFLW-listed Pie with eight goals in six games, while Caitlin Bunker (16.3 disposals, 6.6 tackles) and Matilda Zander (14.3 disposals, 4.1 tackles) are others who have stood out.
I hope the AFL site writer knows what they're talking about…
(In the other key game, Port play Casey. I can cope with either of them losing.)
Essendon v Collingwood at The Hangar
Second meets third in this top-of-the-table clash at The Hangar. Like Port Melbourne, Collingwood is undefeated this season and sits just under the Borough on percentage. Essendon has strung together some impressive form the last few matches, only losing to ladder-leaders Port in the last five weeks. The Bombers will be confident they can hand the Pies their first loss and stay in the top four.
Mia-Rae Clifford's experience has been on show the last few weeks for the Bombers. She has kicked at least one goal in five of her seven games this season, appearing in the best for her efforts last week against Williamstown.
And… here… we… go.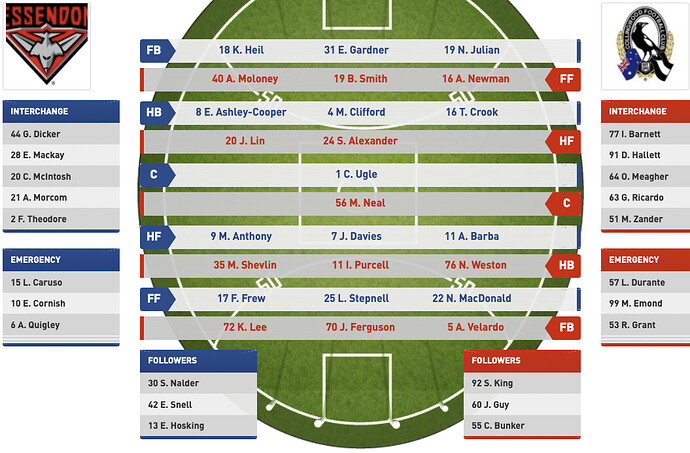 Friswell and Lennox go back to the Calder Cannons (I note that Gillard and Yassir are not playing for them this weekend).
The changes are pretty like-for-like:
Crook replaces Lennox.
Theodore replaces Friswell.
The team is otherwise unchanged, including retaining Snell rather than her heading back for Bendigo's last game of the year. Finning has been named in the middle for Bendigo, and will be available from next week as they won't play finals.
Yes, Collingwood forgot to name one of their HFFs. Not enough fingers to count that high, I guess.
IN: Alexander (27yo AFLW tall forward), Newman (25yo AFLW small forward)
OUT: Cowan (HFF last week), Grant (bench last week), Green (AFLW tall who kicked 2 goals last week)
The un-named HFF better not be Molloy!
Forecast is for more freakishly light winds, blocked by The Hangar.
The Norwegians say we'll get approximately 67 drops of rain over the two hours (0.2mm).
Port getting done by Casey at 3/4 time (22-48).
On us to ensure the Pies aren't top of the ladder after tomorrow.
EDIT: Casey win 69-28 – from 22-22 at half time! Casey "only" had 8 of their AFLW squad playing. That places Casey on the same points as us, and 15% rather than 31% behind. Port's percentage went from 210% to 155%! Now we would need to win 62-27 (or similar) to keep the Pies off the top.
Ladder after the Saturday games, which included Geelong adding 32% at the expense of Darebin (the poor bastards have Port, Hawks, Willy, Pies, us, and Casey to come… so things may get worse!):
To maintain third place we need to thrash the Pies.
Anything between a glorious boilover and a narrow loss keeps us fourth.
Lose by a goal or more, and we're fifth.
| Team | Games | Points | For | Against | Percentage |
| --- | --- | --- | --- | --- | --- |
| Pies | 7 | 28 | 303 | 151 | 201% |
| Port | 8 | 28 | 346 | 223 | 155% |
| Cats | 8 | 24 | 322 | 182 | 177% |
| Essendon | 7 | 20 | 286 | 167 | 171% |
| Casey | 8 | 20 | 362 | 232 | 156% |
| Saints | 8 | 12 | 240 | 240 | 100% |
| Footscray | 8 | 12 | 263 | 297 | 89% |
| Fark Carlton | 7 | 12 | 222 | 281 | 79% |
| North | 7 | 8 | 207 | 298 | 69% |
| Willy | 7 | 8 | 152 | 244 | 62% |
| Hawks | 7 | 4 | 216 | 324 | 67% |
| Darebin | 8 | 4 | 148 | 428 | 35% |
Yep, game will be live from 10am on WARFRadio.com and 89.1FM at the ground.
Video stream (search VFLW on YouTube) will pop up just before the first bounce at 11am.
A good night's sleep (sorry Peter), two hours of boomerang throwing (the two most beautiful words in the English language are "early fog") and now… to the footy!
Looks like a great day for it. Enjoy!
I'm at work again… I really need to win tattslotto
Our team out early as usual… note that ANZAC Day ceremonies will start at 10:54.
Also out on the field is Gleeson, doing some gentle running.
Nanscawen back "in the next three weeks" according to the coach… yikes, that's a decent knock to the calf.
Lots of backward somersaults for the defenders…
The team always has a long and very specific warmup. Some new stuff today.
Ugle and Clifford never shut up (in a good way).
Theodore back and sporting a double ponytail.