Sorry, L. Ron doesn't do upfront.
I'm just stating factually that monetary wise it's huge. You're not paying back the bank for 30 years. Some people study hard for years and build up to a reasonable salary by the time they're 30. Others have trades. It's all different but playing footy in juniors, keeping fit and having the talent opens the door to huge pay early for a finite period of time. It's not just potentially 10-15 years of value for the good players though, they don't pay a mortgage. Look at what people pay over the life of a mortgage and you'll see what I'm getting at here. It's worth a LOT of money. It's 20 years of income for some people.
Just watching the richmond game, 4th quarter (well since you're asking, I was trying to remember how we got back in front).
Hooker goals after a mark in the square to get us within 16 points, then Stringer marks between the goal post and the behind post, but passes to Waterman 30m out (why?) who kicks a point.
Then tigers kick out and Hooker gets a free kick 45 out on an angle (Parish copped a closed fist 100m away) and nails it. 9 points in it.
Then Langford marks an inboard kick from AMT drills a goal from 30m out in front. 3 points behind.
Waterman crumbs one and goals , 3 points in front.
Tigers get a point, then Stringer gets a handball off Ham 15m out 30 degree angle and misses everything.
After that it's all tigers, but 2 key opportunities went begging from a guy who, while talented, is usually just another bum in the shower.
yes, some people have more money than others and that may make certain parts of life easier for them, no disagreement here.
I hope we retain Stringer, he's a gun.
How do people seriously still not realise that players have power? Jake would quickly say no I'm going to that hole and then demand a request to someone good and Victorian.
Stringer is going nowhere.
From AFL wordsmith & all round good bloke Wayne Carey.
PINION
How to keep Jake Stringer lean and keen

Two-time AFL premiership captain
June 24, 2021 — 9.35pm
Before free agency, footy clubs had all the control.
For any player in the early '90s, the great hope was to have their contract completely guaranteed.
But for the most part, that type of deal was hard to come by.
At that stage, only about 15 per cent of AFL players were on set contracts; the remainder were heavily performance based.
Young players, or those on the fringe, would get a small retainer and match payments.
There were trigger points at 10 or 15 games in a season as well as incentives for where you finished in the best and fairest, or if you made an All-Australian team.
Once you became more established, the retainer increased while the match payments and incentives shrank in comparison.
Jake Stringer of the Bombers.CREDIT:GETTY IMAGES
It meant only the very best could ever get guaranteed comfort. For the average player their weekly wage depended on playing senior games, which, in turn, gave them a level of hunger.
All of that began changing in the early 2000s, and even more so once free agency was introduced.
Now around 50 per cent of players would be on a guaranteed contract.
The clubs have done that not only because it helps manage the salary cap, but also to ensure they can retain their players.
Clubs can still find themselves in salary cap trouble when players on guaranteed money get injured. They get paid on the sidelines, while those on incentive-based deals can suddenly earn much more money than what was budgeted for.
For the best list management teams, it's about getting the balance right.
With more guaranteed contracts players now get much more financial security, both in terms of salary and the length of deals.
The monster long-term contract is nothing new – but is becoming more common.
Alastair Lynch got 10 years when he went to Brisbane (although he probably cost himself a few dollars because by the end of it the salary cap had gone up so much), while Buddy Franklin got nine years when he left Hawthorn for Sydney.
But while there are now a number of players on deals of four years-plus – think Dusty, Kelly, Grundy, Shiel and so on – there have been some unintended consequences.
It's become clear big contracts don't necessarily guarantee longevity at one club. Really, it's just financial security for the player.
Collingwood's Brodie Grundy.CREDIT:GETTY IMAGES
It seems as soon as you start earning marquee money, in many ways, you can become more expendable.
Despite having a long-term deal, Adam Treloar recently found out the hard way the money he was owed had become a problem for Collingwood because of their salary cap situation.
It wouldn't be surprising if Brodie Grundy or Josh Kelly ended their careers at different clubs too, because of how quickly things can change.
When Grundy signed his seven-year deal, the Magpies were premiership contenders.
Now, they're obviously rebuilding with a new coach, new football boss, a new president and maybe a different board to the one that sanctioned those seven years.
Kelly's contract was structured differently, allowing him to take up an eight-year extension after an initial two-year commitment.
You can't begrudge either of those clubs making those deals, but at the same time they can prove a burden for both the club and the player.
It's why deals of that magnitude should be saved for the absolute elite.
Buddy mightn't have a flag in Sydney, but I've said before he's already been value for money for the Swans. Dustin Martin's deal has also been a clear win for Richmond.
It begs the question about the psyche of certain players. For a club to give a player that type of commitment they must be sure they're going to remain hungry.
There were concerns about Dusty early in his career, but he's proved the ultimate professional and has seemingly become more diligent with every season.
The question now for Essendon is, do they have the same confidence in Jake Stringer?
If we're to believe the reports flying around at the moment, he's not asking for the seven years that Martin got at Richmond, but four years is still a big commitment for the Bombers.
If Stringer arrived at Essendon on $500,000 a year, on form he's become every bit the $700,000 player. Especially when you compare that to what others, like Mitch McGovern or Zac Williams got at Carlton.
It's easy to understand the Bombers reluctance to offer anything beyond two years, but you can just about guarantee there will be a club out there willing to offer him a four-year $700,000 contract because of his match winning capability.
So, if the Bombers increase their offer, how do they ensure there's no repeat of last year, when Stringer, by his own admission, arrived back at the club unfit?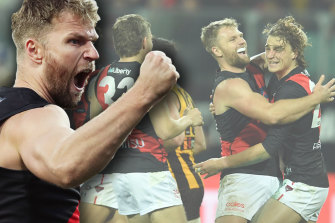 Jake Stringer turned it on against Hawthorn.CREDIT:THE AGE
The answer to that could be a contract throwback.
Stringer has said this week he's got three young children and security is important. Could an incentive-based deal provide both Stringer and the club with the level of security they're hoping for?
A two-year deal on its own won't be enough.
Could the Bombers offer a two-year deal on $600,000 a season, rising to $700,000 when Stringer meets certain trigger points?
Then with each year, those same markers can be used to trigger a third and fourth year of his initial contract.
In the United States, they have to return at a certain level of fitness and get fined accordingly. Would Stringer accept that type of deal if he got the right price?
At 27, he's in his prime.
He seems to have a maturity about his game and knows when to seize the moment. He's in a strong bargaining position and you can't begrudge him trying to get the best deal possible.
For what it's worth, I think Jake deserves a decent pay-rise, but at the same time, the Bombers are understandably wary. Only they know the day-to-day habits that will ultimately guide their decision.

Two-time AFL premiership captain and columnist for The Age.
MOST VIEWED IN SPORT
Well that article was largely a waste of time and offered no new insights.
He obviously reads Blitz, summarised the last few weeks of this thread.
First half was kinda interesting… for me anyway. Didn't know that only 15% of players in the 90s were on contracts… thought it would have been a lot more
I'd offer him 3 @ 500k with a trigger for a fourth and incentives to make it 750k per annum if he meets the incentives. We could also use the cap this year to give him a signing bonus.
Jake: "I want security"
Blitz: "Don't commit, add triggers to take away the security he wants"
So, does this mean someone like Cahill is probably only on 200k but gets around a 15k bonus per match he plays? Seems like the selectors have a fair bit of weight on their shoulders if they are basically deciding big bonuses for kids as well as picking the best team and weighing up development etc.
There must also be pressure to play the "contracted players" like Zaka, Sheil, Smith instead of incurring extra fees and playing players that get game bonuses. And to think buddy Franklin or Joe for us wasn't expensive enough, sitting on the sidelines, but then you have to pay someone else to play in his place.
The day a selection committee goes down that particular rabbit hole, that way, is the day to replace them. There should be very few criteria, the main one being, pick the team that gives you the best chance of winning.
It would happen at some clubs. I can't remember who it was, but a player at another club within the last decade believed they were frozen out of being selected in the senior team because if they played another game it would've triggered a clause in their contract to add another season onto the deal. That happens a lot at soccer club around the world, especially where additional fees are to be sent to the previous club upon a certain amount of first team appearances. I believe that's one of the reasons why Barcelona are so keen to get rid of Phil Coutinho, because if he plays a certain amount of first team games they owe Liverpool further money…
I seem to recall that this was happening to Dale Thomas at Carlton. There was a 'games played' trigger that would have resulted in guaranteeing him a further season on coin that was way above what they were prepared to pay him based on his output but he was also going just well enough to be getting a game with that rabble.
They were basically refusing to play him for a month or two but eventually Thomas and the club decided to ditch the trigger clause and they then started selecting him.