may part 2 of the Walla story be even better than part 1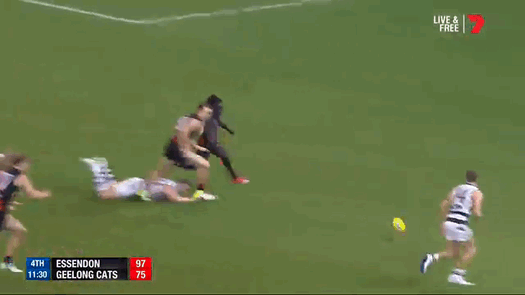 I forgot since it doesn't matter for rookies anymore - how long is an LTI? 8 weeks? Can we put Walla on that to unlock another sport for Tex/Fejo?
I mean…this is why comparisons are ridiculous.
No-one is going to replace Tippa.
They will fill his spot until he returns.
As for the poo-pooing of Hobbs…he tackles, he gets the ball out from stoppages, he snaps.
Is he ahead of Hird? Probably.
Realistically, probably.
Is he going to keep Tippa out of his position when he comes back?
No.
Is a guy who probably should have been drafted top five in the friggin' country going to get first dibs over players who haven't been drafted yet?
Come on.
Seriously.
Yeah. I find it fantasy that we are going to somehow simultaneously invest in a long term prospect like Wanganeen but then also line him up round 1 in the fwd pocket.
Chess pieces have to move among players who are AFL ready. Not an undrafted kid with some tricks who has played a handful of juniors games the last few years.
I think Smith and Snelling will need to play deeper, particularly Smith.
Im happy with Snelling to play in the midfield, I think he plays a very solid and important role there. Smith I would be more happy to play in the forwardline has he has genuine forward nous and knows how to apply pressure.
Agree Snelling & Smith will need to play as our small forwards early in 2022. Cant see Walla lining up in our 22 anytime soon…
When I was in Yirrkala, I loved watching kids play footy.
The way Walla and others from NT and Arnhem Land play the game is learnt from a very early age.
They way they would throw themselves (boys and girls) into the play, and tackle just like Walla with desperation and strength, was a joy to watch. We teach kids at Auskick to not tackle and not attack the ball, and to be safe.
That's probably because they're worried the parents will sue them.
I'm confused. Has Walla supposed to have injured his calf or had a below knee amputation?
The absolute dread and panic in here about an injury no-one has yet confirmed is ridiculous.
People in here are already forecasting a mid season return and even being replaced by an SSP signing!!
Unbelievable.
Walla was at least 2 months away from being match fit but has now done his calf which will affect his preparation to be ready by round 1. Thats the reality of the situation. Its not the end of the world and yes we can win without him… but for his journey… it will be tough start to the year
All good points…except, Hobbs is not quick and therefore won't be able to provide that forward pressure which is probably 80% of being a small forward these days.
I feel one of the reason that this club has been ordinary for so many years is because we continue to play players out of position. I would 100% play Tex ahead of Hobbs if Tex is a natural small forward. Hobbs is an inside mid, that's where he should be played, whether that's in the VFL or the AFL. I don't agree that we should have a team full of mid's playing positions that are not natural to them.
I get what your saying but we have been conditioned to brace for the worst over the last 15 years.
He was already unlikely to play the beginning of the season based on his fitness. This setback will delay that even further. He won't be seen till mid season.