Want a video of Walla welcoming him to Essendon tomorrow
I maintain that I call it as I see it. Not a lot of positive times for the club in the past but impossible to be anything but positive about picking up a potential gun for absolutely nothing.
Welcome aboard. I hope he has a long successful career in the red and black.
When the bombers draft three indigenous players, get Dean Rioli on the board and Walla back to the club.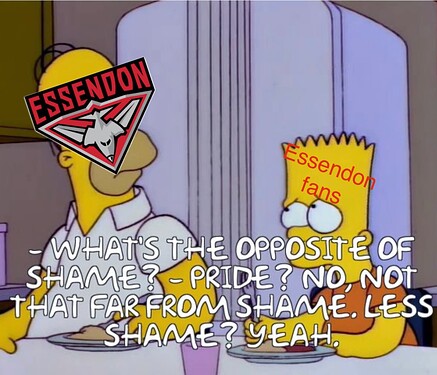 That fend off was right up against the boundary about 45 from goal. His kick would have been a goal if there wasn't a Collingwood player on the goal line. It was an unbelievable play.
That was the game that made me sure we had no chance of picking him up.
And Blitzers laughed at me months back when I raised the possibility he might go undrafted and onto our Cat B list. Very chuffed about this on multiple levels.
I'm as a happy as anyone that he's with us, but I don't quite understand how. I'd have thought he'd have had to go through the rookie draft to be with us.
How is he automatically a Cat B? Please advise?
Alright so, I didnt watch any highlights of him since I just didnt think we would be able to pick him up. I didn't want to be disappointed and watch him dominate for another club. But holy ■■■■. I cant believe my eyes. LETS GO!!
Don't question it. Just accept it.
Thing I love the most he found space at Frankston. That ground is very long and tight shows how much take t is there
Did Munkara play a curtain raiser about 5years ago at MCG for an essendon day game. Where x2 youth indigenous teams played each other.
Trying to work out AFL draft rules is like trying to work out the umpiring interpretations for holding the ball. Best to just cheer when we have one go our way.
So excited for the kid, he is Essendon through and through
Daveys,Tex,Munkara at Dreamtime
OH BABY
Absolutely stoked about this. I've been lucky enough to see this kid live a couple of times and he does some stuff that I honestly didn't think was possible. If we look after this kid he will bring us many years of joy and will have a astonishing highlight reel