They have a few busy players (OK, some may be defenders having too many opportunities) but then it drops waaaaaaay off.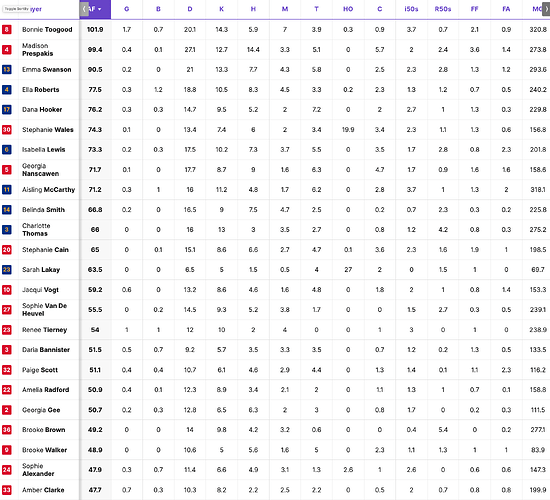 That's a late game.
Lights on?
Our lights may be Punt Road quality… sunset time is 7:43.
They certainly know where to hide WCE.

Also a WARF Radio game.
#WaveYourJackets
No one tell WCE we're a top five team; he'll have another meltdown.
WC coach Michael Prior having a whinge that his team had to play Melbourne is odd. 1st top 8 side from last year they have played.
He forgot to complain about them having to play last season's finals team of Footscray. It's really unfair they have to play them.
(If Footscray had finished one spot higher in sixth, and got a nastier fixture, they'd… still be winless. Just with an even lower percentage. They have played/will play Cats + Dees + Suns + Crows + Norf. The scary thing is their percentage is still way ahead of WCE.)
For those who missed it, we gave up a 1-20 first quarter vs WCE in the pre-season, and while we outscored them after that we still lost.
Was our worst game of the year – yes, worse than versus Adelaide. Especially given we smashed them last year.
We got ripped apart by their pacy small forwards in that game – adding MORCS should help resolve that.
Fingers crossed Maddy P plays.
Still very winnable if she misses.
You play 10 games, then you have to play at least two finalists. That's kind of how it works.
Kind of.
It's technically a minimum of 1 if you are not a top eight team yourself, and 0 if you are top eight.
Bannister out (ACL; hopefully only for this season…)
Wuetschner might be available. Doonan is a more direct power replacement.
Cutting and van Loon the only other possible ins (yay for lists of 30).
And after seeing Barbs leap into Amelia's arms after the game, I'm assuming she's out of her moonboot.
Either that or Amelia has one bad corked thigh.
Edit…
Just so it actually posts…
No pressure, but Betfair have us $1.03 and $1.91 to win by 40+
I heard Michael Prior put in a big bet on us.
Michael Prior how many games did he play for essendon rememeber watching him play during the 96 season
81 games 1994-2000 (and then 9 more with WCE).
In three games he had a hit-out, and in four games he had a mark inside fifty.