Yum. But unfortunately I have learnt to my cost not to eat dried figs.
They can be subbed easily.
Have you ever tried homemade pasta?
Yep. I buy it from the fresh pasta shop
I have never made it. My mum occasionally does and it's far better than the one you get from shops.
I'd say it depends on the shop.
I was talking about fresh!
I also buy my rice fresh. None of this dried palaver for me.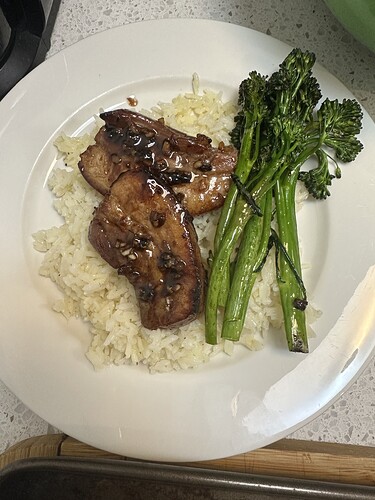 I'm moving house so basically defrosting the contents of my freezer and having whatever is in there for dinner. Just threw these ingredients together. Oyster sauce, soy sauce, honey (got no idea on the quantity I went with), a clove of garlic and a small dash of sriracha. Marinated the pork boneless ribs in there for a few hours then into the oven for about an hour or so until cooked. Made some rice and also cooked some broccolini in the oven for the last 15-20 mins. For a complete MacGuyver style meal it was extremely delicious!

Easiest Japanese cooking hack ever. Karaage chicken.
Yes.
It was super easy, and easily as good as our local place.
Amazing how much crispness just corn flour gives you.
I did have a meat thermometer to get the oil perfect temp, which I think helps.
Great. Will give it a go as I love karaage chicken so much.
The marinade was worth it, but I guess in a hurry you could skip it.
I find our local restaurant chicken too rich, and I think it's because of the marinade.
Either way I reckon it's a winner.
No idea what to do with the used oil though? Maybe more Karaage?
Definitely more karaage! Haha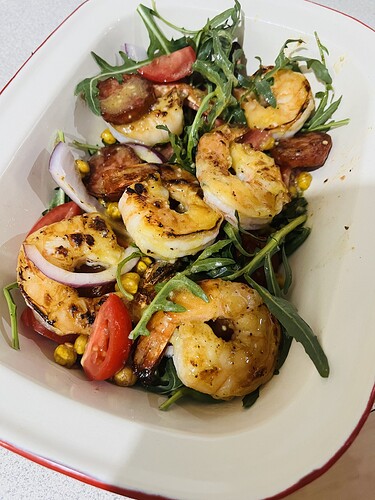 I made up my own salad tonight. Prawns, chorizo, roasted chickpeas, tomato, onion and rocket with a honey lemon mustard dressing.
Very nice. Will make again tomorrow.
Chorizo is like bacon. It makes everything better.
is one of life's great joys.