Just ■■■■■■■ do it ■■■■■.
Well done Uncle Chop Chop.
You've been all over the place on this - a little more direction please.
I'm not 100% clear on what you're trying to say.
I wasn't missing this moment.
My work here is done.
So just to clarify, can me and 4 of my friends drink beer and play video games? What if we do it while we're jogging?
Man, I'm easily amused nowadays.
ok, but i'd like to take my niece on a driving lesson to nowhere in particular while my brother is playing video games in the back seat with his mates and i'm on fire
can i do that?
The total post count on the old thread was showing at only 9044 on my computer. so I assume that blocked posters' efforts aren't counted. That's a whopping 956 difference!
There's only two of them, which tells you how much they post, but how little they contribute…
only if I can marry you while you get a haircut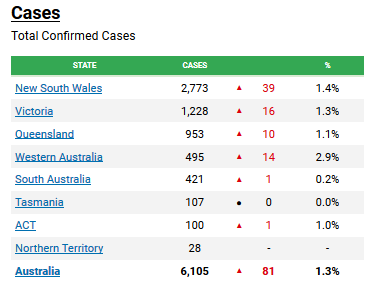 South Australia +1
Only NT and any updates Tasmania might have tonight (they report twice daily now).
Should be well under 100 today and hopefully less than 1.5%
Just to clarify: you are to be the partner, or the celebrant?
I don't like the ease it off and see how we go strategy.
In my experience as a human and watching other humans. Mindset is an all or nothing premise. Quiting cigarettes or loosing wait or eating healthy etc. As soon as you say, I'll just have a cheeky smoke or just have some take away, boom you've lost the momentum and straight back to bad habits.
If we ease it off, it will be even harder for people to accept a tightening if it's needed.
Mine was showing still somewhere in the top of the 8 thousands.
Although I don't recall that ever happening before this (that) thread, it's always shown the thread count as normal before, heading to, and then reaching the 10k.
. Must be a new Discourse blip.
The previous thread averaged over 500 posts per day. Sheesh!
Will this carry on for another 12 months or so…
So we sit and do nothing for 2 years??
You gotta have a plan bro.
Yes, I actually think that's kinda the point he's making. Just ease off and see how it goes isn't much of a plan moving forward. It would be nice to think they've got something a little more sophisticated in mind than that. For example looking at localized easing of lockdown measures and applying it very selectively to particular industry segments and activities.
It will be a matter of which leaver to pull, but it will happen. Especially considering we have the toughest restrictions in Australia.
Do they allow kids at school or
Allowing limited numbers to visit your houses?
Allow up to 10 people in a outdoor place?
There is simply no way we stay on stage 3 lock for an extended if Easter goes well (knowing we won't know the results until 2 weeks time).
I wonder how many posts on that saga Tuesday…
DJ King Mark II was approx 26 days from 1 to 10000, so the 18 days in the previous thread was a Usain Bolt like performance
Stay the fink home?
Stay the flak home?
Stay the folk home?
Stay the fork home?
I dont get this new thread title.