I find it hard to believe Jeff Kennett (and indeed the Hawthorn players) behaved in such a way.
Kennett is very capable of ruining lives and livelihoods so he's capable of anything for mine.
The family club strikes again
Ok, Jeff Kennet is a ■■■■■■■■, but someone taking offense about a ripped jeans joke is farking ridiculous. Like seriously, this joke has been done so many times and is not sexist, racist or demeaning. It is someone from a different generation having a joke. Fark me dead PC is doing my head in.
Absolutely this. I hate the man with a passion.
This is insanely pathetic. Told my Mrs about it - first response "my granddad made that joke to me a few weeks ago."
The boong comment is fkn average though and sounds like it wasn't dealt with well.
Purely in isolation, I can confidently say boomers do that whole ripped jeans shtick to everyone, irrespective of race. "what happened to the rest of them?" "I hope they gave you a discount for those, they're torn!"
It's insane this is a legitimate conversation we're having in this day and age
What conversation? Old people talking about ripped jeans conversation?
"Shannyn said those who called her response to Kennett an over-reaction could never understand its context in the events over the years that preceded it"
My initial reaction was to laugh at how relatively harmless the joke was but this is fair enough IMO.
Can someone post the article, i cannot access it?
welcome to the woke world. where you can choose to be offended about anything, and dont you dare question it!
The conversation discussing whether what has been a run of the mill Dad Joke from probably the 80s? When ripped jeans first came out ie 40 years ago is racially charged because it's said to a black woman.
It's not a dig at you. I'm saying it's incredible that this is where society is at.
I'm sorry, I'm trying to understand what you are saying.
I just said that purely in isolation, that shtick about ripped jeans is something oldies say to everyone. Do you dispute that?
I don't think you're saying that if an oldie says that exact same tame routine to a person of colour it becomes a racially motivated thing are you?
Just read through the article. Not sure why the ripped jeans comment is a big deal, but if Kennett gave her some money out of his pocket to "fix them" , then I can see why that would offend somebody.
The boong comment is disgraceful, as is the comment about the black fellas sitting together at meetings.
Sounds like hawthorn didn't have great "governance" and player welfare back then.
Screw hawthorn
I'm agreeing with you mate.
The only reason you're saying what you're saying though is because unfortunately what you're saying is not the most obvious thing in the world anymore, which is why this thread exists.
It's bizarre that Shannyn Rioli (and a heap of other supporters that will now come out I'm sure) don't understand that (or you might argue pretend not to understand that)
Terribly constructed article. If you're going to present the jeans thing as the culmination of a series of events where what seems innocuous was actually the final straw, describe the lead up events first. People are going to read the start, think "that's a stupid thing to get worked up about" and then read the rest of the article with the mindset that it's about someone who gets upset over nothing.
It's pretty hard to believe the bloke who's proud of his gollywog called "Buddy" could come off a bit racist.
'The only club I wouldn't put my hand up for right now': Why Hawks legend Cyril Rioli has stayed away
April 2, 2022 — 5.00am
It is almost four years since Hawthorn president Jeff Kennett spoke to Cyril Rioli's wife Shannyn in a manner that ultimately precipitated the champion footballer's dramatic exit from the football club and the game he had so richly punctuated for more than a decade.
The incident has been privately acknowledged by the Hawks and publicly downplayed by Kennett but never have the Riolis publicly addressed what took place in Launceston during the Indigenous round of 2018 after the club's narrow victory over Port Adelaide.
Rioli described the incident as "the final straw" in the club's precarious relationship with its Indigenous players and their culture after a string of events in previous years.
Shannyn Ah Sam-Rioli was standing in Launceston Airport with her mother-in-law Kathy - who had designed the Hawks' Indigenous round guernsey - when Kennett approached her and commented upon her designer ripped jeans. According to Shannyn, Kennett asked her what was wrong with her jeans. After making a retort about his boots, Shannyn asked Kennett: "What's wrong with what I'm wearing Jeffrey?"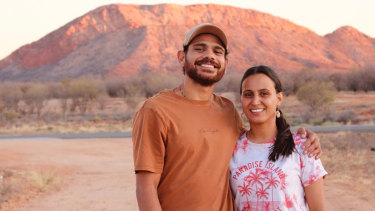 Cyril Rioli and Shannyn Ah Sam-Rioli.
The Hawks president then placed his hands in his pockets and offered her - he claims as a joke - some loose change to buy thread to sew up the jeans.
In the days that followed the exchange between Shannyn and a man she barely knew, her husband Cyril missed training and a crisis developed with a number of top-level club meetings involving Kennett, football boss Graham Wright, coach Alastair Clarkson, Rioli's manager Adam Ramanauskas and teammate Shaun Burgoyne among others. Kennett sent text messages to Rioli and then wrote the Riolis a letter. The couple still keep the letter in their Darwin home. Shannyn says now that his handwriting was superb, but the words were not enough.
"I felt belittled and humiliated," she said. "The club kept saying I was over-reacting, but they were portraying me as the angry black woman. They said later I had wanted to go home to Darwin for a while. That's not right."
Added Cyril Rioli: "I've never really spoken about what happened in Tassie, but I think there was a lot of gaslighting at the end of my career by the club." Rioli's relationship with Hawthorn is complex and multi-layered, but he remains estranged from the Hawks and doubts he will attend the next 10-year premiership reunion in 2023.
Of the club president, Rioli said: "I wouldn't want to be there while he's there."
The letter Hawthorn president Jeff Kennett sent Cyril Rioli's wife, Shannyn.
There were many incidents that built to Rioli's decision. Twice Shannyn says she prompted the club to improve its cultural awareness, but there was little response. In an incident that still devastates the couple, they say that on an end-of-season trip in 2013 a senior player asked teammates whether the partner of an Indigenous teammate was "also a boong".
Kennett insists the Tasmanian incident was misconstrued and that he was disappointed that Rioli felt the way he did. He said on Friday he had exchanged messages as recently as five weeks ago with the champion footballer while Kennett was in Darwin visiting his son, and that he still hoped to catch up with Rioli in-person when the Hawks played in Darwin next month.
"We're very disappointed his career ended with us when it did. We've reached out to Cyril so many times. He is part of Hawthorn, and he is part of Hawthorn's history, and I'm so disappointed he's come to this conclusion. But it is what it is."
Kennett reiterated that his airport comment to Shannyn regarding her jeans was similar to jokes he had made many times previously with many other people. He said he had not meant to cause offence.
Like several past and present senior Hawthorn personnel contacted by The Age , Kennett said Rioli's welfare remained of paramount concern.
Rioli, the 2015 Norm Smith medallist and a three-time All-Australian, said: "I look back on a lot of things that happened there and it makes me feel all right about myself. There's a lot of love and I get taken aback a bit about the influence I had.
"But bloody oath it was hard sometimes. Some things that happened to my teammates. The comments by coaches about the blackfellas all sitting together. The white fellas were always welcome to join us. I don't think they (the club) really had any idea of what it was like for us, in reality.
"Seeing the way they treated Shan. It was the final straw. It opened my eyes seeing how distraught she was and defending her and seeing how they were to us." Of Kennett's letter, Rioli said: "It didn't really explain anything."
After the Launceston incident, teammate Burgoyne visited the Riolis and attempted to persuade Cyril to stay. Shannyn told The Age of Burgoyne's visit: "I wasn't included in the conversation. He never spoke to me about what was happening."
Football boss Wright visited Shannyn and she says he wondered aloud whether the Kennett comments had triggered some bad memories from her childhood. Wright told The Age he had no recollection of making this comment. Coach Clarkson contacted Shannyn's mother and sister in a bid to defuse the situation, offering to fly sister Jordan to Melbourne to intervene.
Cyril Rioli with his much-loved dogs, Koda and Kenai.
According to the Riolis, Kennett insisted that he had been joking about the jeans and said he had spoken to Shannyn in a way he regularly spoke to his children. The Kennett letter briefly outlined his experience working with First Peoples communities and opened: "I am very sorry my comments at the Launceston Airport offended you. They were not intended to do so."
Kennett wrote: "I would never, and have never intentionally or unintentionally been disrespectful to a member of the First Peoples community."
Although Kennett expressed the hope that he and Shannyn could get their relationship "back on track" this never happened.
She recalls that weeks later towards the end of June 2018, after the Riolis had flown back to Melbourne after two soul-searching weeks in Darwin, Kennett spoke over her at a meeting in the offices of Rioli's TLA management. "I've already apologised," he said. "What more do you want me to do?" Shannyn said she regretted shaking Kennett's hand at the end of the meeting that laid the foundations for the Rioli's retirement announcement days later.
Shannyn believes Rioli's only AFL coach Clarkson genuinely tried to do the right thing by her husband despite what she described as some uneducated comments over the years. Clarkson hosted Rioli, Burgoyne and Paul Puopolo at his farm for a Rioli farewell dinner, but Shannyn wishes Clarkson had not tried to influence her through her family after the Kennett incident.
"Junior only ever wanted to finish his career at Hawthorn," she said. "He wanted to retire at 30, that was always his plan. But he was retired at 28. I feel guilty. I still cry myself to sleep at night wondering if I made my husband walk away from his career."
And there have been many times, too, that Rioli has told his wife how wrong she is to think that way. That he wouldn't change a thing. "I told her again the other day. 'Don't think that way. Things happen for a reason.' And I wouldn't change her for anything."
The exchange seen as an over-reaction by some at the club and yet so hurtful to the Riolis followed a challenging 2017 in which Rioli managed just seven games after a season-ending knee injury, followed by the massive heart attack suffered by his beloved father Cyril Senior. It had been a difficult time for the family and for the couple.
"The way things happened after that," he said, "it just hurt so much and it hurt her. I just thought I don't need to take that ■■■■, so it was fight or flight and I said, 'let's get out of this ■■■■ storm'."
The couple believe some of Rioli's mental struggles since retiring from Hawthorn date to his time at boarding school at Scotch College, where he "lost a part of himself" and then trying too hard at Hawthorn to be "a people pleaser".
Said Rioli: "For a long time it was easier for me to shut up. That was a part of me for a long time. It was hard work, a lot of hard work keeping the peace, and then it was like, I don't want to be a part of that any more."
Shannyn Ah Sam-Rioli is currently living in Melbourne and has started work this week with designer Silvana Tedesco. She has broken her silence in a bid to explain that the Kennett incident was, as her husband explained, the final straw after a long line of racial red flags that took place during the Riolis' time at Hawthorn.
In a long meeting with The Age, she still becomes emotional recalling the events of 2018 - Rioli had been contracted until 2020 - and becomes equally moved when trying to explain her husband's impact upon communities across the Northern Territory and upon his place of birth the Tiwi Islands. "It has such a big impact on him, it's difficult to explain the effect he has on people, and it means so much."
Rioli's time at Hawthorn was a golden era for the club, but it was also a time when the club paid lip service to cultural awareness, largely through lack of education. It was a time when Rioli watched the battles encountered by teammates, notably his fellow Hawk of two years Amos Frank from the remote APY Lands of far north-west South Australia as he navigated the impossible task of becoming an elite sportsman without anywhere near the required support.
Shannyn said those who called her response to Kennett an over-reaction could never understand its context in the events over the years that preceded it. She recalled when a young Indigenous player - still playing with another club - moved in with the Riolis in late 2012 the club was not happy with the influence of his partner and pushed her to return home. She remembered the manner in which a club official spoke to a young relative of the Riolis when he accompanied her into the rooms one post-game occasion.
Cyril Rioli in action during the 2015 AFL grand finalCREDIT:SCOTT BARBOUR
She recounts an incident on an end-of-season trip in 2013 when a senior player asked teammates whether the partner of one of his Indigenous teammates was "also a boong". The Indigenous player was at the table at the time. "Cyril found out about it," said Shannyn, "and was very upset, but when it went to the leadership group they told him to ignore it and just said: 'Don't worry about it'. No one in the leadership group stood up to act."
Added Rioli: "Nothing really happened. We spoke about it, but it was like: 'You're there to play footy.' You move on, but we should have dealt with it. Being young and not really knowing how to deal with it was hard." Of the Indigenous teammate, Rioli said: "He was really hurt about it."
Shannyn urged the club to improve its cultural awareness. In 2012, while working with the Victorian Aboriginal Community Controlled Organisation, she emailed the Hawks ′ welfare officer regarding the club's Indigenous programs but says she received no response. In 2016, she suggested to Clarkson that the club introduce cultural awareness training, but again she said she received no meaningful response.
In 2015, the Hawks' Indigenous programs were gifted $1 million over five years from the Epic Good foundation in an announcement that heralded the appearance of Rioli, Burgoyne and their three Indigenous teammates just days after Hawthorn supporters had booed Adam Goodes at the MCG. Rioli remembers he and his teammates meeting about Goodes and wishes now he had spoken up.
The club's subsequent appointment of highly rated Indigenous liaison officer Leon Egan lasted barely one year with Egan only employed one day a week. The club has said the million-dollar funding was largely spent on Hawthorn's community programs at Katherine. Now the welfare officer role has been mandated as full-time by the AFL and the Hawks appointed Brady Grey two weeks ago.
Cyril Rioli remains in Darwin, where he is working with young Indigenous offenders at First Step, an alternative sentencing and youth diversion program. He has worked with the Northern Territory Thunder and is open to working back in the AFL system, passionate about coaching young Aboriginal men and women, but said he wants no part of being associated with Hawthorn's Reconciliation Action Plan. "If they want to use my image or get me to the club I want to be paid," he said. "I deserve that."
Estranged from Hawthorn and only occasionally in contact with associates from his Hawthorn days, such as former club football boss Mark Evans, Rioli did not watch his former teammate Lance Franklin's successful quest for 1000 goals last Friday night, but enjoyed the highlights. Of his AFL playing cousins Daniel and Willie Rioli, he said: "I send them random messages every now and then, but I probably should watch a few more of their games and give them more feedback." His favourite player right now is Kysaiah Pickett.
He did not attend the Hawks' fixture in Darwin last year and "respectfully declined" an invitation from Clarkson to go fishing while his former coach was recently in the Northern Territory. Clarkson had reportedly set aside several days in a bid to spend time with Rioli, who many believe had become estranged from the majority of his former teammates. "Alastair's wanted to come up and throw a bone to me," Rioli said. "He wanted to go fishing, but it was short notice and my boat was in service."
Should Shannyn choose to remain in Melbourne for the long term, Rioli is open to relocating, but he added of the wife he has known since she was 13: "It's her journey and I'm so proud of her.
"I would love to work more with young kids and improve their pathways. We haven't had enough draftees from Alice or the Northern Territory and I think I have something to offer encouraging their development. And I wish we had more player managers looking after their interests.
"They need to know how to look after the business side of footy better and I would advise any young player like me to make sure you are properly looked after and get the right representation."
Hawthorn's new coach Sam Mitchell contacted Rioli in December in a bid to make peace between player and club, while also reinforcing a renewed club quest to forge stronger ties with Indigenous Australia. Mitchell told his four-time premiership teammate he was passionate about facilitating change and that he was looking to focus the club's community involvement away from the Kokoda program initiated by then rookie coach Clarkson and towards the Northern Territory.
Rioli appeared appreciative of Mitchell's approach, but the journey back to a constructive relationship with the club appears obstacle-laden, particularly while Kennett remains in charge. "I'd be up for helping clubs if they wanted me … Richmond or West Coast … but I wouldn't go back to Hawthorn after what's gone on. It's the only club I wouldn't put my hand up for right now."