Reports of an earthquake in Melbourne.
More to come.
I didn't feel it.
Just give us the zombies or the apocalypse. I'm sick of all these warning disasters, just bring on the end of days allready.
Take it to the blame thread. Sheesh.
Someone offered the Nuke didn't they?
The wrestlers? Thats a blast from the past. I put up a D-generation X gif recently that went over peoples heads - guess wrestling is too low brow for the people in that particular thread.
Lol the suck it gif.
I got it.
It's my constitutional right not to have to experience an earthquake
Awaits our Japanese blitzers to laugh at a 2.5.
I've caused more shockwaves through farting than a pathetic 2.5.
It was 5G starting up, not an earthquake be afraid
Almost as big as the 2012 quake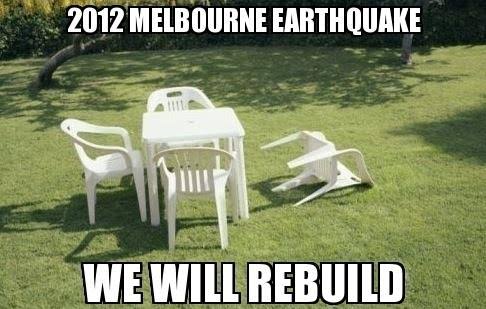 Seriously can we just have the asteroid and get this year over and done with already
If we now get a worse one IT IS YOUR FAULT
One for the boomers