I think our website is improving a lot, but it really should be kept up to date better in some areas.
Most of the player profiles, and all of the pictures, are up to date a lot earlier than last year, but poor old Trent Mynott still hasn't got a profile after over a year on our list.
We are still left in the dark about Jake Long's elevation to the senior list last year and whether he is a rookie this year, although there was an article about him being elevated last year, this year's profile states:
"Rookie who performed admirably when he returned to the senior side for the first time in nearly two years late in the 2018 season."
http://www.essendonfc.com.au/player-profile/jake-long
Although Smack has been elevated to the senior list after being a rookie again last year.
The other thing which they are yet to update and hopefully they will when they get around to adding Rutten to our coaches profiles, is this picture: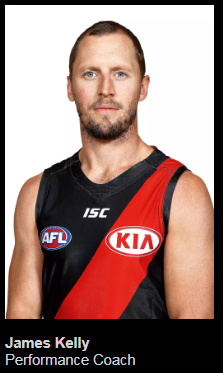 Seriously, it was in 2017 when he retired and joined the coaching group.
Hopefully this will be fixed up soon when they get around to including Rutten, and some profiles of our coaches and their achievements (which is only available for Woosha at the moment).