This rocks me more than Bowie.
Fark.
Farking fark.
He was just here…
And I didn't farking go.
Fark.
More Detailed from the Daily Mail…
BREAKING NEWS: Prince, 57, dies at Minnesota estate just days after he was rushed to hospital from private plane with 'severe flu'
-Prince has died aged 57 at his Paisley Park estate in Minnesota
Paramedics and police were called to his suburban home at 9.43am
-He was rushed to hospital six days ago with flu symptoms after falling ill on his private plane
-Music icon appeared at a gig on Saturday and told fans: 'Wait a few days before you waste any prayers'
By OLLIE GILLMAN FOR DAILYMAIL.COM
Prince has died aged 57 at his estate in Minnesota, just days after he was rushed to hospital from his private plane with flu.
Paramedics were called out to the music icon's Paisley Park estate at 9.43am and Carver County Sheriff's Department confirmed that there had been a fatality.
A forensics team and a medical examiner are at the scene.
Prince - full name Prince Rogers Nelson - was rushed to hospital six days ago with flu symptoms after his private plane made an emergency landing.
He was aboard his private flight when he fell ill, forcing it to make an unscheduled landing in Illinois on Friday morning.
TMZ reported that the seven-time Grammy award winning singer's plane diverted to Quad City International Airport in Moline, Illinois, to make the emergency landing.
He had had been suffering from flu for a number of weeks and was believed to be recovering, but took a turn for the worse in the early hours of Friday.
He was treated for three hours before being released.
Initial reports on his condition painted a much graver pictures, with one source claiming at the time he was 'not doing well'.
The Purple Rain hitmaker had performed at The Fox Theatre in Atlanta on last Thursday night - the second of two back to back sold out shows - and had seemed fine during the concert.
Prince made what is believed to have been his final public appearance on Saturday at a dance party in Minnesota.
He was keen for people to have 'living proof' that he is still alive, and he arrived at the bash to show off his new guitar and piano.
He didn't sing, but he did tell the crowd: 'Wait a few days before you waste any prayers.'
A picture posted by a fan on Instagram appeared to show Prince riding a bicycle outside his estate on Sunday.
The superstar musician combined rock, R&B, soul and hip-hop to create a unique sound that led to him selling more than 100million records during his 40-year career.
Prince was born in Minneapolis, Minnesota, in 1958 and started making music at the age of seven.
He went on to have four number 1 albums in the U.S. starting with Purple Rain in 1984 and continuing with Around The World In A Day, Batman and 3121.
The flu, huh? Right.
Not my bag but I can recognise talent. Will be missed.
Just heard on the radio as we were driving in to Montreal and thought that we had heard wrong. Only 57…seven years older than me, FFS.
What an amazingly talented muso. I didn't like all of his music but he did write some amazing songs and certainly helped to shape music as we now know it.
RIP the artist formerly known as and then known again as Prince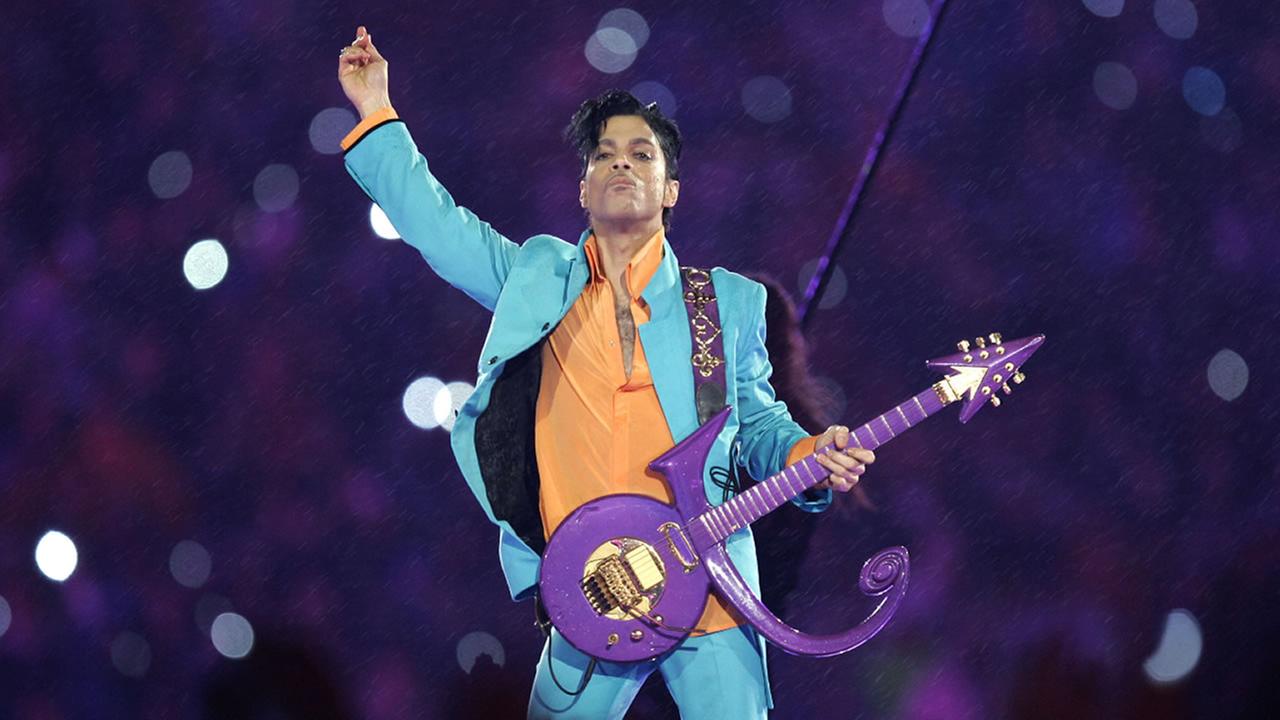 Shocked and saddened to hear of his passing. Not my fav but a gifted, talented artist. RIP
I'm rattled by this news. We saw him play only a few weeks ago. He played for 90 minutes straight. Not one bum note. F*ck.
Never really liked his public persona, but his music cant be denied. Big shock, I too thought about going to see him when he was here. Very shocked
Yep same, should have freaking went to see him. His SuperBowl half time show was, and still is, insanely good.
I'm more of a hard rock fan but always respected this guy as a great song writer and more than handy with the axe.
Put on the best Super Bowl half time gig ever also.
A great loss. RIP.
In this tribute to George Harrison Prince takes over at 3:25.
People that saw the man when he toured Aust recently, will be happy they did …
Confirmed that Prince has died in his home in Minnesota, no details on how or why.
■■■■■■ hell, how old was he. It's an annus horribilis for artists this year.
From Billboard.
Prince Dies at 57: Iconic Musical Genius Found Dead in Paisley Park
4/21/2016 by Dan Rys
Prince died earlier today (April 21) at age 57 at his Paisley Park home and studio, his publicist confirmed to the Associated Press. TMZ first reported the news.
Prince was hospitalized last week after his plane for was forced to make an emergency landing in Moline, Ill. Released a few hours later, a rep told TMZ that he had been battling a bad case of the flu.
One of the most iconic musicians in music history, Prince's extensive career grew out of the music scene of his native Minneapolis, where he lived his entire life. His 1978 debut album For You and self-titled second LP, released in October 1979, kicked off an incredibly prolific run of albums that included 1999, Purple Rain, Around The World In A Day, Sign O The Times and Batman, among others, throughout the 1980s at a clip of nearly one per year, evolving with each release.
It was 1984's Purple Rain – his first No. 1 album on the Billboard 200 – released in conjunction with the film of the same name, that cemented him as one of the greatest artists of his generation, earning him two Grammys, and Oscar and a victory over Michael Jackson's Thriller for Favorite Pop/Rock Album at the 1985 American Music Awards. Along the way, he worked with several bands under a series of pseudonyms, including The Time, the New Power Generation and The Revolution, as both frontman and producer.
Prince was also known for his eponymous Love Symbol, created in protest against his longtime record label Warner Bros., under which he released an album in 1992. His 18th and final album for the label, 1996's Chaos and Disorder, finally released him from his contract.
As a recording artist, Prince was legendary for his prolific and perfectionist nature which allowed him to release a steady slew of material as he experimented in the studio; as a result, unreleased b-sides and bootlegs have become highly sought-after collectibles for die-hard fans, and his infamous "vault" of recordings has become the stuff of legend. Yet he was also truly transcendent as a performer, regularly stretching his shows beyond the three-hour mark and showcasing his stunning guitar work, which became an underrated part of his legacy, often overshadowed by his iconic singing voice and abilities as a songwriter and bandleader.
Over his 35-plus-year career, he released 39 solo studio albums and never stopped releasing new material; since September 2014, he put out four new full-length records with his latest band, 3rd Eye Girl, continuously experimenting with psychedelic rock and intergalactic funk.
Story developing.
She walked in through the out door.
Wow. My room was a shrine to this guy when I was a teenager.
This will take a while to sink in. It's so weird: last night unable to sleep, I had a song from his first album stuck in my head. Now I wake to this news.
RIP.
Two Thousand Zero One Six
Party over…Oops!..Out of time.
RIP… Prince Rogers Nelson
I still remember the Purple Rain period in 1984 and how huge he was during that period and later throughout the 80's and 90's.
True legend of the entertainment industry.
Massive loss…and so young too! Such a shame to have lost him.
So much talent. Not just as a performer but as a songwriter too.
Very sad news RIP :'(
There's doves crying everywhere.
Allegedly he was HIV positive and died of an Aids related illness. Apparently Sophie Monk spoke about this on the radio today.
Game, blouses.
He was a bit before my time but an absolute visionary. I was a big fan when I was in high school and remain so.
Very sad but his music will live on - apparently prince tracks are currently filling the top ten tracks on iTunes.