Yet amazingly Parish was better than him today and most in here want to trade him or let him walk.
Very frustrating game but I'm pretty happy to go 3-1. Winning is a habit, the more you do it the more you expect to do it and then it feeds itself. Parish, Merrett, Shiel, Stringer and Draper were all great but special praise to Andrew Phillips who just makes us a better team.
Jones should be dropped but with Wiedemann hurt and Voss only scoring one goal he might get another reprieve.
Third on the ladder, third highest percentage, I'll take it.
Would love a Harry Mckay or Charlie Curnow right now.
Or a 2MP

You are very negative. Perhaps you are not capable of coming along the journey of the rebuild. Perhaps you might like to support someone else.
Were the better team and our goal kicking somewhat sorted itself out so we got the win.
We must play the two rucks every week. It just works better for us.
The forward line is bad. Langford must play there all the time. We're not getting return from Jones, but with Weid going out next week he holds his spot and maybe the marks will stick.
I'd also give Davey a rest, he does some special things to get the ball, but isn't using it well. Any small forward should have eaten up that one in the goal square. Who cares if you get called hungry for pinching goals, that's your job.
Redman does lots of good attacking things. But his two fifties last week and that flat footed handball turnover today are unacceptable. Cut it out.
Shiel is really good and we'll be worse off if Parish walks.
Would love some consistency from Caldwell and Perkins. Archie did get more involved as the game went on.
Overall, it was probably a 6 goal win if we kicked properly. I think we're quite clearly a 10th-14th placed side and good that we took this opportunity because we won't have many in the next two months.
Yep, winning sux.
I wish we were completely dogsh*t like last year, that was a worthwhile year.
Ugliest torp too, but it worked lol
Also I hope Nino was watching on TV when they highlighted the massive 3/4 time spray GWS got from their coach, followed immediately by our most dominant and dangerous display all day to win the match.
The "flat footed handball" Redman did should have been 50 to him
Isn't that the point? We changed Captain, Coach, Ceo, president last preseason.
My son Billy told me to put a photo of him with a photo of him and the ball. He has been listening to me and his uncle's a bit too much😄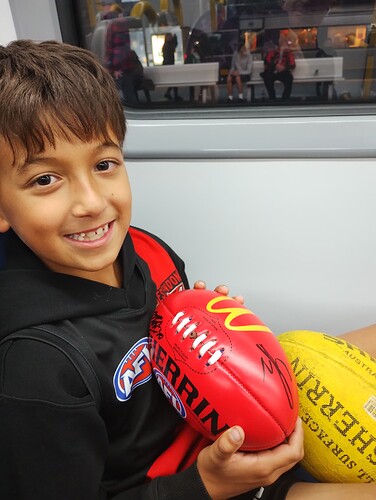 Who are we bringing in to replace Davey if his ankle doesn't come up?
Davey's ankle got stomped pretty bad near the end, going to have to see how it pulls up. might be a BZT ankle situation
He was limping a bit after the game, hopefully not too bad
Yeah hopefully, but we are being more cautious this year with these sort of injuries.
Did he 'feign' a handball? No, he handballed it.
Was he being harassed/wrapped up by a bloke on the mark? Maybe.
Did he decide to handball while flat-flooted and under immediate pressure instead of going back and making a safe decision deep inside defensive 50? Yes.
While some umps might have called that 50, he still made a very very bad decision that you don't expect from someone who offered to be captain.
That was the worst quality game I have seen in a long long long long time.
Giants are bottom 4 certainties and we are not far behind