Yeah , sack the workers.
Great idea
Someone ultimately is at fault. They would have certain procedures that need to be adhered to and this hasn't happened. Items just don't fall off the back of the truck, someone hasn't secured the load
I am not sure why they made such a big deal of this. This sources are used in thousands of instruments in the mining industry and are encased in stainless steel, and the caesium is captured in ceramic disks.
We have been selling nuclear densitometers for years and I do not glow in the dark.
Not the first time this bit has gone missing, usually happens when lost in a sloppy slurry being pumped to waste and no-one takes mch notice.
It is small and can be handled safely OK for a short time without health problems.
Over the years, rules and regulations on moving hazardous items has got tougher and tougher, as I am sure you would know. We can no longer bring in some of our calibration fluids and temperature control liquids as they are banned now from aircraft, or so we are told.
ANSTO has to go through rigorous IAEA process for use storage and transport, including for a nuclear powered sub.
Australia likes to be seen as the exemplar in the IAEA and to get on to its influential committees like the Governing Board.
40 years since the Melbourne dust storm.
Ash Wednesday coming up, there will be a reliving the trauma of that day
40th anniversay of Ash Wednesday.
Ash flying around Canberra, trying to locate my parents living on a property at the end of a bush track in the Macedon Ranges; friends in Naringal and their extended families all burnt out
There are memorials in Panmure, halfway between Terang and Warrnambool on the highway. I must admit I don't remember that part of the fire. A friend of a friend was a firefighter who died in Cockatoo.
I had gone through the area around Panmure and stayed at Naringal in the January.
The paddocks and roadsides were lush, about the only place in Victoria not drought affected.
Had just arrived home to Gembrook on that hot day when the wind changed and it was raining red hot cinders. The fire from Cockatoo ended up on a ridge about 800 metres from our nearly completed mud brick and timber house. Spent the evening in Gembrook community centre with our then 2 year old. Scary time.
I was living in Brighton and it was the night to put out the rubbish. There was smoke and the smell of fire in the street. When l went back inside l turned on the news and heard what was going on. For a moment l thought of driving somewhere to volunteer, then realized l would just be in the way.
A week or so later a mate and l decided to drive up to the Bendigo area to check on the welfare of a colleague who had retired up that way. Just past Mt. Macedon we stopped on the side of the road to survey the extent of the damage. The whole of the mountain was charred, every tree had been burnt. We could see clear to the top of the mountain and the large white cross on top. That was scarey, but there was something even scarier, the total silence. The silence weighed down on us, like a physical pressure on our shoulders. We could hear nothing, not one bird song, not a single insect chirping. The bush and all that was in it, was dead, silent.
I was at a restaurant in North Melbourne that night, and looking out the windows at the black ashes floating down into the street, went outside and saw burning embers right across the sky.
Next night I fly to Perth and right across to Adelaide was just burning bush, most frightening thing I have ever seen.
I remember around 1962 or so there was a huge bushfire on Mt. Dandenong. I went around to a mate's place on the next block and while l was waiting for him l could clearly see the flames, which were about twice the height of trees on top of the mountain, all this from suburban Moorabbin.
I have two lasting memories of Ash Wednesday and both are from after the day.
The following January, I took my GF down along the Great Ocean Road…I was gobsmacked to see how people had rebuilt in areas that had been wiped out…and so many of these new houses where surrounded by trees…it was like they had learned nothing.
Then around October 1985 I flew up to Griffith for a B & S Ball in a 4 seater light plane. Flying over Mt Macedon, it was scary how so little of the trees had survived and come back…2.5+ years later.
I watched the Koppers timber treatment plant in Officer burning during the evening of Ash Wednesday. From Narre Warren we could see the tanks explode and balls of flame rise into the sky.
I was in Kindergarten at the time. One of my mates lost his dad which was on the Narre Warren tanker that got caught by the wind change and burned out in Upper Beaconsfield.
My grandparents had a bush block in Upper Pakenham that also got burned. When we all got up there to clean up a bit later on, all that was left of the tractor parked amongst the trees was an engine block and the very bottoms of the tire treads, where they had been buried in the dirt.
People calling in to ABC radio reliving that day.
It's searing, petrol in fire trucks vaporising.
One funny one, when the boys in the boys home in Olinda had to be moved to a girls home further away.
Tastes like…
Tonnes of illegally imported meat discovered in Sydney warehouse
The Department of Agriculture, Fisheries and Forestry says a significant risk to Australia's biosecurity has been prevented after biosecurity officers detected and secured approximately 38 tonnes of risk material—including boxes of turtle meat, frog meat, plant products, avian meat, pig meat, beef meat, and raw prawns – from a Sydney warehouse.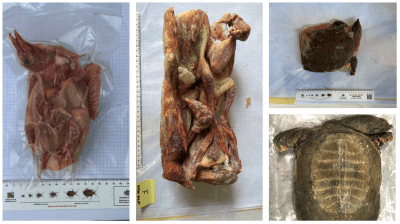 A biosecurity officer identified several suspiciously marked boxes leaving a premises while doing a routine inspection.
On 17 February 2023 departmental investigators executed a warrant at a warehouse in New South Wales where investigators located large quantities of meat products, plant products, soil and a range of vegetable products suspected to pose a biosecurity risk.
Following this, on 22 and 23 February 2023, the Australian Federal Police assisted the department by executing multiple warrants, at various locations in New South Wales.
On 15 February 2023, a Department of Agriculture, Fisheries and Forestry biosecurity officer noted suspicious boxes of goods at a routine inspection in New South Wales. The observations led to the department executing a warrant at a Western Sydney warehouse on 17 February 2023 where biosecurity risk products were uncovered.
Following this, on 22 and 23 February 2023, the Australian Federal Police assisted the department by executing multiple warrants at various locations in New South Wales connected to the warehouse. A number of warrants have been executed in relation to individuals and businesses in relation to the investigation.
At the western Sydney premises biosecurity officers diligently examined approximately 250 tonnes of goods and determined that over 38 tonnes represented a biosecurity risk, including beef, chicken, duck, pig meat, geese, frog meat, raw prawns, plant products, and soil.
Goods were removed from the site in seven twenty-foot shipping containers and remain under Department of Agriculture, Fisheries and Forestry control.
Departmental Secretary, and Australia's Director of Biosecurity, Andrew Metcalfe AO said, anyone who intentionally tries to circumvent our biosecurity laws can face significant potential penalties of up to 10 years imprisonment and fines of up to $1,375,000 for an individual, or $6,875,000 for a company.
"The secured goods could have posed an unacceptable risk of introducing disease and pest for plants and animals alike," Secretary Metcalfe said.
"In addition, diseases and pests from imported goods would severely impact our economy, and we will work hard to protect our agriculture industries and natural environment from these threatening diseases.
"The department takes its role in managing and enforcing Australia's biosecurity laws extremely seriously and the work of our biosecurity officers throughout this operation has been outstanding."
The investigation remains ongoing.
The Department will continue to collaborate with the Australian Federal Police, Australian Border Force, and all other relevant parties throughout the next phase of the investigation.
Biosecurity boost 'vital' for food security
The illegal, commercial-scale meat-smuggling operation could have ripped a COVID-sized hole in the economy, NSW Farmers president Xavier Martin said.
Mr Martin said the 38 tonnes of turtle meat, frog meat, plant products, avian meat, pig meat, beef meat, and raw prawns seized by officials was likely "just the tip of the iceberg", calling for more resources to defend Australia's food production.
"The biosecurity officers who detected and seized these containers of material deserve to be praised for their efforts, but it does point to a major problem with our biosecurity system," Mr Martin said.
"The very fact that seven twenty-foot shipping containers filled with illegal products slipped through our system is a big cause for concern.
"Smugglers seem to be treating our border controls like a lucky dip, hoping they can get away with it, so if the government can find billions for nuclear submarines and Olympic Games they can surely find the money to build a stronger biosecurity system."
Last year, the detection of Foot and Mouth Disease fragments in imported pork products made headlines across the nation, following an outbreak of the disease in Indonesia. Experts warned the economic cost of an FMD outbreak in Australia would be comparable to the cost of the JobKeeper program, to say nothing of the blow to food production and tourism.
"The government's own numbers estimate the potential cost of an FMD outbreak would be about $80 billion – and it's not the only biosecurity threat out there," Mr Martin said.
"Lumpy Skin Disease is also present in Indonesia, and we're continuing to see efforts to eradicate Varroa mite impact beekeepers and the horticulture sector.
"Farmers have argued for stronger, long-term sustainably-funded biosecurity systems for years – it is absolutely critical the federal government lifts its spending in this space."
Only a small portion of incoming freight was inspected by biosecurity officers, Mr Martin said, but he was hopeful state and federal governments could work together with industry to improve preparedness and response.
"We have strongly advocated for the federal government to boost screening and put in place a long-term, sustainable funding model for biosecurity efforts, which is especially needed given the financial woes the department is facing," Mr Martin said.
"There is also the need for the federal government to work hand-in-hand with all states and territories, as well as other stakeholders, to ensure everyone knows exactly who needs to do what and when in response to a biosecurity threat.
"These threats are very hard to get rid of once they arrive, and they are incredibly costly, so it is far better for us to spend a little on prevention now than a lot on the cure later."
Source: Department of Agriculture, Fisheries and Forestry, NSW Farmers
The biosecurity people can bump up their testing of new cars, while they're there. There were allegedly 17,000 new cars in Westernport (or was it Port Phillip) being processed at 90 a day.
I heard one ship went back to Port Kembla because they didn't want to pay the port charges, and then had the cars delivered to Victoria by road.
Its amazing what you can order on Alibaba.